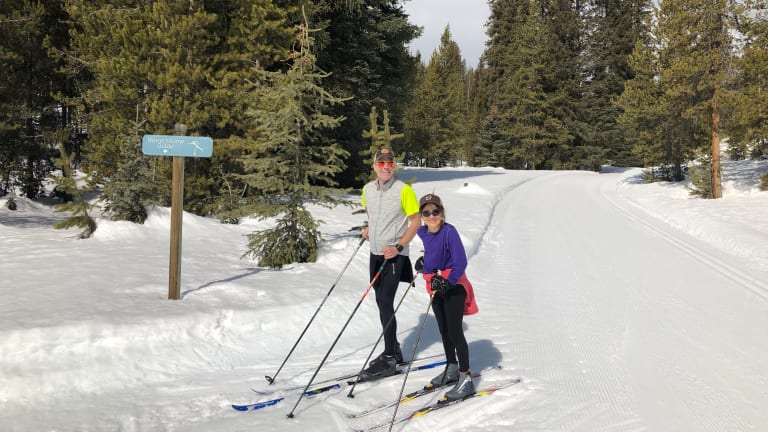 The Reasons Why We Love Galena Lodge, Idaho
Falling in love with winter in Idaho thanks to Galena Lodge
Travel fuels me. I think my brain just loves the stimulation. It's not that I'm looking for loud showy things, but I long for experiences that remind me it's darn good to be a human. When I'm out in nature during the winter, this is when I collect the moments that make my soul happy. I used to dislike winter, but I was just doing it wrong and going to the wrong places. I've learned you can't fight winter, you've got to snuggle up to it. That's where this place comes in. There are so many reasons why we love Galena Lodge in Idaho, but I will say overall it's a feeling, not a thing. 
The Reasons Why We Love Galena Lodge Idaho
There's nothing commercial about this amazing place in the middle of the Rocky Mountains. Coming from NYC, I can't tell you how refreshing it feels to be at Galena lodge. They keep it magical because it's owned by the community. Unlike some of the large ski resorts where I've stayed, this place feels like a pure expression of love for the winter and snow.
Check out the Experience Video
In the winter, Galena Lodge operates as a home base for cross-country skiers and snowshoers. In the summer, it's all about mountain biking and hiking. Our's was a winter visit, and I will say that cross country skiing is what they are best known for.
The setting will simply take your breath away. I was overwhelmed with the beauty of the Boulder Mountains with 10,000 foot peaks that pop out along the trails.
Getting started with XC Skiing at Galena Lodge
We have a bit of cross country gear -- good gloves for cross-country skiing and workout gear that vents and layers. At Galena, all you'll really need to bring is the right clothing. You don't have to worry about skis or other equipment. They have high-quality, cross-country ski equipment to rent for both skating and classic skiing. I was especially impressed with the depth and quality of the kid's gear. 
The Terrain Near Galena Lodge
Galena is located on the North Valley Trail System. There are over 50 kilometers of immaculately groomed trail for both skate and classic skiing. The BCRD (Blaine County Recreation District) maintain and groom these trails. They have a machine that puts down miles and miles of parallel tracks in the snow. Those tracks make skiing 100 times easier for beginners. 
The terrain offers variety for all abilities from first-time skiers to experts. My family is by no means good at this sport. We have a ton of fun and can get around green trails and easy blues. Thankfully we are all runners, being generally fit helps when you are getting started.
To get started, we tried the easy loops that can be accessed right from the lodge. Then we pushed ourselves a bit to explore harder terrain. The folks at the ski shop were really knowledgeable and helpful when it came to planning our day.
Never stop learning
I've taken two or three lessons in cross-country skiing over the years. I learn a little something with each lesson AND as I get better, I have more fun. The Galena Lodge Ski School is perfect for adults and kids. They offer instruction for  all abilities from first-time skiers to full on race instruction. 
It's a sport that's suited to most abilities. If you can walk briskly you can get the fundamentals of cross-country skiing down. Now, that doesn't mean you'll be ready to tackle the expert trails, but in even a few hours worth of play most people can get the hang of it enough to have a great time in the snow.
What Else Can you Do at Galena Lodge Besides Skiing
They also rent snowshoes, over-boots, and snowshoe poles.  They mark 25 kilometers of snowshoe trails and there's a trail for almost everyone.  A snowshoe excursion can range from 30 minutes to 4 hours depending on the trail. The trail pass only costs $5. Dogs can come for free. Guided trails are also available.
Food at the Galena Lodge
After your skiing adventure be sure to make time to hang out in the lodge and grab lunch. Cozy up by our fire and enjoy lunch, fresh baked goods, espresso drinks or a house made cocktail. 
I loved the coconut rice and red curry with cauliflower, butternut squash, carrots and sweet potatoes garnished with cilantro $12.95. I also highly recommend getting a Don Bar. It's a sweet trail treat that looks to be a local concoction. Lunch is served daily in the lodge from 11:00 AM to 3:30 PM.
Head here to find out about special dinners.
Another Reason Families Love Galena Lodge
Unlike alpine skiing, cross country skiing is EXTREMELY AFFORDABLE. Here are the rates from last year (2018-19 season). As you can see, cross-country skiing is a fraction of the cost of alpine skiing.
Daily Pass $17 Adult/ Free for 17 & under
Rentals: Classic Package Cross-Country Skis (daily) $20 Adult/$12 Child
Rentals: Skate Package Cross-Country Skis (daily) $25 Adult/$15 Child
Lessons: 1 hr Private cross-country ski lesson $65 Adult/ $65 Child (Each additional guest is $35)
Momtrends recommends the "Intro to Nordic Lesson Package" $75 includes skis & pass for the day as well as a one-hour lesson. An additional person os $45.
Snowshoe Day Pass $5 Adult Free for 17 & under
Snowshoe rental (daily) $20 Adult/$12 Child
Trip Planning to Galena Lodge in Ketchum Idaho
We flew into the Sun Valley airport and booked a stay at the Sun Valley Resort. As part of our spring break we planned a full day at the Galena Lodge. They do offer overnight lodging in the semi-backcountry yurts. I haven't tried these but they sound like something my kids would love.
The lodge is located about 30 minutes (23 miles) from Sun Valley's property. It's a gorgeous, straight-forward drive. They're open daily in the winter and summer seasons from 9 AM to 5 PM.
Find out more https://www.galenalodge.com/
Location: 15187 State Hwy 75, Ketchum, ID 83340
MORE SKI FEATURES FROM MOMTRENDS
PIN IT!
Use pinterest to save your favorite family travel features. Be sure to follow our Ski Moms Pinterest Board.
This The Reasons Why We Love Galena Lodge Idaho feature is not sponsored.