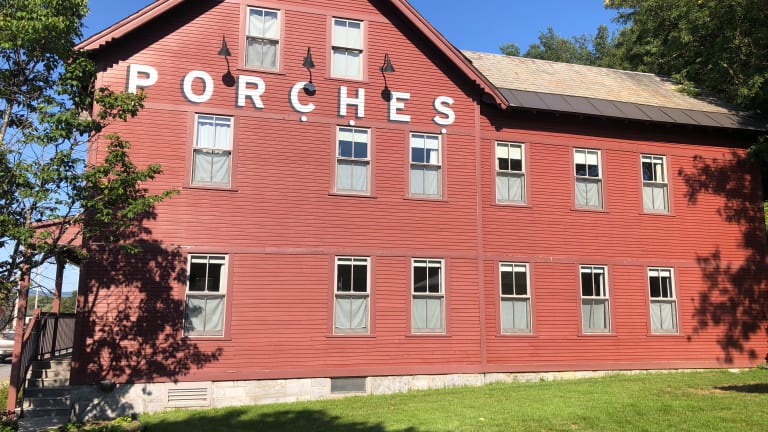 Why the Porches Historic Hotel Is Perfect for Your Family Trip
The Porches at MASS MoCA is a quirky and cool place for your family to stay when exploring the Berkshires.
If your family is like ours, you've really missed travel. Thankfully, there are parts of the country that are safe for families to visit. New England took an early COVID-19 hit, but thanks to some careful management things are looking up. Vermont, my adopted state, is allowing travel to adjacent counties that are in "green zones." The Berkshires in Massachusetts are considered to be a "safe zone" thanks to the low positive test rates. The Porches Historic Hotel is perfect for your family trip if you want to soak in loads of culture and nature. 
Related: Plan a trip to Ramblewild Aerial Park
Why the Porches Historic Hotel Is Perfect for Your Family Trip
Here's how it works: Vermonters may travel outside of Vermont to counties that have a similar active COVID-19 caseload to Vermont (defined as less than 400 active cases per million) and return without quarantining if they do so in a personal vehicle. We loaded up our SUV and headed to the Berkshires to get a change of scenery. The Porches is a terrific little boutique hotel with 47 rooms and wonderful proximity to both museums and hiking. 
Take a Video Tour of The Porches here
The hotel is made up of a series of 19th Century Victorian row houses connected by, you guessed it, porches. Outside you'll see a modern sculpture commissioned by the inn in association with Mass MoCA (plan your visit here). Inside there's art too, the inn has an amazing collection of American antiques that work with the cozy chic decor. Each of the rooms has access to a long porch and rocking chairs, with views of the museum.
Our was a family-friendly suite with plenty of warmth and space for the four of us. We loved room #12 in the "blue house." The interiors are in muted colors and filled with relaxed furniture. The kids stayed in the sitting area on a fold-out sofa bed. We got the master bedroom outfitted with pocket doors for privacy.
The room featured upscale touches like soaking tubs and high-end toiletries. The mix of old art and new furniture makes the inn feel quirky and cool. Nothing feels precious, so your kids won't feel out of place. I think it's a perfect spot for kids 6 and up. I'm not sure it's ideal for babies and tots.
What to Do at Porches
The inn is located right across the street from the amazing MASS MoCA museum. Get your tickets online and be sure to book the special exhibits too. No need to drive, you can walk to the museum in five minutes. And right on the property, you can see part of the Northern Berkshires Outdoor Art Tour. The piece Travel Light" (2004) by Mike Glier is part of the hotel's grounds. The tour includes some 30 works of art stretching across 10 miles of country roads. Find out more here.
If nature is calling, head to the nearby Cascades Hike. From the base, it's an easy one-mile climb up to see the waterfalls. We jogged over to the base from the inn, or you can opt to drive there in about 5 minutes. There's parking at the nearby elementary school. This is just one of many hikes in the area. It's an easy family-friendly pick. Get more hiking ideas here berkshires.com.
Back at the inn, there's a nearby park with a cool playground. On hot days, cool off at the pool area. The inn has a terrific outdoor pool (about 15 yards) and a hot tub. The hot tub is currently closed due to COVID, but you can make a 45-minute reservation to book the pool for your family (maximum six people on deck at a time).
If you want to chill, the lobby area has games and puzzles you can take back to your room. For the grown-ups, there's a bar so you can make a little happy hour happen. We opted for a local IPA beer from the mini bar, and a rocking chair on the porch overlooking the museum.
Due to COVID, the fitness center is closed, but I took a look and it's modern and fabulous. Once it's open again, it's a great place to get your sweat on.
Where to Eat When you Stay at Porches
The Porches is offering boxed breakfasts for guests. The boxes had local yogurt, local granola, cheese, fruit and a hard-boiled egg. Grab your coffee to go or a Harney Tea and make a picnic. We took our boxes to the outdoor tables and soaked in the sun while we made our daily plans.
The inn doesn't have a restaurant, so you'll need to explore North Adams and nearby Williamstown. I'm excited to see the food scene continue to take off in the Berkshires. Before COVID-19, there were all sorts of exciting things happening and I hope that continues when things start to improve. 
On our recent visit, we had a fun outdoor dinner at the Trail House restaurant. Our favorite thing the wedge salad with creamy buttermilk. It's definitely family friendly with plenty of outdoor seating and room for the kids to roam.
For lunch, try one of the food trucks at MASS MoCA or head to Spring Street in Williamstown to nosh of one of the college kids' favorites like Papa Charlie's sandwich shop or get Indian food at Spice Root.
If you want something a bit fancier, we had a wonderful dinner at The Willam's Inn. The hotel's restaurant, The Barn, is bringing farm to table dining to the Berkshires. We loved the Crispy Cauliflower starter and the Barn Brisket. The outdoor setting is glorious and the service was delightful. 
Don't forget to treat yourself to a Lickety Split ice cream. Located steps away from the William's Inn, these fresh frozen treats can be personalized with toppings. My advice? Get the waffle cone and yellow and purple sprinkles to honor the Williams College school colors.
Plan your Trip to Porches
Our favorite part of our stay was the proximity to art. In addition to the scenery, we thought the staff did a great job working to make guests feel welcome. Though they keep a safe distance, we felt them to be helpful and accommodating. 
What we'd change: while we loved the comfortable interiors, we could've used more pillows and suggest new mattresses, the bedding needs to be stepped up. And be warned: the WiFi is spotty, this is not the place to stay if you need to feel connected. Momtrends tip: plan to unplug or bring a hotspot.
Ready to book your trip? The porches is currently near capacity through fall. They only have 50% of the rooms available (due to COVID), so book early. They are continuing to assess the situation and may open more rooms soon if they can do so safely.
The The Porches Inn at MASS MoCA is located at 231 River St, North Adams, MA 01247. Phone 413-664-0400 Get more information about rates and availability here.
MORE TRAVEL IDEAS FROM MOMTRENDS
PIN IT!
Use Pinterest to save your favorite family travel destinations to help inspire your next trip. Be sure to follow our Travel with Kids board here.
This is a sponsored post.