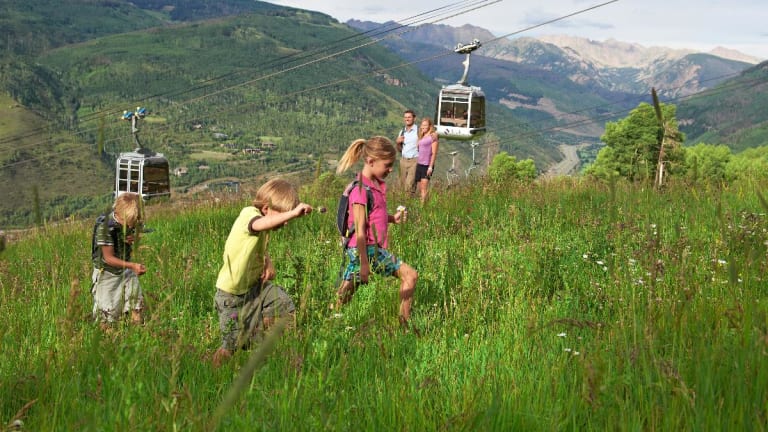 Planning a Vail Summer Family Trip
Create awesome family memories in the mountains of Colorado
Are you planning your summer yet? With just two weeks left to enjoy winter, I'm starting to think about our family vacations and I'm planning a Vail summer family trip. Our girls, 13 and 11, always vote for active vacations and nature. I love to hike and play in the dirt too, but at the end of the day, I want a nice glass of wine, a fluffy robe and a fantastic dinner that someone else prepares. In Vail, Colorado, I can have the best of it all and create some pretty awesome family memories.
Geography matters. When I trip plan, I like my vitamin D with a relatively low dose of humidity, making Vail the perfect summer spot. The average daytime temperature is 75 degrees. Doesn't that sound perfect? That's why I'm researching flights to Colorado this weekend.
In addition to fine weather, I want luxury. A big part of our trip planning centers around outdoor time and adventures. When I go to Vail, I know I can stay at a luxury hotel and experience fine dining after a day spent with llamas and ziplining. As I dive into planning our trip, I came up with a list of why Vail, Colorado is a great place to take teens and tweens this summer.
Seven things to do in Vail this summer with your family.
1. Hike: Hitting the mountains is the #1 activity for Colorado visitors. There are more than 200 miles of hiking trails in Eagle County. Momtrends Tip: book a hike with a llama through Paragon Guides.
2. Epic Discovery: This is Vail's on-mountain experience where families can bond through play. There's zip-lining, a mountain coaster, a ropes course and more. Epic Discovery is designed to connect families with national forests in an active, fun and engaging way. Discovery passes are $99 and include all these adventures: Scenic Gondola Ride, Gore Range Adventure Course*, Holy Cross Adventure Course,  Forest Flyer Mountain Coaster, Paramount Peak Climbing Wall, Bungee Trampoline, Little Eagle Zipline, Pine Cone, Adventure Course and Marmot Mini Tubing. 
3. Music: Vail hosts three music festivals, including an amazing Jazz Festival, that runs all summer. This means there's pretty much tunes floating through the air every night. From classical to pop, there's something for every taste; they even get visiting musicians like Steve Martin and Martin Short. Many of the performances are free or relatively inexpensive, making them perfect for families. Momtrends Tip: Get tickets to Tosca, one of my favorite operas by Puccini; it will be performed under the stars at the Gerald Ford Amphitheater (dates July 11 & 13).
4. GoPro Mountain Games: Inspire your kiddos to get moving. Take in the 35 events in the series that celebrates outdoor sports including kayaking, mountain biking, rock climbing and more. June 6-9.
5. Bike: There are more than 343 miles of mountain bike trails in Vail.
6. Farmers Market: Each Sunday the Vail Farmer's Market takes over the center of town. The market starts June 16th and runs through October 6th. Head to the market and grab goodies to pack a picnic up on the mountain.
7. Vail Nature Center: Visit the interpretive center for hands-on nature exhibits or to join the many programs guided by knowledgeable naturalists. From bird walks, wildflower walks and beaver pond tours to full and half-day backcountry hikes, there is something for every age and interest. The Vail Nature Center is open seven days per week Memorial Day weekend through the end of September.
Hotel in Vail
Now that I've sold you on Vail for your summer family trip, you need to find the right spot to stay. There are a ton of great options right in Vail village. We've loved our stays at the Sonnenalp in Vail (click for a full review). It's incredibly family friendly and posh without being fussy. I adore the European charm and the incredible staff.
Other options include the new Hotel Talisa. It's the first Luxury Collection hotel at Vail. This winter I went to the hotel and checked out the rooms (amazing) and the spa (sublime). The 285-room hotel has stunning views and some great restaurant options. Fun Fact: The Hotel Talisa offers an exclusive Moët & Chandon champagne vending machine.
Planning your Summer Trip to Vail
Momtrends Tip: Getting to Vail is pretty easy if you can get a flight into Eagle County Airport. Eagle is just 35 miles away from Vail Village. Momtrends Tip: Avoid DIA if you can. I really dislike Denver's airport, it's in the middle of nowhere and the rental cars are located way off property. DIA is 100 miles from Vail and you have to drive on I-70. 
Momtrends Tip: Be sure to start hydrating before you leave home. Since we live at sea level n NYC, we make sure to hydrate a week before departure. Once we arrive in Vail (the elevation of the town is 8,150), we take it easy the first day and build up. 
Are you ready to create awesome family memories in the mountains of Colorado? 
Pin it!
Use pinterest to plan your summer family trips.
This Planning your Summer Trip to Vail feature is not sponsored. Photos from Vail Resorts Jack Affleck.