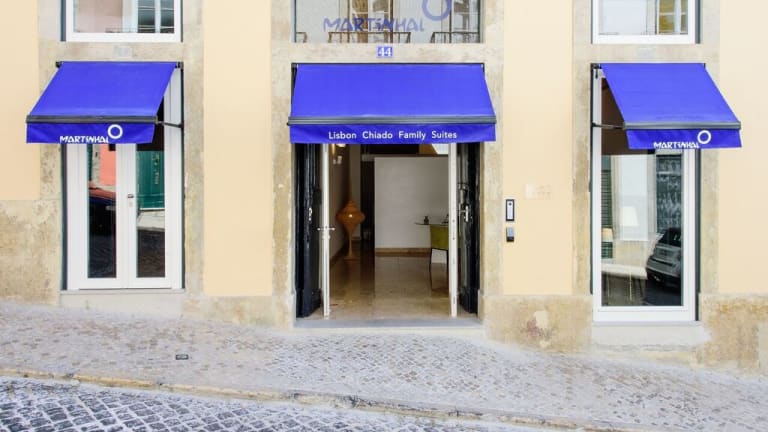 Planning a Portugal Trip with Kids
Family Friendly European Vacation
My passport is my most valuable possession. Travel means the world to me and we are always in a state of trip planning here at Momtrends casa (last summer was Australia). This summer we are planning a Portugal trip with kids. Did you know I am 50% Portuguese? It's true. And I'm very proud of my Latina blood. This summer I get to show my kiddos more of my homeland and I'm excited we'll be staying at the Martinhal Family Hotels & Resorts.
Each year our summer trip planning sucks up a ton of time. First we try to get a great deal on airfare (utilizing miles as much as possible). Then we try to book the perfect lodging to be our home base while on the road. Finally, we research the best activities. It can be exhausting and I 100% understand why some families choose to travel to the same destinations repeatedly. Trip planning can suck all the fun out of travel.
Friction Points in Family Travel
1. Finding good airfare deals
2. Selecting family-friendly hotels
3. Discovering activities that won't evoke yawns, eye rolls or tantrums.
At Momtrends, we're all about providing solutions. When we find something that works, we share. 
Let me introduce Martinhal. These hotels took step two, finding the right lodging, COMPLETELY out of the equation. They have four locations in Portugal that are designed with families in mind. We booked two locations for our summer 2018 trip- Lisbon and the Algarve. Now we can work on simply having fun. 
All the Martinhal locations offer a luxury holiday experience with working moms in mind.  Everything is set up to delight discerning moms while keeping the kiddos happy. Everyone wins. 
Where to stay in Lisbon with Kids
We're starting the trip in Lisbon at the Martinhal Chiado. It's the first city-centered hotel built just for families looking for a luxury experience. 
Lisbon is a little gem in Europe. It's known for historic landmarks like the nearby Palácio da Pena in Sintra, and it's affordable luxuries. But Lisbon isn't a sleepy town, it's vibrant and evolving. Added to the classic vibe there a neighborhoods like Bairro Alto that offer an infusion of cool into the city.
Rather than get stuck in a small hotel room, at Chiado we will have an apartment. In addition to spacious accommodations, the hotel offers all sorts of kid-friendly services like the Raposinhos Kids Club and baby-sitting facilities. Moms can also reserve baby equipment from bottles to baby gates to cribs. To make at least one meal day easy there's the The M Bar. It's a cozy family café lounge that offers buffet breakfast as well as homemade snacks and light meals for lunch and during the day.
Planning a Portugal Trip with Kids
We're excited to be in the city for the Festas da Lisboa that kicks off on June 12th and celebrates Saint Anthony's Day on June 13. I can't wait to see this colorful celebration.
We also plan to take a day to see the city by bike. Martinhal offers a range of city bikes, with optional child seats. Tell, me, what should we see in Lisbon? Now that I have lodging and airfare planned it's time for the fun stuff!
After Lisbon, we'll be driving south to the Algarve. This is the southernmost region in Portugal and is famous for glorious beaches. We'll be based in Sagres, one of Portugal's most historic towns.
We picked this spot because we loved the peaceful harbor; the southwestern port is less developed than other areas of the Algarve since it is bordered by a protected natural park.
Fun fact: The Sagres region is the only part of Portugal that shares two different coastlines: the southern coast and the western coast. The west side is better for surfing and the south for windsurfing, skimming and kayaking. We plan to try them all!
Rooms are spacious and designed with families in mind. The resort also has fabulous restaurants and Club 98, a sports center that offers tennis courts (lessons available) and a huge swimming pool. When we want to chill, the beach at Amado is perfect.  The calmer water and shallow areas are well-suited to families with young children.
We can plan lots of fun daytime excursions and have wonderful meals without having to drive anywhere.
Special Martinhal Sagres Early Summer Packages
From April 7th to May 25 2018, families can get great deals on Portugal. If you don't have kiddos in school yet, this is an ideal time to travel. There are far fewer crowds and you can score great deals. Heck, even if you do have kids in school, travel is a life experience. Take them out for a few days to see the world!
Thanks to Portugal's temperate weather, spring is a great time to see hit the beach or the city! Prices start at 292€ PER HOUSE PER NIGHT (7 NIGHTS) for a family of four. 
Package includes:
7 Nights Package with breakfast 
1 meal per day (lunch or dinner – 3 course menu, drinks not included) 
Free use of indoor and outdoor heated pools
Free use of sauna, steam room and Jacuzzi in "Finisterra" spa
1 hour complimentary tennis or paddle courts per day (equipment included; pre-booking required)
Complimentary Wi-Fi throughout the Resort
Pin it and Plan it!
I can't wait to hear your travel tips for Portugal and hope I can help you plan your next family trip to Europe. When you combine beach with our time in the city, we've created the ultimate Portugal family vacation. We really get the best of both worlds.
This Planning a Portugal Trip with Kids is not sponsored. A portion of our stay at Martinhal will be complimentary to allow us to offer editorial coverage.