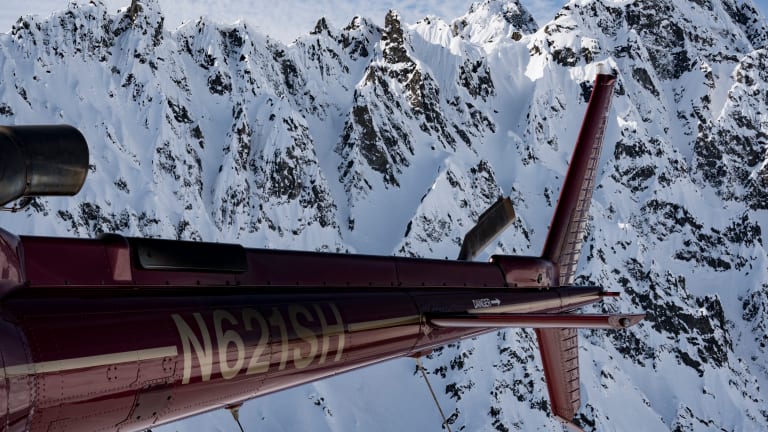 Planning a Family Heli-ski Trip to Alaska
2021 is the year for your family to Heli-Ski at Tordrillo Mountain Lodge in Alaska
This year has not been the year to travel. It's been the year to stay safe at home and be part of the COVID solution, not the problem. I haven't been on a plane since March and I don't plan on any trips until well into 2021. One of the first trips I'm going to rebook is our postponed Alaska trip. We'd been planning a family heli-ski trip to Tordrillo Mountain Lodge in Alaska. If your family is eager to travel and experience epic skiing in a sublime setting, you may want to make this the "big gift" of the year.  
Related: Reasons why Big Sky Resort is getting more popular
I'm optimistic about resuming my travel plans in 2021. With luck, we'll be on the other side of the second COVID wave and likely have a vaccine making the rounds. I'm going to secure my summer heli-ski trip now to give me some light at the end of the tunnel.
Are you ready for Heli-Skiing?
First let's bust a myth: You don't jump out of the helicopter! Think of the helicopter as your personal gondola. It gets you safely to the top of the mountain without and lift lines. With each run, the helicopter will touch down and all the skiers exit, put on their skis, and then start down the mountain.
Heli-skiing is off-trail, downhill skiing that is accessed by a helicopter. If your kids are solid skiers and comfortable taking directions, they can join the fun too. I'm planning on taking my 16-year-old daughter and would consider taking kids over age 10 (depending on the child's skills and personality). A heli-ski trip is about family bonding on the snow. It's about getting to special places and making incredible memories. I'm drawn to the experience of skiing a long descents on smooth corn snow. Think about all the space you'll have to work on your skills in the backcountry of Alaska.
With solid skills and the right guide, I know I will be comfortable heli-skiing within my abilities. Tordrillo Mountain Lodge wants skiers of all levels to know that if you're an intermediate skier and are considering taking yourself to the next level, this is the place. The key is the guide and Tordrillo Mountain Lodge offers some of the industry's best, including Olympic gold medalist Tommy Moe. Each guide has at least 15 years of experience with hundreds of runs logged in the Tordrillo Mountains. They've been trained on safety procedures, as well as, snow science training.
Equipment also matters. The lodge owns and operates its own helicopters to provide guests with world-class adventure experiences. The use the Eurocopter AS 350-B3 (A-Star) helicopter, known for its power, speed, and agility.
Tordrillo Mountain Lodge
Olympic gold medalist Tommy Moe and heli-ski pioneer Mike Overcast co-founded Tordrillo Mountain Lodge in 2006. Tordrillo Mountain Lodge is nestled on the banks of the Talachulitna River. Access to the lodge is via a puddle jumper/40-minute flight from Anchorage, Alaska.
One little secret about heli-skiing is that there are often wind and weather delays. Having deluxe lodgings to wait out the storm are key. If you skimp on where you stay, you'll have travel regret. 
The lodge offers rustic-chic lodging (it's definitely a glamping experience) with all the luxurious touches I've been missing in my stay-at-home life. Guests can book in-room spa treatments or soak in the outdoor hot tub, or sip a gorgeous bottle of wine while taking in the views. 
Start the day with yoga and end the day with a soak in the lakeside copper hot tub. During the day guests can also use the fat tire bikes, cross country skis and skate skis, snowshoes or head to the exercise room.
When planning my ski holidays, I like to mix up skiing with other activities and I definitely want great food and a stunning setting. At Tordrillo, I plan to take in the Kings & Corn experience. A mix of skiing and guided fly-in fishing for Alaska king salmon.
COVID Update
After a successful summer season at full capacity, with no Covid cases, Covid Safety Policies are being implemented. Tordrillo Mountain Lodge guests should expect the same epic skiing and riding with a few minor changes to the lodge experience. There will be BD Veritor™ Plus System on site for rapid COVID-19 testing of staff with results available in 15 minutes. This will also be available for guests if they were to experience any symptoms. In addition there will be a fogging machine that enables staff to sanitize entire rooms between guests, in addition to the increased room cleaning protocols and hand sanitizer stations.
Note: All Incoming Guests  must show a proof of a negative COVID PCR test from within 72 hours of travel to Alaska. 
Trip Planning with Tordrillo 
Are you ready to book? Heli-skiing at Tordrillo Mountain Lodge is available for week long experiences (arrival Saturday, departure Saturday) from February through April with their Kings and Corn (Fishing and Skiing) experience available in June and July. Rates begin at $15,000 per person, per week and include:
Rapid Covid-19 testing
7 days of heli adventures
Transportation from Anchorage International Airport to Hotel Captain Cook
One double occupancy room at Hotel Captain Cook the evening prior to your reservation
Round trip flight between Anchorage and Tordrillo Mountain Lodge or Winterlake Lodge
7 nights lodging at TML or Winterlake Lodge
Safety equipment & ski/snowboard demos
Gourmet meals 
5 Hobbs hours per group of 4 clients.
MORE SKI FEATURES FROM MOMTRENDS
PIN IT!
Use Pinterest to save your favorite family travel features. Be sure to follow our Ski Moms Pinterest Board.
Momtrends was not paid for this post. 
For even more Momtrends, follow us on Facebook, Twitter, Pinterest and Instagram