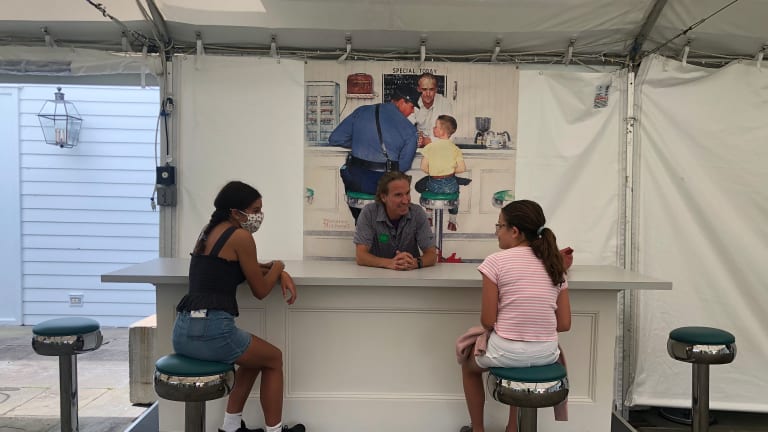 Plan Your Visit to the Norman Rockwell Museum
The Norman Rockwell Museum in Stockbridge, Massachusetts is one of the most kid-friendly art museums around find out why your family needs to plan a visit.
The Norman Rockwell Museum in Stockbridge, Massachusetts is one of the most kid-friendly art museums around. Designed to celebrate one of America's most beloved artists, the museum feels spot on for this moment in our country. Rockwell's work challenges us to recognize the good and the bad in our amazing home. His paintings are ideal for families who want to foster an appreciation of art and the story of our country's continued evolution.
Related: A travel treat to the Red Lion Inn
We love the Berkshires and basically all things New England. Since a lot of our time is spent in the city, escapes to the mountains always appeal to us. While we adore active adventures like visiting Jiminy Peak to ski and zip-lining at Ramblewild Aerial Park, we also appreciate the family cultural activities in the area. 
What I Love About the Norman Rockwell Museum
Many of the NYC museums we visit with the kiddos like the MoMA and the MET can be overwhelming. These cultural icons are too big, with too many artists and too many styles of art. Smaller scale museums, like the Norman Rockwell Museum, help kids get a deeper appreciation for the artist and the time period. Plus, this museum is endowed with a gorgeous natural setting with room for kids to run and spend energy after appreciating Rockwell's art.
Though there's not much to touch in this museum, it's well organized to keep things moving for kids who don't like to sit still. Visitors start down on the lower level watching a lovely short film about Rockwell, his art, his family and where he called home. From there, you'll take in the room with all the Saturday Evening Post (note my favorite cover above --love this plucky girl) covers and there's usually a guest exhibit from another illustrator downstair. 
On the main level, visitors take in close-ups of Rockwell's paintings. You can pour over the detail he put into each work -- the models, the photos, the studies and finally the finished work. Sure, the paintings may look effortless and full of life, but wow, they are engineered to perfection.
When you finish the indoors, there's a well-stocked museum shop and a little outdoor cafe. The museum has plenty of outdoor spaces to explore. On our first visit, we picnicked on the grounds and meandered down to the stream on the property. You can certainly make a half a day of this adventure. 
Let's Take a Moment to Talk About the Artist
Rockwell (1894-1978) was fairly self-deprecating. He didn't consider himself part of the "high art" community. I would disagree with his humble assessment. Like the critically acclaimed artists that preceded him, he knew how to draw the viewer into the composition. Rockwell was a master of manipulating light to suit his needs and he's unequalled among American artists at telling human stories. He has such honesty and humility to his work, and I think kids really respond to Rockwell's forthright painting style. 
Art can be complicated. Sometimes straightforward images are the most powerful ones. I would argue, now more than ever, Rockwell's paintings are the type of art that can bring us together and start conversations.
This is the world's largest collection of Norman Rockwell art. Highlights include the COMPLETE collection of his covers for the Saturday Evening Post and his moving works about social justice. 
Rockwell and Civil Rights
Taking a look at Rockwell's work to forward civil rights seems like the perfect family outing right now. While some critics call his work "nostalgic" I don't see hime romanticizing the past. He was a HUGE supporter of the Civil Rights Movement. In 1967, he painted The Problem We All Live With clearly showing the world where he stood on social issues. Most children will easily empathize with young Ruby Bridges -- and that's the magic of Rockwell. He gets us talking and feeling. 
A large portion of the museum is dedicated to telling the story of the 1965 painting Murder in Mississippi. In this work, Rockwell tells the story of civil rights workers Michael Schwerner, Andrew Goodman, and James Chaney. If you want to talk to your children about the Black Lives Matter movement, you can certainly start here.
More About Illustration
This museum is home to not just Rockwell, but also to the art of American illustration. On our visit, we saw an exhibit of Liza Donnelly's work. We recognized many of her cartoons from the pages of the New Yorker. We were all impressed that the compilation of her work also included VERY current COVID cartoons.
In addition to the main museum, the site is also home to Rockwell's studio. It was moved from his nearby Stockbridge home by flatbed trailer and set up on the museum's site in a gorgeous spot overlooking a valley. Normally the studio is open from May to October, but it was closed on our visit due to COVID. 
Momtrends Tip: There's plenty of space to picnic on the grounds, pack a lunch or snacks to enjoy after your museum visit. 
Plan Your Visit to the Norman Rockwell Museum
The Normal Rockwell Museum is located at 9 Glendale Road, Rt. 183, Stockbridge, MA 01262 (412) 298-4100. With COVID restrictions in place, you need to book your tickets in advance at the nrm.org site. Momtrends Tip: Kids and teens get free admission to the museum
The museum is located 1.3 miles from our favorite place to stay in  Stockbridge, the Red Lion Inn. Head here to get the full review of the inn.
This museum is a treasure and a treat, it's the perfect spot to visit this summer as we wrestle with societal issues throughout our country. Make sure to work it into your summer plans the next time you visit the Berkshires.
MORE TRAVEL IDEAS FROM MOMTRENDS
PIN IT!
Use Pinterest to save your favorite family travel destinations to help inspire your next trip. Be sure to follow our Travel with Kids board here.
Momtrends was not paid for this post.