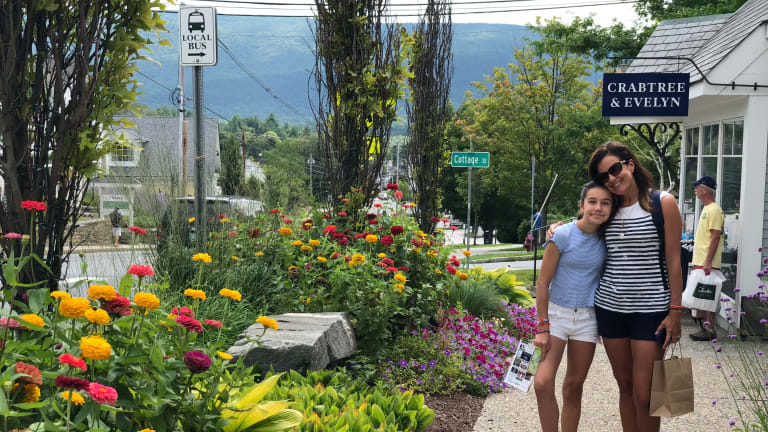 Plan your Manchester Designer Outlet Shopping Trip
Great fashion, great fun in Vermont
Do you love the thrill of the hunt? Back in the 80s my mom used to take me to the outlet mall on the way home from Rehobeth Beach, Delaware. We'd bond sorting through bins of tops and racks of sneakers looking for treasure. The outlets weren't fancy, nor especially trendy, but it was fun to be with my mom and I loved the thrill of scoring a great deal. This year, I took my daughter outlet shopping. Things are a whole lot classier at the Manchester Designer Outlets in Vermont.
This summer I paid a visit to the Manchester Designer Outlets for the Annual Sidewalk Sales (August 9th - August 12th). Our goal was to visit as many of the 40 outlet shops as we could and get some back to school shopping done for my teenager and some fall fashion shopping done for me. It was a huge success.
The Setting at Manchester Designer Outlets
Let's start with the setting. The forty designer outlets are set in picturesque Manchester. This hamlet has some of the most enticing nature in New England. Families flock to Manchester for skiing in the winter, horse shows in the spring, fly fishing in the summer and hiking in the fall. It's truly a four-season mountain destination.
If you are like me and love to mix a little luxury in with your adventures, you'll love this spot. Plan a weekend and split your time between nature and STYLE. If you ask me, Manchester Designer Outlets are another type of adventure…a shopping adventure. But it's not about digging through bins, unlike the outlets of my youth, this is a high-end shopping experience. I was impressed by three things: the selection, the setting and the service.
Selection at Manchester Designer Outlets
The brands are the big draw for any outlet. Many of my favorite brands have stores here. My daughter and I had a strategic mission when it came to fashion. We wanted to get to Ralph Lauren, Kate Spade, J.Crew, Vineyard Vines, New Balance and LOFT.
Like any good shopper we came with a sense of discovery and a wish list. My younger daughter is ready for a real "grown-up suitcase." This year when we went to Portugal with the kids we looked at her Disney Princess roller and knew it was almost time. When I found out that Tumi had a location in the Manchester Designer Outlets, I hoped to find a replacement. We were in luck! We found a pretty floral print roller that fits in the overhead and just happened to be 50% off the outlet price. This was our biggest score of the trip.
In addition to getting things we needed checked off the list, we were also in discovery mode. Marimekko was new to my daughter. She loved the bold prints and the bolts of fabric. Since my other daughter loves to sew, we looked over the fabric by the yard and vowed to bring our sewing maven back.
We probably scored the best deals at Kate Spade. Thanks to the Sidewalk Sale, prices were up to 60% off. You can head to my fashion post here to see the dress I scored for $67. And be sure to notice the $9.99 sunglasses I found at LOFT. My 13 year old also loved the LOFT earrings.
She was most excited about Vineyard Vines. In her middle school all the girls wear VV. The preppy graphic tees are hugely popular. And her flip flops were in desparate need of replacement. It was great to get a new pair at 50% off. Oh, and we loved meeting the Vineyard Vines whale during the sidewalk sale celebrations.
Eileen Fisher may have been the prettiest shop we visited. This shop is flooded with natural light that makes the most of the natural fabrics. The store was laid out with loads of wide open spaces, spacious fitting rooms and plenty of spot to try on shoes.
Setting at Manchester Designer Outlets
Forget your preconceived notions of outlet shopping. Manchester is very high end. The stores look like they could be in any vacation locale. Unlike strip malls, this leafy location is full of character, in fact it's so spread out you may want to repark your car! The buildings blend into the local architecture and have lots of natural light.
The landscaping is notable. There are blooming flowers everywhere and plenty of clean bathrooms when you need a shopping break.
Speaking of breaks, the food is delicious. In my two days of shopping I was able to pop into a number of local restaurants. The Works is great for a quick sandwich or smoothie. For lunch, I'd send you to Depot62 Bistro & Cafe. This spot is part rug gallery and part cafe. The owner is Turkish and spends half the time sourcing rugs. The cafe is a wonderful place to get design ideas while you also satisfy your cravings for wood-fired pizzas. 
Of course we couldn't resist a visit to the Ben & Jerry's location. It's right next to the Vineyard Vines store. We got our ice creams and them played some corn hole out on the lawn.
Service at Manchester Designer Outlets
Again, I ask you to forget your preconceived notions of outlets. This isn't bin diving. It's definitely for those of us who value service. For example, at Crabtree & Evelyn they had a demo set up to try some of the hand renewal kits. My daughter and I tried the exfoliator treatment outdoors and then sampled different scents. We were so smitten with the products we ended up buying them.
 At Mela Artisans we loved touring all the handcrafted treasures. It was a great mix of home items and fashion. The sales team there was extremely knowledgeable. The mission is to support artisan communities.
The Le Cruset smelled divine, the store had some spices brewing that wafted into the air and made us all in the mood to cook (or at least think about food). Le Cruset rarely goes on sale in NYC. But here there were items marked as low as 60% off. It's a great place to start a collection or add a piece or two to your kitchen arsenal.
Come ready to shop and experience new things. 
For more trip planning information visit http://www.manchesterdesigneroutlets.com/ for more on Manchester, Vermont visit this post.
Pin it and Plan it
Put the address into your smartphone and get ready to shop the Manchester Designer Outlets 97 Depot Street, Manchester, VT05255
This Plan your Manchester Designer Outlet Shopping Trip feature is sponsored.