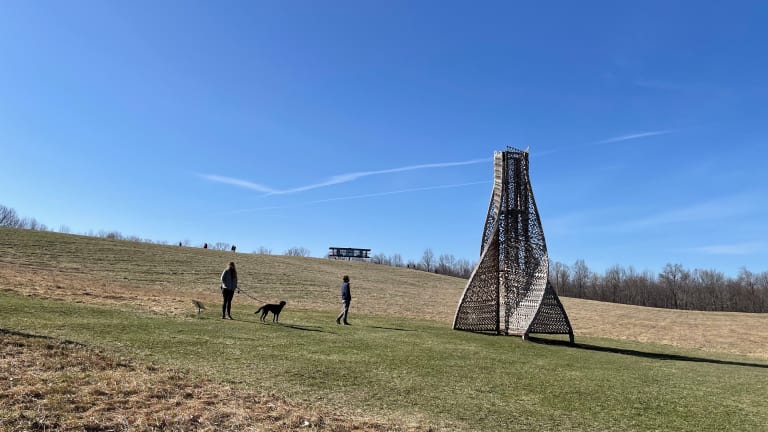 Plan Your Family Visit to Art Omi Sculpture Park
Art Omi is a great family day trip to get culture and fresh air at this cool 120-acre architecture park and gallery.
My kids often groan when I tell them I've planned a museum trip. They know love a good art exhibit and they've learned to just give in and try to learn something. I have much more success when I incorporate time outdoors with my quest to sprinkle culture on them. A recent day trip to Ghent, NY led me to a new gem and I want to help you plan your family visit to Art Omi sculpture park. 
Related: Three must-see outdoor places with kids in NYC
Getting Your Culture Outdoors
With 120 acres to explore, Art Omi Sculpture & Architecture Park in Columbia County, NY is more of a romp than a museum. They've gathered a splendid collection of rotating installations throughout the rolling land. Kids can run, skip, giggle and squeal as they expand their hearts and minds. No indoor voices required!
The concept of this museum is spot on. Get kids moving and they are much more likely to appreciate art. We ended up walking close to two miles as we took in all the vistas and explored the art from many angles.
Some of our favorite pieces included:
Caroline O'Donnell + Martin Miller, Primitive Hut: The piece will transform between states of solid, frame, and void, while, through its decomposition, it will assist the growth of trees, which will replace the physical geometric form with a comparable, but radically different and now living, form.
Atelier Van Lieshout, Blast Furnace: BIt was incredibly hard for even the adults to resist climbing on this 40-foot-tall maze-like structure comprised of pipes, conveyor elevators, staircases, and mezzanines. 
Will Ryman, Pac-Lab: is a series of walls and pathways designed to mimic a video game maze in large-scale, which visitors can enter and navigate. 
Check out our Video
We were delighted that we could bring our (well-behaved) dog along. All the dog owners were VERY respectful, had dogs leashed and picked up all poop. It's an excellent place to bring your furry friend if you can do all of the above.
What Else Can you do at Art Omi
In adidition to the outdoor space, there is a small gallery at Art Omi. On our visit, we saw an exhibition of sculptures, paintings and objects in-between by Kianja Strobert. 
Inspired to make your own art? Each week there are classes for children. Grouped by age, there's something for each child to tap into his/her creativity. Head here to check out the calendar listing. 
In addition to the outdoor art, Art Omi offers residency programs for international artists, writers, dancers, musicians and architects.

Plan Your Visit to Art Omi
Art Omi is located at 1405 Co Rte 22, Ghent, NY 12075. It's about 90 minutes from NYC. 
Visitors to the Sculpture & Architecture Park must register for a day and time on weekends and select holidays. One registration is required per vehicle group. While the museum is technically FREE, a suggested donation of $10 per person is encouraged (and the right thing to do).
The Sculpture & Architecture Park is open daily from dawn until Dusk. The Benenson Center is open daily from 9 am - 5 pm.
For parents with tots, bring a pack, or a stroller with a good off-road set up. This is not paved territory and not designed for kid who tire easily on foot.
There are picnic areas and port-o-pots available. 
More Travel Trends for New York on Momtrends
PIN IT!
Use Pinterest to save your favorite NYC outings. Be sure to follow our New York City board here.
Momtrends was not paid for this post.