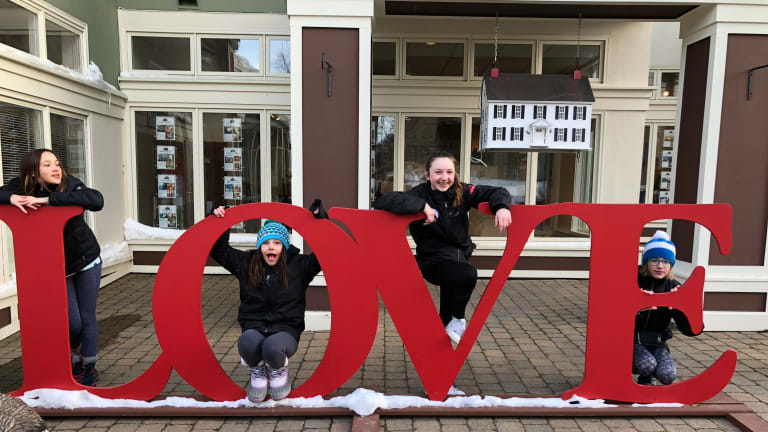 Plan a Visit to Manchester Vermont
Family Fun in Vermont
We did a lot of skiing at Stratton resort this year. It was a mixed experience, but mostly a good one. On the downside, we had a rather rotten experience with our Homeaway rental on mountain. We opted for a season rental (December to March) and, unfortunately, the homeowner was less than helpful when it came to maintaining the property. For subsequent March visits, we decided to stay in the nearby town of Manchester. I pulled together tips to help you plan a visit to Manchester, Vermont. Use this as a resource in case you head to ski in the area and please add your own ideas too!
Related: Where to eat near Stratton Mountain, Vermont
Why Manchester?
Manchester is about 15 minutes from Bromely mountain (a great mountain for day trip) and about 25 minutes from Stratton. It's home to many retail outlets and seems to be a favorite of the retirees that settle in Southern Vermont.
I am always looking for insider tips for town like this, let's kick things off with my picks and I hope you'll chime in with your recommendations!
Where to Stay in Manchester Vermont
We've stayed at both the Equinox and the Taconic (run by Kimpton Hotels) and if you are going for a luxe family ski experience, I recommend either of these properties. The Equinox, however is my favorite. Here's why: it's got a fabulous spa and terrific food.
Book the Equinox Resort on Expedia here.
Equinox is a full-service resort with a charming property. The in-house restaurant, Chop House, is full of hearty (if expensive) American fare. Total bill: Dinner for two with a glass of wine came in well over $200. The hotel staff was very attentive, and we loved the speedy valet service to take care of our car.
Since moms need as much TLC as they can get, I highly advise a trip to the Equinox spa. The health facilities are in a free-standing building on the property. The enormous indoor pool area (the pool is 75 feet and heated) is flooded with light. Step outside to soak weary muscles in the steamy hot tub (be sure to bring your fluffy robe from your room). There's also a room dedicated to fitness classes and a huge area with weights and cardio machines.
I booked a Swedish massage for my daughter and I at the spa and we were both thrilled. The treatment rooms were well decorated and completely zen. There's a roaring fire and tea or flavored water in the relaxation room. It was just the pampering I needed after shuttling my daughter up and down the East Coast for ski races!
Bottom line: The rooms are similarly priced at the two hotels. I would say the Taconic is a bit more chic, but be warned, we had incredibly slow service at the restaurant and the rooms were MUCH smaller compared to the Equinox.
Time at Stratton Mountain
Up at Stratton, my daughter attended a race camp run by the Stratton Mountain School. While she worked on her technique, I did some exploring. Mid-week is the best time to ski Stratton, the lines can get pretty hairy on weekends, and thanks to some fresh powder I had a great day on the slopes. My two cents? Stratton has great kids programs but gets a little over-run with slightly reckless skiers on the weekends.
Momtrends Tip: On the weekend, start your day at Sun Bowl. There are far fewer crowds over here; both at the base and on the trails. To navigate Stratton you'll want to start early and ski at the peak lunch times. Grab a late lunch (anytime after 2) at the main base area or Sun Bowl. Stratton has done an admirable job updated the on-mountain food. The choices of salads and fresh proteins are quite good, but definitely priced for New Yorkers!
If you want to take a day off the slopes and still get in a workout, get a day pass at the Stratton Fitness Center. For $20 a day you can use the pool, weight room and stretching area AND/OR take a class. The yoga classes (they normally offer one or two a day) are excellent. Ski moms need to keep those muscles in good shape so stretch it mamas!
Manchester Vermont Ideas
Ok, you can't ski every minute of the day. That's why it's so great to stay in Manchester. I have come to love the local cinema, Village Picture Shows, in Manchester is a cute spot to see a movie. And if you are looking for deals, pop into an outlet or two. The New Balance store is walking distance from the theater and a great place to stock up on running shoes.
Fly Fishing Museum
I like to mix culture with my adventures. For $5 you can take a walk through the exquisitely curated American Fly Fishing Museum. Orvis has a huge nearby operation, and the area of Vermont is known to be a haven for fishermen and women. I've only been fly-fishing a few times, but I really appreciated the effort put into this museum.
The museum is separate from Orvis (but I'm sure it's not a coincidence that they are quite close to one another) and a nice spot to spend an afternoon. It is quite small, but each display is thoughtfully diagramed. For instance, these flies are works of art! 
My walk through the museum inspired me. I am looking forward to taking a lesson sometime soon. I think the chill quality of fly-fishing would be a perfect hobby for me.
Get more information on the AMFF www.amff.org and visit the location at 4070 Main St, Manchester Center, VT 05255.
Fun Food Ideas for the Family Manchester Vermont
When we had the Stratton condo, we cooked in most nights. But I do have a few ideas for you. First, for breakfast, try Up for Breakfast in Manchester. It's a cute local spot with plenty of character. Climb up the stairs and get ready for a hearty plate! The kids loved the pancakes. I loved the service and family-friendly prices. Visit at 4935 Main St, Manchester Center, VT 05255.
A NYC friend turned us on to Honey Pie. It's an upscale burger joint (think Shake Shack but much better!) with amazing food and crisp fries. I had the lamb sausage (super yum) and the kids stuck to the basic burgers. There are a few tables inside, but lots of folks take the food to-go after a long ski day. The restaurant is located at the base of the access road to Stratton. Be sure to check the website to see if they are open. This spot is seasonal and not open 7 days a week (8811 VT-30, Jamaica, VT 05343). Momtrends Tip: Try the Oreo shake!
Favorite Ski Shop in Manchester Vermont
Family-owned and operated the Starting Gate is our pick for ski gear and racing gear. The staff is knowledgeable and friendly. They are also super-reliable if you need an overnight wax or tune. Visit them at 1011 VT-30, Jamaica, VT 05340. Momtrends Tip: They have great end of season sales - be sure to visit in March!
Have you been to Manchester? Let me know where you eat, what you do and where you stay!
MORE OF OUR FAVORITE VERMONT SKI EXPERIENCES
PIN IT!
Use Pinterest to save your favorite family travel features. Be sure to follow our Ski Moms Pinterest Board.
This Plan a Visit to Manchester Vermont feature is unsponsored.