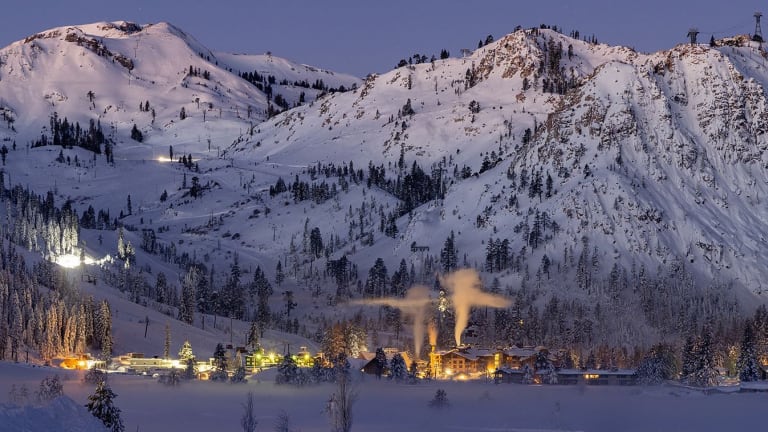 Plan the Perfect Palisades Lake Tahoe Family Ski Trip
Perfect Palisades in Lake Tahoe are the ultimate family snow destination
I was over-due for a California ski trip. It has been seven years since I skied the West Coast and I sure did miss it. And when I think of winter in California, I think about Lake Tahoe. The lake effect brings in tons of snow to the area making it a ski/ride paradise. 
With an annual average of 450 inches of snowfall and 300 sunny California days, Palisades Tahoe is known as the Spring Skiing Capital™ and it is home to the famous rescue Dogs. 
UPDATE ON THE PALISADES TAHOE NAME
Palisades Tahoe introduced its new name and logo in 2021. The new name honors the resort's history as a land of legends—home to freeskiing pioneers, Winter Olympians and cultural icons across more than seven decades of ski history. This change will bring both mountains of the former Squaw Valley Alpine Meadows together under one unified name.
The 2020 commitment by the resort to rename the destination was made after extensive research into the historical and current usage and regional history of the word "squaw," and discussions with the local Washoe Tribe, which affirmed the position that it is widely considered a racist and sexist slur against Indigenous women.
Plan the Perfect Palisades Tahoe Family Ski Trip
Skiing and riding at Palisades Tahoe is about being in nature, getting in a great workout and then chilling out. The Californians have it down to a science. This New Yorker always thinks these folks have it figured out.
My two-day adventure was all about catching up on what's new at the two resorts that make up the Palisades Tahoe experience. Both Mr. Momtrends and I have the Ikon Pass, a multi-resort pass is really the only way to go for folks who love snow. A day pass will set you back $169 or more. We did it in two days, but I wouldn't advise traveling here for less than four days as a family trip. Combined, the two resorts cover 6,000 skiable acres. It's too much for two days.
Two Great Properties
This is really one big resort. Your pass works at two mountains, but it's best to break up the skiing and not attempt to do both in a day. When it comes to personalities, Palisades is bigger and has a bit of swagger. It's the spot to splash out for a big meal and a see and be seen at the après ski scene. The sister property, Alpine, has a family vibe and an under-the-radar caché. Soon the two will be connected by more than a shuttle; a gondola is in the works. 
We started our trip with a day at Alpine. It was easy to get there on the shuttle. After we had our skis, we met our guide Dustin and made our way to Alpine. Dustin is a Mountain Guide and a local expert. He's spent a few decades figuring out the perfect routes on the mountain. Since the Lake Tahoe area had just been walloped with three feet of snow, it was great to have a guide show us the best stashes and help us figure out how to best manage our time.
North Face Mountain Guides at Palisades Tahoe
Dustin was a master of the glades and the vistas. While I would've probably found my way to the Lake View chairlift with stunning views, I likely wouldn't have traversed over to the Promised Land. Dustin is part of the North Face Mountain Guide program.
The Palisades Tahoe guides are a huge perk. These guides are some of the best skiers on the mountain and can help you access a ton of terrain beyond the marked trails. If you want to try hiking or chutes or glades, these guys and girls will help match the day to your whims and skill level.
The North Face Mountain Guide program is open to intermediate and advanced skiers and riders ages 13+. It's a full-day program that gives your priority lift-line access and here's something cool: participants also receive a complimentary outerwear piece from The North Face and discounts on demo gear.
We skied like mad at Alpine with a very short pit stop at the base for a quick bowl of chili. Unlike Palisades, at Alpine, there's a single base area and simpler dining experiences, though by no means is it any less enjoyable. I love the streamlined approach and think it's perfect for families. No one can get too lost here.
Plan the Perfect Ski Day at Palisades Tahoe
On our second day, fresh snow arrived. It was a heavy 10" of snow that came down nice and steady. Sadly, the winds kept us off the Aerial Tram, but the Palisades Tahoe Funitel was operating to get us up the mountain fast (and dry). The Funitel is a cableway that uses two cables instead of one so it's more stable in high winds from the tram.
Wet powder is my jam. I love how it controls my speed and gives me something to work with. I was delighted to spend the day on the Palisades Tahoe Creek chair. The lower elevation helped visibility and was a tad less windy. My other happy place is anything off the Shirley Lake Express. Check out the trail maps here.
When it comes to challenges, there are plenty of them. Bowls, chutes and hiking o'plenty are here at Palisades Tahoe. Mr. Momtrends loves the steeps at Squaw. I would call it a day at 3, and he spent the remainder of his afternoon off the KT22 Lift. He told me to look up how legendary it is. Indeed, 'The Mothership' as they call it, is a lift that rises in six minutes out of the base area and services the most difficult terrain. Read more about the KT22 lift here.
Help Planning the perfect Palisades Tahoe Day
Plan the perfect day with the Ski & Snowboard Progression Plans. For beginners and intermediate skiers and riders this is a big help. Find them in the portable resort trail map as well as on the large trail map signs at key locations at Palisades and Alpine. The progression plans are intended to welcome those who are unfamiliar with the terrain and serve as a guide to a fun experience that makes the most of the day.
Palisades Tahoe App
Before you arrive to ski and ride, be sure to download the Palisades Tahoe app. It's a handy resource on and off the mountain. You'll get terrain maps, the latest weather info and lift-status updates. 
I used the app to track my day and it can also be used to track a group -- so handy when skiing with teens and other families. The App also ties in to Apple Watch and your Health Kit and tracks stats like top speed, trails skied, vertical feet and more.
Where to Stay at Palisades Tahoe
Alpine doesn't really have lodging. The Village at Palisades Tahoe is a year-round destination in the heart of Palisades Tahoe, located in North Lake Tahoe. This European-inspired Village features five restaurants, all with outdoor seating, bars, and eateries along with a variety of boutiques and galleries.
We stayed in Building 3 (not very creatively named). The one-bedroom condo faced the medical center and was fairly modern. The kitchen was well-equipped and the furniture was tasteful. The room wasn't very notable, but it was very convenient to everything. On our visit, the hot tub area and VERY small workout room were being remodeled. There is no great space for stretching in our room or in the gym; that's a miss.
On our last visit, we stayed at the Resort at Squaw Creek, you can check out that review here.
Where to Eat at Palisades Tahoe
If you love skiing, you know breakfast is the most important meal of the day. In the Village at Palisades Tahoe you have a few options. Yes, there's a Starbucks, but why not try something more exciting like Wildflour Baking Company in the Olympic building. The egg-bagel sandwich with avocado is excellent and swing back for a gooey chocolate chip cookie later in the day.
I also really enjoyed my breakfast at Coffee Bar. Mr. Momtrends reports they have the best coffee. We loved the breakfast bowls piled with protein and greens.
When we ski, we tend to just grab a quick bite and not do anything too fancy or large, occasionally we splurge, and Bistro 22 is the place to splurge. We had a fierce morning on the slopes in snowy conditions and refueled here. Mr. Momtrends had delish roasted chicken on top of macaroni and cheese, the man has a BIG appetite and was completely stuffed. I went for the equally satisfying dragon bowl.
We had three dinners in The Village and were more than happy with each evening…in fact, each night just got better. On the first night we headed for salads and pizza at Fireside Pizza Company. We had fast, friendly service there with crisp salad. Since we are from NYC, we have pretty fierce pizza standards, this pizza was okay, not memorable. But it did just fine.
On our second night we headed to Rocker. This casual spot is THE place to grab nachos. They piled them high with goodies, and we were ravenous after a big day on the slopes. DEFINITELY order the trout. It was served whole and was divine. I also loved the veggie risotto, but it was almost too rich.
Before we said goodbye to Palisades Tahoe, we treated ourselves to dinner at Plump Jack Café in The Village. This is a bit more elegant – but still has the laid-back West Coast vibe. Take my advice and start with the Seafood Cones. These small bites are stuffed with mango, cucumber, wakame seaweed and more. We polished off two servings. The wine list is also fantastic and they make great cocktails.
Getting Gear at Palisades Tahoe
There are many places to rent gear in The Village. We were lucky enough to be treated to Demo Skis at the Olympic House Demo Center. The difference between Demo skis and the skis that the basic rental shop gives you is pretty vast. 
Sawyer (a great guy from Middlebury, VT) put me on a Volkl the first day when I was skiing in fresh powder at Alpine Meadows, on day two, we switched it up. There was wet thick snow falling all day and I needed a heavier ski. I was really happy with the Blizzard he suggested for that day. Momtrends tip: let the experts share their wisdom when it comes to skis.
Learning to Ski and Ride at Palisades Tahoe
Got a teen or grown-up who is a never-ever? First-time skiers and riders should check out the Perfect Progression Program. Part of the resort's Ski & Snowboard School, this program aims to get new skiers to the intermediate level in a single season. 
Participants receive three half-day beginner ski or snowboard lessons, lift tickets, rentals, and three lunch vouchers (each with an $18 value) for use at Alpine Meadows; a one-time 30% discount at Estelle Sports; and an accessories package of goggles and gloves. After completing the three lessons, the program rewards participants' hard work with tools to continue developing their skills: 50% off group lessons, season-long rentals, and a season pass—available exclusively for participants of this program. The Perfect Progression Program is a limited quantity product and is available online for $499 per person.
For kids, the Palisades Tahoe programs are the perfect way to introduce your children to skiing and riding. Both our girls took lessons here. One started at age 4 and the other at 6. They adored the instructors and I loved the small groups and attention to FUN!
It's all about building a lifelong love of the mountains. They divide kids by age and ability and keep the groups small. For kids 7 and younger, their group lesson will never have more than 4 kids to an instructor. They teach the basics and SAFETY. I love that the Skier Responsibility Code is a big part of ski school.
Many resorts won't teach kids to ride until they are over six. Not here. Embracing demand for snowboard instruction for kids under five, kids' lessons will now have access to Burton Riglet Parks at the designated kids learning areas at Palisades Tahoe. There's a Rivets group lesson for snowboarders ages three and four, complementing the existing Grommets snowboard lessons for ages five through seven.
The parks utilize terrain-based features, easy to use equipment and learning tools to introduce young kids to snowboarding. Instructors trained by the Burton Resort Team use guided discovery and play to welcome new generations to the sport.
For skiers and snowboarders looking for a quick refresh on their technique, the new Pop-Up private lesson offers on-demand instruction by the hour. Guests will connect with a certified professional Palisades Tahoe instructor at the top of the Funitel at Palisades Tahoe or at the base of Alpine Meadows and hit the snow for one-on-one instruction and priority lift line access. Lessons are available after 10:30 a.m. on a walk-up basis only. The Pop-Up private lesson is $119 per person, per hour and $49 to add a maximum of one additional learner.
Getting There and Around Lake Tahoe
We've flown in to SFO and to Reno....Reno is easier. We flew a Delta flight with a connection into Reno-Tahoe International Airport. Jet Blue does have direct flights from NYC, but we hoard miles on Delta. If you are staying on property, there's no need to rent a car. In under an hour you can get to the resort from the Reno airport via the Reno-Tahoe Shuttle.
Throughout the day shuttles run to Palisades Tahoe and resort properties. They are free and convenient.
Once at the resort, the Mountaineer Shuttle is awesome. It's a free on-demand ride within Palisades Tahoe that runs from 7am to 9pm. It's perfect for getting to dinners. Download the Mountaineer App for more information.
For more information head to www.palisadestahoe.com
MORE SKI FEATURES FROM MOMTRENDS
PIN IT!
Use Pinterest to save your favorite family travel features. Be sure to follow our Ski Moms Pinterest Board.
This feature is not sponsored. The resort hosted us for lodging and some meals. We paid for airfare and our Ikon passes.