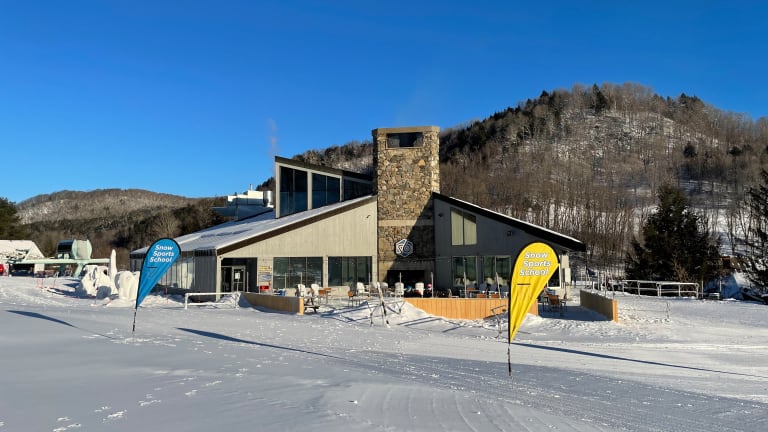 Plan a Perfect Suicide Six Family Ski Day
Located about 20 minutes from the town of Woodstock, Suicide Six is an ideal Vermont ski resort for families.
Suicide Six is owned and operated by the Woodstock Inn and Resort and is a delightful place for a family ski trip. Located about 20 minutes from the town of Woodstock, this ski mountain is a little gem among the Vermont resorts. After exploring, I've got some great ideas on how to plan a perfect Suicide Six family ski day. 
Momtrends Travel Tip: Make the Woodstock Inn your home base for a Vermont ski weekend with the kids. (click here for more information on the inn).
How Suicide Six Ranks in Vermont
When it comes to ski resorts, Vermont has a wonderful array of options. There's Killington with its steep runs and rowdy aprés scene and further south you'll get a completely different experience at Magic Mountain with its old school, rugged vibe. With dozens of resorts to pick from in Vermont, I try to my best to match families to the "just right" resort for their needs. 
If you want a charming place to take young kids, you'll be hard pressed to find a sweeter spot than Suicide Six. This is a resort where families come first. Safety and fun are the name of the game here. 
Suicide Six seems to go under the radar of most families, since it's not on a large pass and is a modest size. It's tucked into central Vermont in the Green Mountains and mostly caters to locals and guest of the Woodstock luxury resort. 
KNOW BEFORE YOU GO: Head here to learn about resort operations. Plan your trip to Vermont: Find out about how to travel to Vermont safely here.
What's With the Name
Ok, first, let's tackle the name. Suicide Six is one of the oldest ski resorts in the country. The name comes from an utterance by Wallace "Bunny" Bertram. Bunny was an ex-ski race and bought the land back in the 1930's. Legend has it, when Bunny, looked down the steep face of hill six he said, "it would be suicide to ski straight down that face." He thought the alliteration of the words suicide and six worked together, and well, the rest is history. 
Suicide Six opened on Christmas Day in 1937.  The mountain has been up and running for more than 80 years and has made numerous investments in ski tech over the years. While they've innovated, they've also remained charming and small. I'm a huge supporter of these mountains and the memories they provide families. 
Fun Fact: in 1934 this mountain was the site of the first rope tow in America.
Plan a Perfect Suicide Six Family Ski Day
First, let me tell you what you won't get at Suicide Six -- loads of vertical, long lines and yelling.  The whole experience is set up for a stress-free time on snow. Suicide Six invests in grooming and snowmaking so families can rest easy knowing the vacation days won't go wasted. 
Note: Suicide Six is open Wednesday thru Sunday so plan accordingly!
With only one base area, it's a dreamy set up for families. I adore that everything is centrally located at this mountain. You can give your kids the chance to explore a bit without fear of them getting into much trouble. 
Even before COVID, Suicide Six made sure lessons stayed small and focused on fun and learning. It's a wonderful place for first-timers to get started. 
Get all the scoop on the 2021 resort operations here. Book as much online as you possibly can. 
With tickets and lessons booked, you won't deal with any lines when you arrive. You'll scoot to the ticket window, then glide through the rental area before heading off to lessons or the lift. 
Speaking of lifts, the Quad Chair is pretty zippy and good at getting skiers up hill and dispersed. If you don't need lessons, start your day here and head to the top to take in the views of the valley. 
A smaller, slower double chair services the easier terrain. The mountain is set up to allow beginners to gain confidence with every run. Beginners head to gentle slopes that are well away from the steep black diamond runs. 
Once skiers feel like they are ready to pick up some speed, there's a gentle progression of runs off the double chair lift like Double Dip. 
If your family is ready to take on steeper slopes, it's time for the Quad Chair to Skyline or Bunny's Boulevard. The mountain keeps some bumps ungroomed for those of us who like to ski moguls. There's enough variety to keep busy all day. 
While everything is strange this year, in normal years, there are two spots to grab a bite: Corduroy Cafe and Perley's Pourhouse. This year the idea is grab and go. Get your food and head outside to the decks. There's a lovely space available with a large outdoor fireplace and great mountain views.
Uphill Travel at Suicide Six
I can't wait to head back and bring my skins with me. You still need a pass to climb up and ski down, but unlike most mountains, you can access the uphill trails at any time.
Want more time on snow? Check out the Woodstock Inn's Nordic center. You can ready our full review here.
Mountain Facts:
The summit at Suicide Six is 1200'
Vertical rise 650'
24 trails
30% beginner/40% intermediate/30% advanced
Annual snowfall 110"
Snowmaking 50% coverage
2 lifts and 1 J bar 
Lift tickets are very well priced--$79 is the most expensive weekend day ticket and there are loads of discounts for half-day tickets and steep discounts for kids. Suicide Six is also part of the Indy Pass. 
I always recommend booking as much as you possibly can in advance. If you are a guest at the Woodstock Inn, the front desk can help.
And a final note, these roads get snowy, be sure to have good tires on your car before you head out to your ski weekend. 
Suicide Six is located at 247 Stage Rd in South Pomfret, VT. Get all the details and purchase your lift tickets at www.Suicide6.com
From the tractor in the parking lot to the vintage posters inside, this place is meant to honor the history of Vermont skiing and to bring families together.
MORE SKI FEATURES FROM MOMTRENDS
PIN IT!
Use Pinterest to save your favorite family travel features. Be sure to follow our Ski Moms Pinterest Board.
Momtrends was not paid for this post.