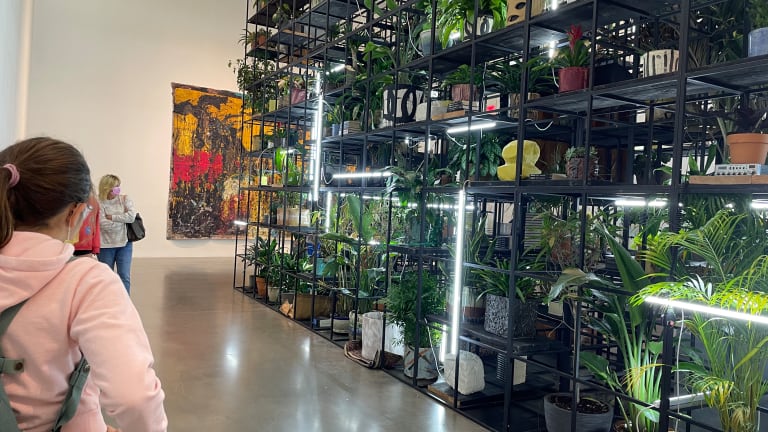 Plan a Day with Kids at the New Museum in New York City
Museums help parent open the world to children and thew New Museum is one that will push conversations forward.
Raising good humans takes creativity. For me, museums help me parent and open the world to my girls. I love the way art can bring current events to life, and contemporary museums can really help. One of the toughest things about the pandemic, was the way the city closed down. Now that things are opening up, I'm delighted to venture out and explore the city with my girls. I hope my experience can help you plan a day with kids at the New Museum in New York City.
Related: Plan your family visit to Art Omi sculpture park
Visiting the New Museum
The New Museum is one of the more recent additions to the New York City cultural scene. The New Museum of Contemporary Art, founded in 1977 by Marcia Tucker, and was part of the New School. It changed locations quite a few times before getting a huge infusion of cash. In 2007, the New Museum opened the doors to its new grand, seven story, $50 million location. 
The mission statement of the museum is push boundaries and start conversations. As they put it, "We embrace difference, debate, and multiple viewpoints regardless of race, gender, class, or creed."
The museum is one that will push conversations forward. It's great for teens and tweens and a terrific way to spark dialog about current events and cultural shifts.
Current Exhibit: Grief + Grievance
"Grief and Grievance: Art and Mourning in America" is the current exhibit at the New Museum. It is ab exhibition about race in American and around the world, and the culmination of a life's work by curator Okwui Enwezor (who passed away during the development of the exhibit. The exhibit runs through June of 2021. 
37 artists contributed to Grief and Grievance and the art spans generations. All the works address "the concept of mourning, commemoration, and loss as a direct response to the national emergency of racist violence experienced by Black communities across America." 
I knew a few of the artists in the collection (Kara Walker, Jean-Michel Basquiat), but many of the voices were new to me. The digital art and video were among the most moving pieces and the girls stood transfixed in front of quite a few images.
The cornerstone piece of the exhibit is Rashid Johnson's work. Johnson created Antoine's Organ (2016), a monumental sculpture that fills a room with a steel frame, plants and other memorabilia.
It's an artistic ecosystem with books from Richard Wright, old VHS tapes, climbing plants and some other slightly decorative objects.  Johnson uses  plants from a variety of geography – "cactus, palms, all these disparate plants from different places living together here. It's almost a metaphor for the collective us." The artist calls them "grid installations" and I can only imagine the work that went into setting this up. It's been on display at other museums. 
Rashid Johnson, is a Black artist who says this work is, "about it as being my brain." His conceptual works are categorized as "post-black art." It's worth the trip downtown for this piece and to stare inside his grey matter for a bit.
Plan your visit
The New Museum is located at 235 Bowery, New York, NY 10002. The New Museum Store is open Wednesday–Sunday from Noon til 6 PM, and on Thursdays til 9 PM. Tickets are $18. Right now tickets must be reserved in advance. There is normally a cafe on 7 with stellar views of downtown, for now, it's closed. If the kids are hungry, stop in nearby Russ & Daughters before or after for high quality Jewish deli snacks. 
Momtrends Note: Thursday evenings are pay what you wish from 7 p.m.–9 p.m. (Suggested Minimum: $2)
Head to www.newmuseum.orgvisit for tickets and more information.
MORE TRAVEL TRENDS FOR NEW YORK ON MOMTRENDS
PIN IT!
Use Pinterest to save your favorite NYC outings. Be sure to follow our New York City board here.