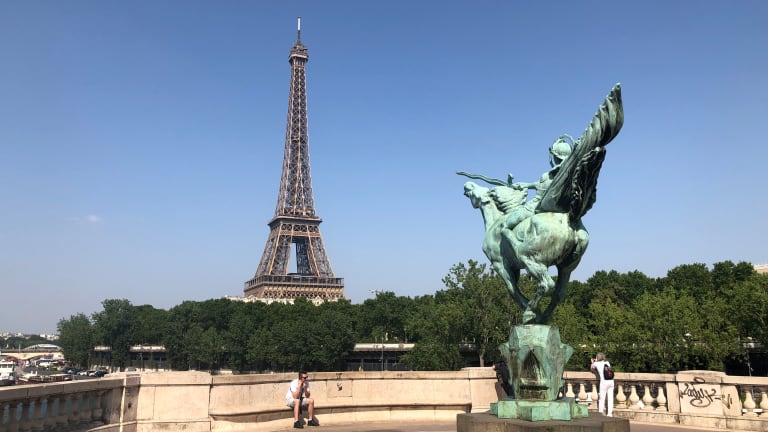 Paris Highlights for Your Next Trip
Insider Picks for Things to Do in Paris
Paris fuels me. Early on in our courtship it became clear that travel was essential to both of us. Jewelry I can take or leave, and I don't need bouquets of flowers. For me, travel equals romance. When we married (eloped, naturally) we made a pact to skip presents and make our very best effort to get to Paris every year together--we've got a 7 year stretch going.
The thing about Paris is, even though I've been almost a dozen times, there is always so much to discover and it is simply never boring. So on my annual sojourn to scout trends, here's my report. First let's talk food. Macarons are still all the rage, but the lines have diminished at Pierre Hermes. 72 Rue Bonaparte, 6 º. We had a wonderful bistro meal at Cafe de Musees (escargot and pate all in one meal--oh,la,la). Our "discovery" this go-round was Claude Colliot (40 Rue des Balzacs)--a perfect spot for any localvoires.
Baccarat Museum
Small is wonderful when it comes to Paris. Some of our favorite finds came in small packages. Such as the ultra swank Baccarat Museum (Rue des Cristalleries). The museum is free to the public, and just a hop skip and a jump from the Champs Elysses and shopping on Ave. Montaigne. Though I didn't understand a word of the "How we make glass" documentary. I got the gist: it's all done by hand, it takes a long time, and the results are fabulous. How fab is this crystal bathroom! Note to self: LEARN FRENCH!!

Where did we shop? Spices at Fouquet, a new suit at Paule Ka. Holiday dresses and coats at Charabia. But I don't want to get ahead of myself on the kid's gear. There were many fab spots (more on that).
Tea Shopping in Paris

I also picked up tea; loads and loads of it at Marriage Feres. With hundreds of options to pick from Mr. Momtrends and I found a very patient shopkeeper to assist us. I think we'??ll be caffeinated for quite some time.

After a morning of shopping for the girls, we refueled with macarons from Pierre Hermes and watched some very bad tennis at the Luxembourg Gardens. Even abysmal tennis looks great in this setting.

Pint-Sized Fashion in Paris
A shopping trip to Paris is never complete without looking at the kids clothing. For the past two trips we've relied upon Charabia to supply the girls with their holiday outfits and coats. The small shop has a dressy assortment (sorry no boys) from ages newborn to my size. This year we skipped the sequins that we saw everywhere and went for a classic grey.

Just around the corner, we stopped into Milk on the Rocks (www.milkontherocks.net), (7 Rue de Mezieres) for casual cool clothing, this brands feels just right in NYC. The super-soft vests and coats are on my "must-have" list for fall. The owner merchandises the store so well. We hope she opens a NYC outpost soon.

From there, we made our way to Serendipity to check out the whimsical children's designs. The shrunken loft bed was so cool and a curvy woven crib caught my eye. This spot is worth a visit for design inspiration. I also loved these fun bags from Fragonard.
And one last shot...our home during the visit. It was tres chic. Can't wait for the next visit!
For more on Paris head here:
Momtrends was not paid for this post. If the French Tourism Board wants to contact with me I will surely look forward to speaking.
This Paris Highlights for Your Next Trip feature is not sponsored.