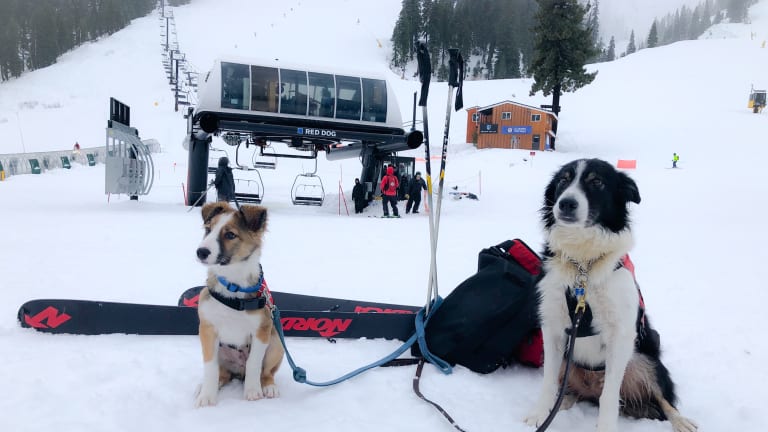 Palisades Tahoe Alpine Rescue Dogs
The furry ambassadors at Palisades Tahoe Resort combine a message of safety and a love of snowsports.
You know what's good ski marketing? Puppies! I've been working hard for years to spread the word about how much fun winter sports are, but I met some four legged ambassadors that are far better at attracting families than I am. Meet the Squaw Alpine Rescue Dogs (i'm guessing they will get renamed soon...).
UPDATE ON THE PALISADES TAHOE NAME
Palisades Tahoe introduced its new name and logo in 2021. The new name honors the resort's history as a land of legends—home to freeskiing pioneers, Winter Olympians and cultural icons across more than seven decades of ski history. This change will bring both mountains of the former Squaw Valley Alpine Meadows together under one unified name.
The 2020 commitment by the resort to rename the destination was made after extensive research into the historical and current usage and regional history of the word "squaw," and discussions with the local Washoe Tribe, which affirmed the position that it is widely considered a racist and sexist slur against Indigenous women.
On  my recent trip to Squaw Alpine, I met the newest member of the Squaw Alpine Rescue Dog team, Jackson. Jackson, a fuzzy border collie was just 2 weeks into his training when I caught up with him and his human partner, Craig. I met up with Craig, one of the more seasoned members of the Squaw Ski Patrol to talk about rescue dog training and the serious work they do to spread safety messages with the Squaw Dogs.
What Makes a Good Rescue Dog?
Jackson joins the team of six rescue dogs at Squaw Alpine. I wanted to know how the dogs "made the team." Craig started by explaining how he picks puppies to work with him. Jackson is Craig's third rescue dog and he's got a good eye for the personality that will mesh well with the demands of rescue work. Craig works with a breeder who uses  the Volhard Test. Think of it as a dog personality test. The Volhard test has ten points. Each puppy earns points based off of behaviors. Dogs with high scores are ideal for service. 
Craig met Jackson and decided to give him a try. Once the puppy has been identified as a good team member, then the training begins. Jackson's canine partner is Wylee, another one of Craig's dogs. Between human and dog, Jackson is going to get a lot of support in his job training.
Certifying the Rescue Dogs
The Squaw team is seasoned at training dogs. Since 2001 they've been using CARDA as a standard. CARDA stands for the Canadian Avalanche Rescue Dog Association. Wylee (pictured above is a great example of how the training works. Craig demonstrated a few commands that showed off Wylee's skills.  With either a hand gesture or command, Wylee knew exactly where to position himself for the interview. Craig says he needs responsive dogs, since they will be working in dangerous an sometimes confusing situations. 
Craig says when he looks for avalanche rescue dogs, he's "Looking for high drive dog." In other words, a dog who loves to work. He's also concerned about size. I assumed a good old, St. Bernard would be ideal, but Craig said he often has to carry the dog in and out of rescue sites and on chair lifts. Wylee and Jackson are a perfect size for the job. 
I asked Craig a lot about the training. I focused my questions on how the dogs can be of help. The big advantage they have is their canine sense of smell. 
According to this PBS article, dogs possess up to 300 million olfactory receptors in their noses, compared to about six million in us. And the part of a dog's brain that is devoted to analyzing smells is, proportionally speaking, 40 times greater than ours. In order to get certified, a rescue dog must identify a 70cm overnight burial. That means the trainer buries a piece of human scented clothing under 70cm of snow. They let the clothing sit overnight and then send the dog out on a "rescue" mission.
Rescue Dogs at Work
Not only are the dogs trained for search and rescue, they are also ambassadors of snow sports. The rescue dogs go into schools and communities to spread the word about skiing safety and encourage kids to try snow sports. Skiing PR work is just a fraction of what they do, mostly the dogs are on call with their Ski Patrol handler and ready to help in an avalanche emergency.
I like to think of the dogs as highly trained athletes. And just like any other athlete, training never stops. Every week the trainers practice searches to make sure the dogs are ready to go. Right now, Jackson is in his try-out. He will have to prove himself to win a permanent spot on the team. 
Rescue Dog Trading Cards
As you can imagine the dogs are popular enough to have a pretty big following at Squaw Valley. The photos of the dogs are all over the resort and they even have trading cards. That's right Rescue Dogs trading cards.
The Ski Patrol members and ski instructors at Palisades Tahoe often have the cards tucked in their pockets. Craig says the cards are mighty popular. According to Craig, getting a card helps motivate the kids in ski lessons to work hard and the cards have been known to end a mid-mountain meltdown when a tired little skier either meets a dog or gets a trading card.
Donate to the Rescue Dog Program
The Rescue Dogs are part of a larger Avalanche Rescue Training Program that is a 501 C non profit. They accept donations here and the group sell t-shirts and posters of the dogs that help support training and education.
Ready to meet the dogs? Find out more about planning the perfect Palisades Tahoe trip here.
Find out more about avalanche rescue dogs
MORE SKI FEATURES FROM MOMTRENDS
PIN IT!
Use Pinterest to save your favorite family travel features. Be sure to follow our Ski Moms Pinterest Board.
This Palisades Tahoe Rescue Dogs feature is not sponsored.