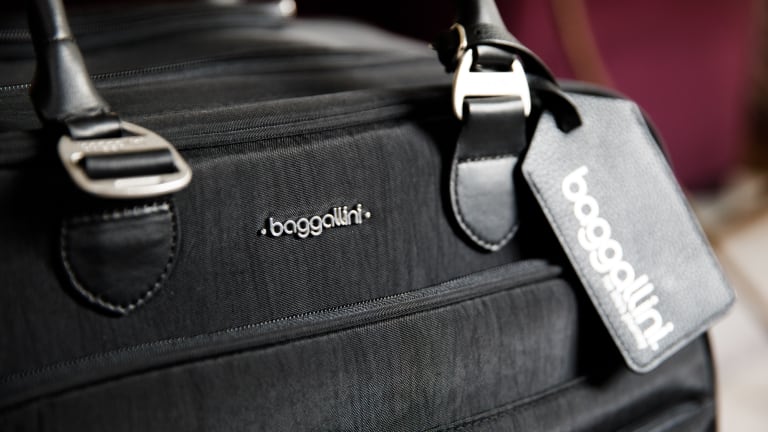 Packing Made Easy with Cool Getaway Travel System
Baggallini bags for life's journeys
This is how I roll, I like to keep things simple and organized. I travel EVERY week. Car, plane, train, you name it, I'm on it. I've mastered the art of packing light and embracing the carry-on. I need luggage that is even smarter than I am. Packing is made easy with this cool Getaway Travel System from Baggallini.
Related: Creative ways to preserve your family travel memories
Packing Made Easy with Cool Getaway Travel System
Baggallini was founded by two flight attendants who knew first hand that organization is key when you're living a busy life that moves from place to place. They put all their learned experiences into motion when developing the bags and accessories that make up this ultimate "getaway" system. 
Getaway Travel System Video
Getaway Travel System 4-Wheel Tote
The system starts with a great hub called the Getaway Travel System 4-Wheel Tote. This mighty little bag is perfect for a short work trip or weekend adventure. The first essential? It meets most carry-on size requirements. I hate checking in luggage because it slows me down. 
This bag measures 17" W x 16.5" H x 9.25" D (including handles and wheels) and weighs in just over 6 lbs. For a small bag, it's loaded with features and it's water resistant. There's a ton of interior organization -- perfect for this woman with a hatred of getting disorganized. When I travel, I like to keep things simple so I can focus on exploring. I don't want to expend mental energy keeping track of my stuff. 
Clever Bag Features from Baggallini
The bag also features RFID credit card slots and a passport pocket. As I'm wheeling through the airport, I rely on a solid telescoping handle and this one adjusts to 2 heights and has 4 spinner wheels to give the bag agility. Inside there's a padded 15" laptop sleeve -- essential for this publishing pro. 
I also love the outer pocket for my water bottle -- because a girl has to stay hydrated, especially on the go!
Getaway Travel System Modular Packing System
All the pieces are integrated. I've paired my roller with the Hong Kong tote. Together these pieces allow me to pack in a snap and get going on my next adventure.
Inside the bag I've relied on the compression packing cubes to make efficient use of space and to keep my gear compartmentalized. All the compression cubes Baggallini makes have a clear panel for easy visibility. The compression bags come in two sizes and each bag has a zipper that expands to provide even more space. 
Small Baggallini Accessories
Now that all the major gear is taken care of, it's time for the small things. The toiletry kit is a clever little companion. Thanks to interior organization and multifunctional pockets I will never again lose a lip gloss! When I arrive at my destination, I loop the . hook on a closet or towel rack to have every beauty product I need at the tip of my fingers. 
What else can I expect from Baggallini?
This is just a fraction of the cool travel gear from Baggallini, they also make clear bags that are ideal for concerts, stadiums and any place else where there's security.
Find out more: https://www.baggallini.com/
Get more tips on packing with this article on 4 Rules for Packing Beauty.
MORE TRAVEL FROM MOMTRENDS
PIN IT!
Use Pinterest to save your favorite family travel articles, and be sure to follow our Travel with Kids board.
This Packing Made Easy with Cool Getaway Travel System is sponsored by Baggallini.