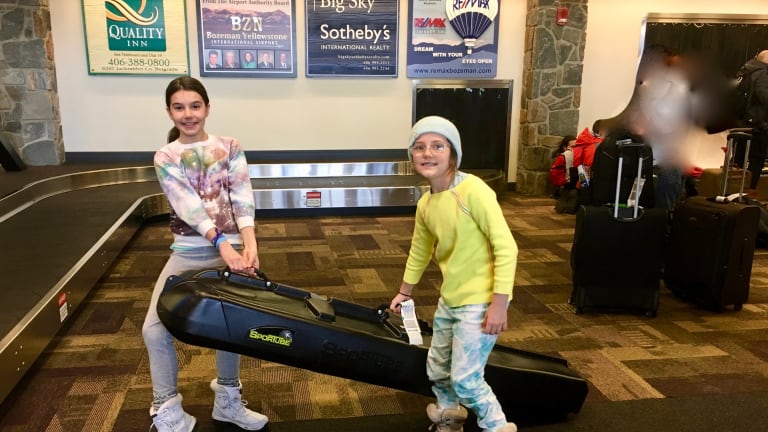 How to Pack Your Skis for a Vacation
Benefits of the Sportube Hard Case
Our family skis a ton. We've figured out that bringing our own skis can simplify things when we travel. It saves money when none of the four of us have to rent. When we were new to ski travel we wondered about how to pack your skis for a vacation. 
Why Bring Your Own Skis?
First, let's talk about the WHY of lugging skis on your trip when you can rent. Two reasons: Convenience and money. Most resorts have great demo rentals for adults, but even if you want to pay a premium, it's hard to find good skis for kids from a rental shop. Both of our girls are VERY good skiers; they can't ski on junky equipment. So we save money and the girls ski on quality equipment. Also, when we arrive at a resort, we don't have to waste any time in the rental shop. In the end, it's worth the hassle to bring your own skis for the family.
How to Pack Skis for Your Vacation
We've found out it's pretty easy to load skis and poles on our car when we travel out East. But what about when we fly? We have enough status on Delta that we can bring our bags for free. So we started bringing along our skis on our trips out West.
First we tried soft cases - you know canvas bags with zippers. They are light, and not expensive. The trouble is, they rip and the handles break. For a while we worked with duct tape to make it work. We went through two or three of these before giving up hope.
Then a ski mom friend of mine turned me on to the sportube hard sided cases.  Yes, it's more money at first, but having the Sportube cuts down on expenses and adds to the comfort level on snow. 
Sportube hard cases can be used to carry both skis and snowboards. We have the Series 2 Sportube. Pick from orange or black (orange is easier to spot at the airport).  
Check out how we loaded our skis while we were in Big Sky Montana:
Why do I use a Sportube Hard Case?
Delta banged up our Sportube pretty nicely (they gave us a $50 credit, But the big part of this story is that not a thing happened to the skis. They were in perfect condition. 
What You Need to Know Before You Buy
1. You need a LOT of room in your car for two hard cases. Think about a Yukon or something else humongous. 
2. They are heavy. Thankfully they have wheels so you don't have to lift them often. The case comes with a easy pull handle to help make pulling a little easier. 
3. They cost more. This is because you are protecting your investment. If you like your equipment, you need to take care of it. 
TIP: the case closes with the Sportube wire case pin - buy extras of these. The TSA might take them off or you might lose one, so get a few extras.
Do you BYOS when you travel? When you think about how to pack your skis for a vacation, it's time to think about a hard case. We like the Sportube Hard Case that handles two sets of ski plus poles. 
Let me know if you try it and what you think! 
This is How to Pack Your Skis for a Vacation feature not a sponsored post. There are affiliate links in this post.