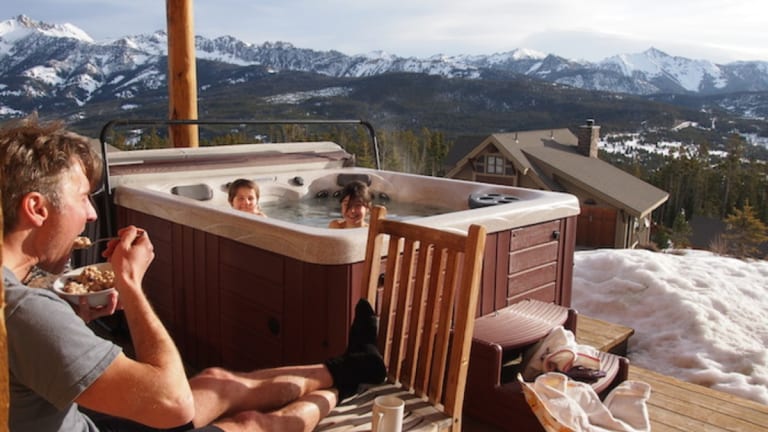 Outfitting Your Ski Home Vacation Rental
Tips on what to stock in your ski vacation rental to make it popular with families.
When families travel to ski and ride destinations, they often like to rent a home. Using platforms like airbnb and vrbo allow families the luxuries of space and a full kitchen to remove some stress from meal planning and give mom room to maneuver. If you are outfitting your ski home to be a vacation rental, we've got tips for what to stock in your home to make it popular with ski families. 
We've talked to dozens of moms who rent on these platforms and found out the items and amenities that make it easy, fun, and functional. 
Related: Mom recommended ski travel gear
Stock the Kitchen
We know that kitchens are required to have the basics, but we polled our moms to see what items would move a kitchen up in the rankings and make them want to book again. Here's what we found.
In addition to the kitchen gear, provide any relevant information re: easiest grocery shopping / delivery and restaurant recommendations is always welcome too.
Tip: leave a few cupboards empty. Guests need space to put away groceries and other kitchen items they may have brought along on the trip. 
Make it Cozy
One rental I stayed at located in Bend, Oregon near Mount Bachelor has a stack of blankets. It was so inviting! After a day of skiing, I'd make a cup on tea and wrap myself up.
Think About Convenience
You'll want to make the home easy to navigate and keep tidy. Provide instructions for everything, in an easy to understand vernacular. Have a complicated TV setup...instructions please. A fireplace? Detailed instructions on how it works (so your renters don't burn down the place). etc.
Linens and Sheets
Label the shelves in the linen closet to make finding sheets easy. Color code the sheets. Ex: gray for queen, white for twin, green for king. It makes grabbing a spare from the closet less of a roulette game. Also, waterproof mattress covers on all the beds. We shopped on Amazon for these and have provided affiliate links.
Mattress Covers: Get a hypoallergenic waterproof cover to protect your mattresses.
Sheet Sets: These are great hotel quality sets that, come in all sizes and a variety of colors, 100% cotton.
Extra towels for the hot tub
White towels are the only way to go. Light colored towels get "ruined by a teenagers who use acne medicine" (it bleaches the towels). 100% cotton towels are also the best call--they wash/bleach well and are inexpensive to replace when a refresh is needed
Guests will Grumble
If you don't take care of the following services, you won't get good reviews. We shopped on Amazon for these and have provided affiliate links.
Entertain the Kids
One thing that's mentioned again and again is a bunk room. Kids love the cozy feel of bunk beds. We shopped on Amazon for these and have provided affiliate links.
Please make a note of baby-proofing in the listing. Or at least in the description describe what might be kid proofed and what might not be so folks can make the decision if the rental is the right fit for them.
Bonus Items for Your Ski House
With a few of these, you'll get five-star ratings and repeat business...and likely be able to charge a tidy rate.
We shopped on Amazon for these and have provided affiliate links.
Tuning table and supplies: it could be as simple as saw horses and a supply of wax, chamois, and some tools. This is a simple tuning table that stores easily. And here is a starter kit for tuning. 
Hot Tub: Make sure to sign a contract to get it serviced weekly.
Fire Pit: The Solo Stove is relatively smoke-free and easy to set up.
Coffee grinder: I like this simple one, and include some beans from your favorite local shop (it's always nice to plug the locals eateries!)
Espresso station: This Breville Nespresso steams milk and makes coffee.
Welcome food! Put real fruit in the fruit bowl. A bottle of red wine, a box of spaghetti, and a jar of red sauce. A quart of milk, packets of pre ground coffee, teas, and some repackaged grocery store pastries.
Basic spices (beyond salt and pepper): This is a great, well-priced starter set.
Travel mugs are a bonus if driving distance to the slopes. I love this Zojirushi one, beverages stay hot in here FOREVER. Don't forget a Ski Mom Sticker for the mug...that'll prevent it from getting stolen (or make it more valuable!)
Air Fryer: This kitchen appliance is super trend and fun to use. I like this simple model.
Olive Oil: Every recipe requires a little oil. Get a basic, but good oil to stock the house.
MORE SKI FEATURES FROM MOMTRENDS
PIN IT!
Use Pinterest to save your favorite family travel features. Be sure to follow our Ski Moms Pinterest Board.
Momtrends was not compensated for this post.