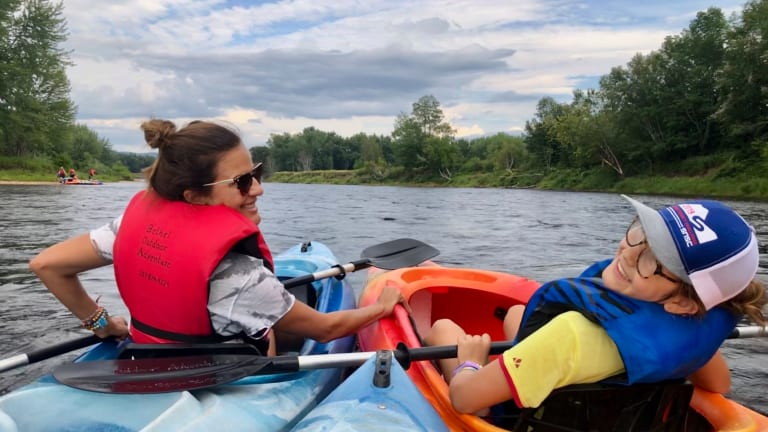 Outdoor Adventures in Bethel, Maine
Escape the heat of city life for a Maine vacation full of adventure and nature
In August, my family took a short trip to Bethel, and it was the perfect trip to squeeze in before the start of school. We were hosted by Sunday River at the Grand Summit Lodge, but did quite a bit of exploring off the property. Our outdoor adventures in Bethel, Maine included a trip to the iconic Frenchman's swimming hole and a scenic kayak on the Androscoggin River.
Outdoor Adventures in Bethel, Maine
Check out all the summer fun in Bethel, Maine
Trip Planning Video Sunday River, Maine
Frenchman's Hole
Do you love a good adrenaline rush? How about cliff jumping. If that's your thing, then head passed the Sunday River resort in Bethel, Maine and go to this old-fashioned swimming hole. 
Mr. Momtrends has developed a love of cliff jumping (from moderate heights). We did a cliff-jumping excursion as a family in Bermuda this summer and decided to check out this spot.
After we parked our car, it was a short walk to the swimming hole. It's an easy little ramble to the cliffs and there were 4 or  5 other families there. You can pick from a few heights --they are approximately 10', 14' and 16'. There is no lifeguard and this is definitely a "jump at your own risk" situation. 
Mr. Momtrends loves these things and tried all three heights. The water was black and deep and he didn't see many hazards below. The cold water and lack of clarity below scared me off. But he gave it a big thumbs up. The trickiest thing is climbing back out! There is a rope that helps you climb back up, but it did look like a bit of an effort.
Momtrends Tip: Wear sandals that can be secured to your feet. Don't try this if you don't have good upper body strength to get out, and obviously you need to be a good swimmer.
Getting to Frenchman's Hole can be a bit tricky. Follow Sunday River Road west. Keep going past a covered bridge. Eventually  the road will turn into a dirt road. Keep going. You'll see a few cabins and then a few handmade signs that will confirm you're going the right way. Bull Branch Rd, Newry, ME 04261
Bethel Outdoor Adventure
One adventure we all loved was kayaking on the Androscoggin River. Bethel Outdoor Adventure & Campground is the place to get outfitted for any river adventure in Bethel, Maine.
Bethel Outdoor organizes all sorts of water excursions. You can canoe, kayak, tube and more. There's a reception area staffed with a few young folks who will help you pick an adventure suited to your family and give you a brief overview of the day. This is also a good place to drop off your keys. 
You can pick up sunscreen and water here in the small gift shop. Though walk-ins are welcome, I'd suggest calling ahead to book a reservation.
After you register, you'll get a briefing that includes a very simple safety demo -- the big takeaway is that if you fall in the water, keep your nose and toes up and NEVER take off your life jacket.
After the demo, pick up a life jacket and get in the shuttle van. The shuttle service takes you to the launch areas (there are two) and all the adventures end back at the campground.
We opted for the shorter kayak excursion. From the West Bethel drop area the adventure took about 90 minutes. If you pick the 10-mile kayak, allot 4 to 5 hours. 
We hopped on a shuttle and were driven upstream to our launch area. From the West Bethel drop point we had about 4 miles of kayaking. We had an inexperienced 11 year old kayaker with us and she was phenomenal. Initially my daughter found it challenging to steer, but with a bit of instruction, she mastered controlling her own boat. 
The currents are very gentle and this is a great river to learn kayaking and gain confidence. At times as she had to navigate in a current and got a little stressed. But there are no rapids and no real turns to miss. 
.The winding river took us along the stunning Mahoosucs mountain range. We saw a variety of birds and were awed by the silence and the scenery. This is a can't-miss excursion in Bethel, Maine. Ninety minutes was just perfect for our kayak and we safely ended back at the campground and dragged our boats up to the check-in area.
Friendly volunteers work the camp -- it's a work-to-stay program. Retirees work the shuttles and the launch areas; in return they are given access to free camping. These older folks bring a love of the outdoors and a genuine interest in people to the concession. It's a cool business model.
What to bring on your Androscoggin River excursion:
Water
Snacks (but we were fine for a couple hours on the shorter kayak, the 4-5 hour version would 100% require snacks for our kids) packed in waterproof containers
Bug Repellent
Rain Gear (we did get a rain shower on our trip)
Sun Gear (hat, sunscreen, sunglasses)
Shoes that can get wet. Something like a Keen sandal is perfect.
Bethel Outdoor Adventure & Campground is located at 121 Mayville Rd, Bethel, ME 04217. (207) 824-4224 https://www.betheloutdooradventure.com/
Who needs to go to Bethel, Maine?
A family that loves the outdoors and isn't afraid of getting a little dirty. It's a great outdoor playground that isn't on everyone's radar. You'll find good values on hotels, excursions and food and extremely friendly residents.
MORE MAINE TRAVEL FROM MOMTRENDS
PIN IT!
Use pinterest to save your favorite family travel features from Momtrends. Be sure to follow our Travel with Kids board.
This Outdoor Adventures in Bethel, Maine feature is not sponsored.