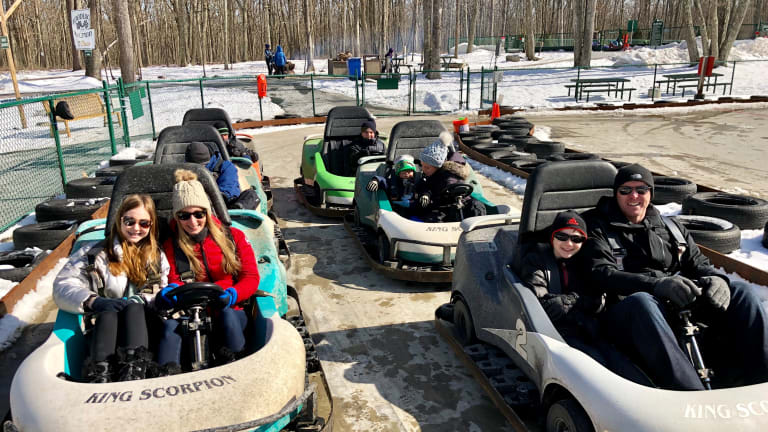 Publish date:
Our Winter Weekend at Woodloch
Together Is the Place to Be
Together Is the Place to Be
If you're a regular here at Momtrends, you know we're big advocates of winter travel adventures. Nicole is the ultimate ski mom and snow-sports enthusiast. But not everyone is quite as dedicated to chasing powder every weekend. Still, winter monotony necessitates a getaway, a change of scenery, and a whole lot of family fun.
We've written about Woodloch Resort a few times, but we've typically chronicled our summer and fall adventures. So we wanted to experience this Poconos destination in all its cold-weather glory... A veritable camp for families; suffice to say: we were not disappointed. With plenty of outdoor and indoor activities to choose from, our stay was equal parts cozy and exciting. 
It's these versatile options that distinguish Woodloch from other all-inclusive resorts. The activities' coordinators, conceptualize and execute games and events that add up to an unforgettable family experience. That, and the exceptionally over-the-top customer service. There are a thousand employees on hand daily. You can expect to be greeted at every turn and the staff are like family, authentic, kind, caring and engaging! 

Here's why we love Woodloch year round, but now especially in the winter...
The Accommodations
We stayed in a ground-floor suite boasting two comfy foam-mattress queen beds and a living room separated by a pocket door. Two separate bathrooms made an ideal situation for our family of four and a walk-in-closet gave the tweens (and mama) plenty of wardrobe space; and a wet bar with mini fridge held all our essential snacks. The view of the lake was definitely the highlight of our accommodations.
The Food
The food at Woodloch will never disappoint (go for the crumb cake at breakfast). We were on the three-meal plan with BLD. There's always a vegetarian option at dinner. (I loved the cauliflower steak and stuffed quinoa pepper.) Kid-friendly options are available at all meals, and desserts and specialty drinks are a daily and nightly highlight.
Embrace the Cold
Tubing
There's a small tubing area on the lake front for smaller kids and cautious moms--like me, but more extreme tubing on the mountain side. Layer up, you and the family will want to spend hours here slipping and sliding.
Bumper Cars and Go Carts
Who doesn't love a classic bumper car? This is great for all ages and always good for group giggles. It may be freezing out, but behind the wheel of a Go Cart, you'll feel nothing but the need for speed!
Escape the Cold

5 Pretty Ways To Organize Your Jewelry
I admit - I'm guilt. Despite my best efforts, my "jewelry drawer" has become a tangled mess of necklaces, bracelets and earrings. This cluttered collection not only makes it hard to see what I have, but difficult to untangle the pieces I do want to wear! This summer, I'm ...read more
This Year's Coolest Jumbo Pool Floats
Pool season is almost here! I can't wait to relax, read a book, and sip a cocktail while lazily drifting in an oversized float. (Just kidding, I have two toddlers--but a swim mama can dream, right?). If you've got a staycation planned, check out this year's coolest jumbo pool ...read more
Crystal Clear and Pristine: Pool-Cleaning Tips
Tropical Storm Isaiah gave us quite the midsummer surprise here in the suburbs of New York City. We just got our power back on after a whole week of darkness! With trees down, debris everywhere, and lots of uncertainty, one thing we forgot to check on: our above ground Intex ...read more
Music Trivia
One of our favorite family activities was a highly competitive trivia game featuring a DJ and emcee. Each team chose a name (ours was music maniacs,) and was given a white board to name the song and/or artist from Broadway musicals, hip hop, rock ballads, country, and other musical genres. We went in pretty confident and left in second to last place amongst 12 teams. It was tough but still so hilarious!
The Game Room
A great reprieve from the cold for tweens and teens, the game room definitely has a nostalgic vibe with old-fashioned quarter machines--no cards to swipe or tokens to use here, kids. It's good old-fashioned arcade style fun--bring on the dollar-bill change machines.

Basketball
The sports facilities offer lots of organized (or free-range) activities. We played a game of basketball: kids vs. adults. The kiddos technically won, but everyone makes out when there's physical activity and energy-burning exercise. 
Indoor Shooting Range
The kids enjoyed learning to shoot both paintball and 22 rifles inside the shooting range. It was well supervised and included quality protective gear for eyes and ears.
Escape the Room 
For an additional fee, you can have the ultimate family bonding experience working together to escape the room! For the record: we escaped in 40 mins. Woot!
Survey Says
This Family Feud spin off features the top answers real Woodloch guests provide to questions like "favorite ice cream flavors." If you ever wanted to go on a game show, you can live out your dream at Woodloch.
As you can see this is just the tip of the iceberg (winter pun intended!). The endless options at Woodloch will keep us coming back time and time again... winter weekend, here we come.
Use this link with preset code to get 25 percent off a booking between June 16 - 28 at Woodloch--another gorgeous time of year to visit, stay, and play!
Next Read: Celebrating 60 Years "Together" #WoodlochintheCity
This is not a sponsored post. Woodloch Resort hosted our weekend stay.