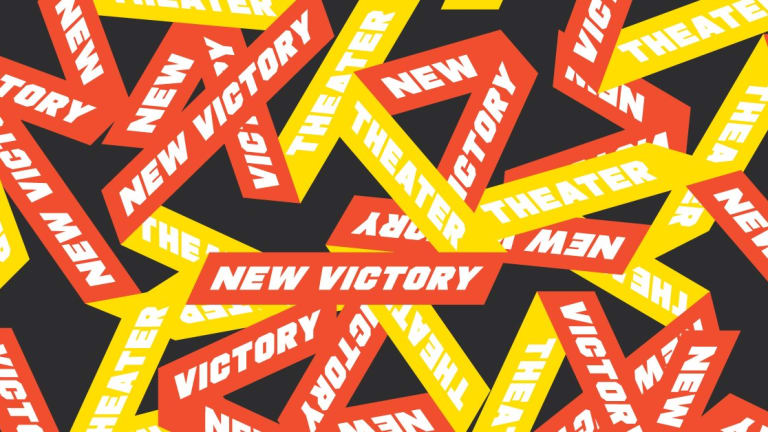 New Victory Theater for Families in New York City
Get your kids a culture fix this year! New Vic is back with an awesome line up.
We know you're busy planning picnics and summer outings, but we wanted to let you know that The New Victory just announced their new season and it looks fantastic. We thought you'd like a sneak peek of what's in store! Each year the New Vic theater brings culture to tourists and locals with a variety of top tier talent with productions geared to families. 
Related: Broadway for kids in NYC
First some facts: over 2 million theater goers have experienced New Victory shows. Guests have come from over 35 countries to see the productions. The New Vic has been bringing kids to the arts and the arts to kids since 1995, this nonprofit theater has become a standard-bearer of quality performing arts for young audiences in the United States.
The New Season
Multimedia marvels, sold-out circus, toe-tapping dance and more await! Offering the flexibility of choice and peace of mind with every ticket purchase, the 2021-22 season will see the return of in-person performances at the New Victory Theater, as well as the opportunity for guests to stream the season in their homes.
Generation Rise, November 5 — 14, Ping Chong and Company and Urban Word NYC, Inspired by the critically acclaimed Generation NYZ (New Victory 2018), Generation Rise is an interview-based production featuring Black, Latinx and Asian American teens from New York City telling their own stories and reflecting on their lives before, during and after 2020—a year of crisis and transformation.
Jim Henson's Emmet Otter's Jug-Band Christmas, December 10 — January 2, Join Emmet Otter and his Ma as they enter a Christmas Eve talent contest hoping to win prize money to buy each other holiday gifts. With a lovable mix of performers, puppets from Jim Henson's Creature Shop and Paul Williams' toe-tapping score, this stage adaptation of Jim Henson's popular classic holiday special based on the beloved children's book is sure to become a heartwarming holiday tradition.
Air Play, February 11 — March 6, Acrobuffos, Air Play takes two siblings on a journey through a surreal land of air, where ordinary objects transform into uncommon beauty. A circus-style adventure filled with wordless wonder, Air Play inspires laughter across cultures and continents—no translation necessary.
Jabari Dreams of FreedomMarch 25 — April 3, Jabari Dreams of Freedom uses rap, freedom songs, hip-hop dance, history and humor to tell the story of a young Black boy from the South Side of Chicago who is afraid to leave the house. 
Step Afrika!, April 20 — May 8, Chronicling and celebrating the African experience in America, Drumfolk reveals the hidden histories and events that transformed American life and demonstrates the unlimited artistic possibilities of the art form of stepping.
Leonardo and Sam, The Terrible Monster and the Most Scaredy-Cat Kid in the Whole World, Respectively. Adapted from the beloved children's books by Mo Willems with mind-bending projection, DIY cinema, music and immersive sound, Leonardo and Sam tells the story of a monster who longs to be scary and the big decisions about identity and empathy that all monsters must make.
New Victory Theater in Schools
Every year, New Victory provides more kids with more live performing arts in more grades than any other arts organization in New York City. Invite us into your classrooms, gather digital content, or schedule a field trip to the historic New Victory Theater to see theater, dance, music, circus, opera and puppetry from across the country and around the world.
The Location

Established by New York City and State to redevelop 42nd Street between 7th and 8th Avenues, New 42 was given the 99-year leases of the block's seven historic theaters to find new uses for the Apollo Theatre, Empire Theatre, Liberty Theatre, Lyric Theatre, Selwyn Theatre, Victory Theater and Times Square Theater.
New 42 launched the transformation of the block by transforming The Victory into the New Victory as the city's first theater for kids and families, and building the New 42 Studios to support the creation of new work—forever ensuring the legacy and vitality of America's most iconic theater district.The New 42 continues to steward the block and support the City's efforts to maintain West 42nd Street as a safe and exciting destination for both our local community and visitors to New York City.
The New Victory Theater is located at 209 W 42nd Street, New York, NY 10036 BOX OFFICE: 646.223.3010
For more details and tickets visit www.NewVictory.org
PLAN YOUR NYC VISIT
Check out our NYC page for things to see and do in NYC and don't miss these highlights.
Pin it! 
Use Pinterest to save your travel ideas. Be sure to follow our New York City board here.
Momtrends was not paid for this post.