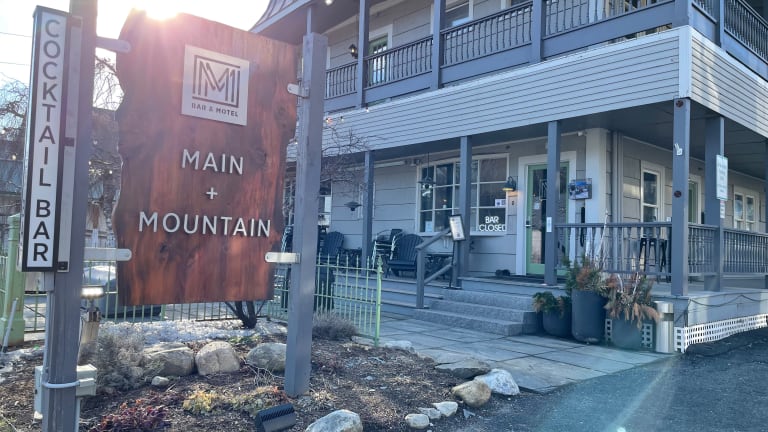 Main and Mountain Vermont Boutique Hotel
Less than a mile from Okemo Mountain in Ludlow, Vermont this small hotel is perfect for your trip.
If you are looking for a small hotel that is charming and offers rooms for families and ski couples try the  Main and Mountain Vermont Boutique hotel. It's about a mile from Okemo and loaded with charm. Book your stay on Expedia here.
Related: Where to eat near Okemo
Main and Mountain Vermont Boutique Hotel
I made my visit at the end of the ski season to watch my daughter race. I didn't need much space or a full-service hotel. I booked a room online and managed my check in all via my phone. 
This is a low-touch experience that's loaded with style. The rooms are pretty with plenty of mountain-chic accents. The basics are that they have memory foam beds, flatscreen TVs and space. There are 13 modern rooms each with distinctive decor. They call it "invisible service" -- the ideal business plan during a pandemic.
Check-in and check-out are all done via a phone. You can also order drinks and snacks on the app. The hotel model is all about cutting costs to make the stay affordable and the hotel easier to run. 
When I got to my room, I used the app-generated key code to unlock my room, everything was clean and crisp inside. There was plenty of space to stash my ski gear and a small, functional bathroom where I could clean up.
A Good Choice for a Quick Trip
I liked this hotel because I didn't need much on my trip. I wanted a clean room and a place to regroup. I didn't need help planning my trip. 
It'll work for a family trip to Okemo, as there are a number of rooms with bunk beds. Again, if you need a lot of support for your trip, this isn't your spot, but for frequent Okemo skiers, it's a great choice.
You don't get views or ski-in and ski-out, but you will get a great rate and access to exploring Ludlow, Vermont. My visit was in winter, but you'll love this cute hotel during any season.
Ready to go? Get our favorite ski mom travel gear. This article spells out everything you'll need to get your gear to the slopes in style.
Main and Mountain Restaurant
After playing outdoors, grab a drink and some snacks and connect with friends and family. The staff at the bar was laid-back and friendly. Service is a tad slow, but what's the hurry.On my stay, I ordered a hot toddy and it was delicious. There was a small bar menu (soup and grilled cheese, for example) for hungry guests. 
Outside they've set up a cute seating area along Main Street with a large fire pit, heat lamps and fun lighting. Guests relaxed by the fire and I loved that they all stayed off cellphones. It was all about making the most of time in the mountains. 
In addition to the restaurant, hotel guests can use the complimentary coffee bar on the second floor of the hotel. 
For breakfast, I walked to the nearby Dunkin' for an egg sandwich and headed up to Okemo to see the ski race. It was the perfect choice for my quick stay.
Plan your stay to Main and Mountain
Ready to book your trip?  Book your stay on Expedia here.
112 Main St, Ludlow, VT 05149; Phone: (802) 242-1608
MORE SKIING RESOURCES FROM MOMTRENDS
PIN IT!
Use Pinterest to save your favorite family travel features. Be sure to follow our Ski Moms Pinterest Board.
Momtrends was not paid for this post.