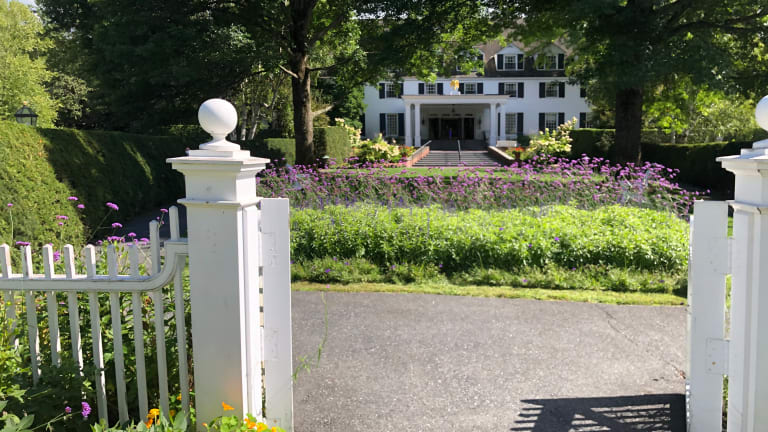 Luxury and Family Fun at the Woodstock Inn, Vermont
The historic Woodstock Inn is a family-friendly destination for those of us who love to combine pampering with time outdoors.
My summer of exploring New England continues, this time our destination was even closer to our new home. Since our original travel plans were scrapped, we've been checking out the best of the Green Mountain State. FYI: Vermont, my adopted state, is allowing travel to adjacent counties that are in "green zones." Find out more about cross-state travel here. On this excursion, we were after luxury and family fun at the Woodstock Inn. Located in Woodstock, Vermont, this historic hotel is a family-friendly destination for those of us who love to combine pampering with time outdoors. 
KNOW BEFORE YOU GO: Head here to learn about resort operations. Plan your trip to Vermont: Find out about how to travel to Vermont safely here.
Related: Family fun at Billings Farm in Vermont
History of the Woodstock Inn, Vermont
There's nothing dusty or musty about this historic inn. Money and love have been poured in over the years. The owners have carefully preserved the warmth and character, while providing updates that families who crave luxury will appreciate.
The inn has been serving guest in one form or another for over two hundred years. After the original tavern (which became the Eagle Hotel) was torn down, the first Woodstock Inn appeared in 1892. The Inn quickly attracted many affluent visitors and became known as Vermont's first winter-sports center for tourists. In 1956, RockResorts purchased the property and created the version we see today. 
Another set of owners came in during the 80's, and they've continued to pump in the needed cash to keep the inn at its prime. In 2010, they added a spa, and in 2018, they renovated all 142 guest rooms and suites. The effort shows. The Woodstock Inn shows few signs of wear and tear and has a fresh, glossy polish to it.
Inside the Woodstock Inn
We had adjoining rooms (341 and 339) that were spacious and well-appointed. The lobby and library are inviting and the outdoor grounds are meticulously groomed. 
Like the resort, the town of Woodstock is postcard perfect. The small downtown area is steps away from the inn and offers options for dining and plenty of fancy shops. Our girls loved exploring on their own and would be hard-pressed to get into any trouble.
There's charm at every turn. On Wednesdays, the town lawn in front of the inn becomes a farmers' market with live music and fresh produce. On our wanderings we also discovered two wooden covered bridges and too many adorable country homes to count. 
What to Do at the Woodstock Inn
Vermont is for outdoorsy types. And our family definitely fits that description. We were eager to jump into the outings the hotel offers. The highlight was our fishing trip.
Through the Activity Center (located behind the pool), we arranged a private fly fishing lesson. Fly fishing trips and lessons are led by Orvis Guides. We were helped by Shay and RJ, two very experienced guides who got us up and running quickly. 
We checked in to the Activity Center at 7am and were outfitted with all the tackle we needed plus waders and boots. We loaded up in separate cars and made our way to a riverbed about 45 minutes away. Once there, Shay and RJ showed us the ropes and gave us great instruction. 
While we didn't tie our own flies on, we did master casting and the art of wading. The guides tried an assortment of flies, but alas, the fish weren't biting. No one in our group was saddened, as I've learned over the years, being outside together is the entire point of all these adventures. Fly fishing just offers us one more chance to bond in nature.
The Woodstock Inn also leads mountain bike adventures. Sadly, the weather turned foul on our biking day and we had to postpone that. But for your family, know that they offer rentals and lessons. There are numerous trails nearby with a range of difficulty. I'm told the biking is fantastic and we plan to come back next summer to check them out. 
Note: in the winter, Woodstock Inn has Nordic skiing adventures at the golf course and offers downhill skiing at Suicide Six. I can't wait to get back here when the snow is falling.
We did get a chance to experience the lovely golf course. The Woodstock Country Club is about a mile from the resort. This is an 18-hole course with valley views with a picturesque stream ribboning throughout the layout. Book your tee time online or call the pro shop 802-457-6674.
In addition to the Activity Center, Woodstock Inn also has a gym that's off property (about a mile away) that is complimentary with your stay. We were so busy with outdoor activities, we never made it over there. 
Back at the resort, there's plenty to keep the family busy. We booked a two-hour session of pool time. The large pool is heated and offered plenty of space for the kids to frolic while I sunned and read my new book.
The WiFi works well on the property and there are also many nooks inside and outside to take a call, read or sip a cocktail. 
If you want a bit of pampering, Woodstock Inn has a lovely spa. I treated the girls to teen mani/pedis and I had my first pedicure since COVID arrived. The treatment areas were spotless and I felt like the staff was taking all the proper precautions to keep us healthy.
Momtrends Tip: The spa was very busy. We were lucky to get the three appointments. Thankfully, I made a beeline to the spa after check-in. Be smart and call ahead for your appointment.
Where to Eat at the Woodstock Inn
The inn has two on-site restaurants to pick from. Both are open to guests of the hotel and outsiders. Richardson's Tavern is the perfect spot to grab a casual meal or enjoy a drink. Dinner is served daily from 5-9pm. We lucked out to get one of the five tables out on the deck. 
The tavern is named after Captain Israel Richardson. In 1793, he opened his tavern which was to turn into the Woodstock Inn. Today it's a warm, casual dining spot that makes the most of farm-to-table ingredients. 
For starters, try the Billings Farm cheese fondue. Billings is home to well-loved Jersey cows that make some fine Vermont cheese. This hearty starter is the perfect thing to split with your table. It comes with a pot of melted cheese and all the yummiest things to dip inside like, apples, summer sausage, cornichons and artisan bread. Main courses include burgers, salads and other hearty fare.
For more formal dining, head to the Red Rooster. Start with a craft cocktail like the Beet It, made with vodka, St. Elder beet syrup, lemon and a dash of salt. As for starters, I loved my Oysters Rockefeller with leek and fennel fondue. 
Main courses include a kid-approved Crispy Cornish Hen, as well as, plenty of seafood options. For dessert, we are huge fans of the warm chocolate chip cookie with vanilla ice cream and fudge sauce. Both restaurants use certified organic produce from the nearby Kelly Way Gardens. 
Momtrends Tips: Reservations are required everywhere. Call ahead to book your tables.
Ready to Head to the Woodstock Inn?
The Woodstock Inn & Resort is located at 14 The Green, Woodstock, Vermont 05091. (888) 338-2745. Book your trip at www.woodstockinn.com
MORE TRAVEL IDEAS FROM MOMTRENDS
PIN IT!
Use Pinterest to save your favorite family travel destinations to help inspire your next trip. Be sure to follow our Travel with Kids board here.
Momtrends was not paid for this post.