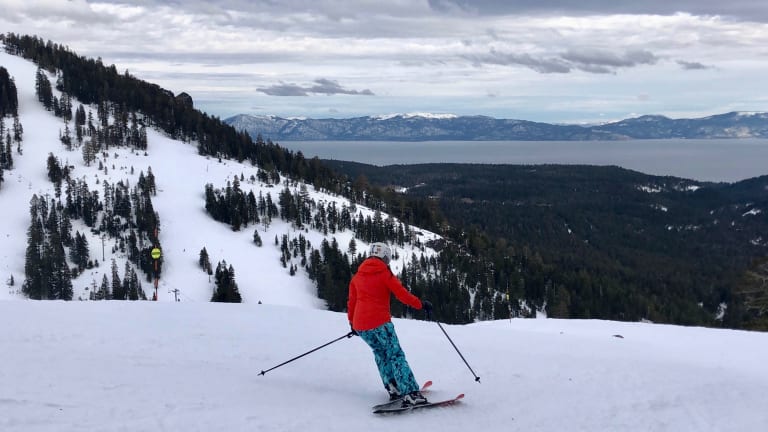 Lenz Heated Sock Review
Must-have gear for women who love winter sports
How do you feel about cold feet? I hate them! The answer is getting better gear. Nothing ruins a family ski day like cold feet. Here are six ways to keep everyone's feet warm. Plus, we've got a review of our all-time favorite hi-tech ski gear, a Lenz heated sock review.
Six Ways to Keep Your Feet Warm
1. Wear one pair of ski socks. Layering socks changes the fit and can make ski boots too tight. Boots that are too tight can lead to cold feet. We love the Darn Tough Yeti Socks.
2. Buckle strategically. While the toe buckle should be snug, the instep buckle should be loose. There is an artery that runs across the top of the foot and if it is constricted, toes will get cold.
3. Keep ski boots warm. Cold ski boots mean cold feet. Store your boots indoors, never in a garage or car. When driving to the resort, keep your boots upfront rather than in the trunk of the car.
4. Dry your ski boots. After a day of skiing, use boot dryers or remove the liners and let them dry near a heating vent. Check out these Boot Dryers.
5. Stay fueled. Children, especially, expend a lot of energy while skiing and hungry and thirsty kids are cold kids. Make sure everyone is well hydrated and eating snacks throughout the day.
6. Tech it up. Though expensive, heated socks and liners for your boots can make a big difference.
Favorite Ways to Keep Feet Warm
I've been wearing the Lenz heated socks for the past year and am completely smitten. I had heated insoles before but found the battery pack clunky and the wires were delicate. These socks are rugged and generate a ton of heat.
The socks have a battery that will last up to 10 hours. The socks are slim and fit like a normal wool sock. A slim lithium battery powers the heat that can be dialed up or down with an app.
Unlike insoles, these socks heat the entire toe area. I have noticed a HUGE difference. If you don't download the Lenz app you can use the manual setting -- it's a simple touch of a button. 
Check out our Lenz Heated Socks Review.
Find out why we love this sock so much.
Buy the Lenz heated socks on Amazon here
2019 Snow Guide
Get more tips about creating a great ski season with our Family Ski & Snowboard Guide.
This Lenz Heated Sock Review is not sponsored.