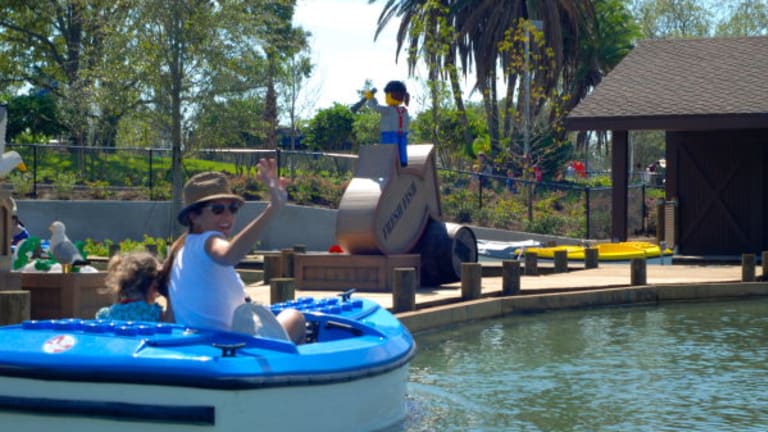 LEGOLand Florida Review
LEGOLAND Florida kept the exquisite botanical gardens and views of Lake Eloise and added 50 rides to this awesome theme park.
We were on hand for the grand opening of LEGOLAND Florida! It was a big splashy event--this is the first major theme park to open in the United States in more than a decade. I'll give you a spoiler on this post--we loved every minute. 
Related: What to wear to Legoland
LEGOLand Florida Review
Made up of more than 50 million tiny bricks, we think this park is going to be huge. While so much of today's entertainment for kids is about droning out and watching, we love LEGOLAND for all the "doing." You can build with DUPLO or LEGO, swing at the treehouses, steer a car at the FORD Driving School and even get a glimpse at nature--it's good clean interactive fun.
The LEGOLAND Setting
LEGOLAND has sprouted out of Cypress Gardens, Florida's first theme park (circa 1936). The clever team behind LEGOLAND Florida kept the exquisite botanical gardens and views of Lake Eloise and added 50 rides, a multitude of new shows and tons of other family-friendly attractions. In all, the park takes up more than 150 acres.
We flew into Orlando and stayed at the Nickelodeon Suites. LEGOLAND is just a 45-minute drive from the airport. Lucky us, we got to tour the park a day before the Grand Opening. In our 6-hour visit we merely scratched the surface, so we went back again on opening day. Even after two days of non-stop fun we never ran out of things to do.
The park sits on a lake and is a wide-open plan ideal for a family with young-ish kids nothing about the park is overwhelming. Quite the opposite, it's all so inviting. LEGOLAND is divided into 10 interactive zones and one awesome castle.
Young kids are given plenty of opportunity to play. The DUPLO village has a barn and an open-air playground perfect for new walkers to age 4 and the surrounding gentle rides were a hit with our less that adventurous three year old.
Ford's done a great job with the driving school section. They crafted cars out of LEGO in two versions--pint sized cars for kids aged 3-5 and the almost ready for NASCAR cars for kids 6-12. The racetracks were so cool and a huge hit with boys and girls alike. There are far too many rides to mention. Suffice to say, there are plenty of thrills if that is what you are after.
The one time we sat still and watched was the water show. Other than that it was go, go go. When we needed a break from lines (and we never waited longer than 30 minutes for any ride) we would make sure to build in time for free play at on of the playgrounds.
Miniland USA
One of my favorite things was exploring Miniland USA. This area is filled with LEGO landmarks including Washington D.C., New York City, Las Vegas, and more, all built at 1:20 scale.
Feeling woozy from the rides? A trip to the Cypress Garden Botanic Garden is just the ticket. Attached to the park, this nature nook is an ideal spot to hang out with the kids and unwind. We wandered around and saw this massive cypress--in my mind it rivaled even the most magnificent LEGO sculpture (but I doubt my kids felt the same).
On our second say we noticed even more sculptures tucked into the landscape--the artistry involved in creating this park is astounding. Of course the park is spick and span and well thought out and there's plenty of shade, easy-to-find bathrooms and many benches. The food doesn't offer a ton of variety or much to note. We did like the friend granny smith apples. If you are picky, pack up a cooler and bring your own bites.
On the flight home to NYC we asked the girls about memories and there were plenty. The 3 y.o. picked the double decker Grand Carousel and the Boating School. The big girl (6) picked the Dragon coaster and guess what? Building with the pile of bricks at the front of the park.
Colorful, clean and creative, we think LEGOLAND Florida is going to be a happy addition to the Florida Theme parks.
The Basics:
Tickets cost $75 for adults and $65 for children 3-12. Annual passes may be purchased for $129 for adults and $99 for children and seniors over 60.
Coasters: Four in total: Coastersaurus, a wooden roller coaster, LEGO Technic® Test Track Coaster, The Dragon and Flight School a steel suspended coaster.
Suited for ages 2-12 (yes, 12 year-olds will love it)
For more information and views of the park, check out our video here:
MORE TRAVEL FROM MOMTRENDS
PIN IT!
Use Pinterest to save your favorite family travel articles, and be sure to follow our Travel with Kids board.
Full Disclosure: We were not paid for this post. All of our travel was paid for by FORD. We were given no direction on what to say or how to say it.