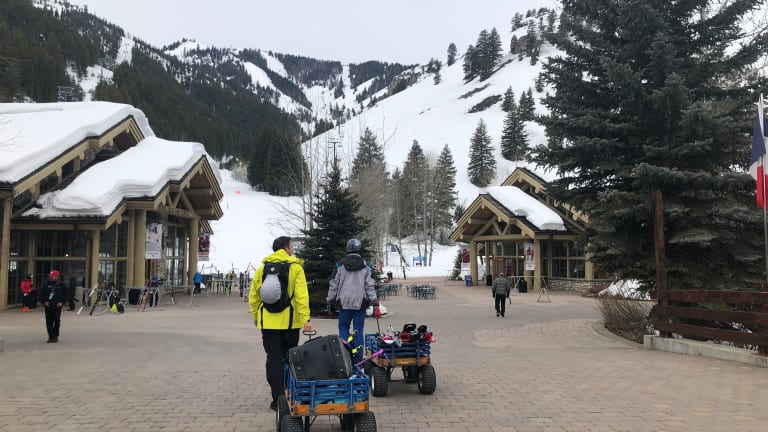 Is Sun Valley Idaho a Good Place to Ski with Kids?
Plan your winter adventure to glorious Idaho for a memorable family trip.
Winter is coming, and I couldn't be more excited. I have a treasure trove of recommendations for your next family ski trip. Today, I'm answering the question: Is Sun Valley, Idaho a good place to ski with kids? The answer is an enthusiastic YES!
Is Sun Valley Idaho a Good Place to Ski with Kids?
Every ski resort loves to trot out their superlatives. You know, the biggest ... the most ... Sun Valley is no different. But the claim to fame of this Idaho resort is pretty spectacular. They are America's first destination ski resort.
The resort opened back on December 21, 1936. It was serviced by the train from Los Angeles and attracted all the A-list stars. Nowadays, the train doesn't roll into Ketchum; instead, folks fly into the charming Friedman Memorial Airport (SUN), about a 20 minute drive south from the slopes (there are plenty of private jets at this tony spot) to enjoy the uncrowded slopes and Idaho charm.
Sun Valley is also home to the first chair lift; in fact there's history everywhere you turn at this ski resort. After spending a spring break at this historical gem, I can enthusiastically recommend it.  Sun Valley is a wonderful place to invest your winter vacation time and money.
Start the Kids at Dollar Mountain
Beginners cans head over to Dollar Mountain. It's 5 minutes away from the Sun Valley Resort and a great place to learn to ski or dust off the cobwebs. I've seen many ski schools over my decades of writing reviews and I can attest, Sun Valley does it right. They keep the groups small, they keep the learning fun and they provide wide open terrain where kids can acquire skills safely. 
Where you learn to ski is a big deal. At Dollar Mountain, there are wide open runs (no trees, no crowds) and the pitch gradually steepens with the ability of the rider/skier. As your rippers gain confidence, they can start to take more "manageable" risks.
Dollar Mountain is home to some pretty awesome terrain parks. The top elevation is 6,638'. Dollar Mountain is also the place to be if you want to catch air. In addition to being the home to beginner lessons, Dollar is also the spot to experience flow-style parks and progressive features. We love the family cross course, for those of us who don't need HUGE features to experience thrills.
Learning at Dollar Mountain
Dollar provides everything for early learners and first timers. For parents with tots, Sun Valley makes it a glorious experience. All you need to do is book your lessons and then show up. Sun Valley will do the rest. This is the ski resort that invented ski lessons. Headed by Austrian imports, the team at Sun Valley taught all the A-listers how to ski when the industry was booming in the 50's and 60's. The tradition continues today. If you want to learn to make gorgeous turns, this is your spot.
With COVID, Sun Valley made some significant shifts to programming that were well-received--most lessons are now private (not groups). Sun Valley will still offer group lessons with their winter seasonal groups but those are geared more toward locals as they meet once a week typically for the whole season. 
For the really little ones, ages 3-5, Sun Valley offers Alpine Au Pair. And there's a Dollar private adventure or Baldy private adventure option for ages 6-18.
Families with adaptive ski needs can check into Higher Ground, the adaptive snowsports partner for Sun Valley Company. Higher Ground provides on-snow opportunities for people of all ages with cognitive, physical, and developmental disabilities. If you are visiting Sun Valley and are interested in an adaptive snowsports lesson, contact the Higher Ground Snowsports Desk: 208-720-7578 and visit their website https://highergroundusa.org/programs/
Find all the updated details and pricing here www.sunvalley.com/things-to-do/snowsports-school/
Getting in the Vertical at Bald Mountain
At Sun Valley it's all about options. You can opt to drop your kids at lessons and explore the village, you can stay and ski Dollar, OR you can go chase some powder over at Baldy, the "big sister" mountain to Dollar. 
We opted to spend a morning at Dollar warming up on the groomers. Once we had our "ski legs" on we headed over to Baldy. Bald Mountain is about 10 minutes from the Sun Valley Village and served by Mountain Rides (take the Gold or the Silver FREE shuttle). We opted to drive and park in the free lot at River Run Base.
There's 3400 vertical to be skied at Bald Mountain. With more than 100 runs and 2054 skiable acres there's more than enough secret stashes to keep you and your family in powder for a week. 
Baldy is also for skiers of all abilities. It's the place to ski glades and find  those long winding runs that fuel the soul. It's known to be a steep mountain (that's true) with few beginner runs. Beginners will have a much easier time over at Dollar.
How to Ski Sun Valley
Sun Valley is proudly an independent mountain. During our visit, Sun Valley was only on the Mountain Collective. For the upcoming 2022/23 it will be on the Ikon Pass. As always, passes are smart for families that plan to ski for 7 days or more in a season.  
Momtrends Tip: Get a pass or buy lift tickets in advance. You'll save 20% off the day-of price (which can be $155 during peak days).
There are plenty of places to rent skis in Ketchum, Sun Valley is also served by the Ski Butler service which will bring all your gear right to your condo or hotel.
We opted to get demo skis from the River Run base. When we travel West, we rarely bring our East Coast carving skis. I love relying on the ladies and gents in a good demo shop to pick a ski that's jut right for the conditions of the day. I'm always happy to pay a little more for a high performance demo ski. We found a terrific assortment of demo skis at Pete's Lane Mountain Sports.
Bald Mountain is open from 9am to 4pm. I suggest on your first day that you opt for the FREE 9:30 Bald Mountain orientation tour. We signed on for this and it was an excellent welcome to the property. Momtrends Note: Come ready to ski. The group will head out at 9:30 so be booted up with your skis nearby.
This free tour lasts about two hours and is a great resource for visitors. You'll get the lay of the land and a feel for how to navigate the multiple drainages of Baldy. We took the tour and were glad to get this orientation. There are two base areas and a lot of lifts, with an overview we were quickly acclimated and ready to further explore.
There are two base areas at Baldy River Run and the Warm Springs Area. We started out day at River Run Plaza (that's where the free tours originate) and had lunch at Warm Springs.
Skiing Sun Valley
Skiing Sun Valley takes a bit of planning. Since the two base areas are a good distance apart, it's good to have a plan. I advise getting the Sun Valley Resort App for your iPhone or Google Play. The app will give you weather reports, trail maps and a run tracker. 
We loved the bowls off of Lift 14. Sigi's Bowl is a good place to start and then build up to Easter Bowl.
I came to skiing later in life, but that doesn't mean I don't like to challenge myself. I've never met a NASTAR course I didn't like. The staff running the Sun Valley course couldn't have been nicer. We had a blast trying to better our times. The Race Area trail is accessed off of lift 10 or 7 from the Warm Springs base.
April Skiing In Sun Valley
On our return trip to Sun Valley, we ventured out in April, when the days are long and warm. We had delightfully soft snow conditions with a significant base in mid-April. The closing date was April 18th, and that was due to staffing issues, not lack of snow. 
When you travel in April, you'll be free of crowds, but be warned some of the services will be closed. For example, The Roundhouse was closed for the season and all of Seattle Ridge was no longer accessible. We weren't able to ski the new Bald Mountain Expansion Project that added 380 acres of terrain to the resort with a mix of bowls, glades and chutes serviced by the Broadway Quad.
Sun Valley by the Numbers
Peak Elevation Bald Mountain 9,150
$2475 = the cost of an unrestricted Challenger adult season pass to Sun Valley and Dollar Mountain.
2,054 skiable terrain (2,434 acres with the completion of the Bald Mountain Expansion (Winter 2020-21).
11 Chairlifts + 1 Gondola at Bald Mountain

Roughing it in style
They call it "roughing it in style" I call it the perfect spot for family skiing. Everything about this place oozes style. You'll see plenty of vintage Bogner out on the hill (and western belts), as well as, deeply tanned locals.
The base lodges are all over-the-top luxurious. The bathrooms are marble with brass finishes and are some of the cleanest public facilities I've ever seen. 
Look for the blue wagons - they are there to make hauling gear easier for families. Momtrends Note: unlike many resorts, parking is free at Sun Valley.
On Mountain Dining at Sun Valley
One of the most iconic things you can do at Sun Valley is book a table at the Roundhouse for lunch. Perched at 7700' at the top of the Roundhouse Express lift, this is the spot for a posh meal. Opened in 1939, it's an iconic ski experience. They call it "Sky-high Northwest fine dining" it's a blissful way to power up with a hearty (and calorie laden meal) while you take in the mountain views
Lunch is served from 11-3pm. Definitely make reservations. I highly recommend the lobster club and please order a side of fries! You can also have dinner at the Roundhouse on Friday & Saturday from 6-9pm.
Other on-mountain lunch options include the Seattle Ridge Lodge and the weirdly ugly Lookout Restaurant (it's a tragic bit of architecture). 
For more ideas on where to eat in Ketchum, head here.
More Sun Valley, Idaho Ideas
You can also try cross-country skiing at Sun Valley. There are miles of trails from the resort, or head to Galena Lodge (about 30 minutes from the resort).
MORE SKI FEATURES FROM MOMTRENDS
PIN IT!
Use Pinterest to save your favorite family travel features. Be sure to follow our Ski Moms Pinterest Board.
Momtrends was not paid for this Is Sun Valley Idaho a Good Place to Ski with Kids? feature. Some travel accommodations were made to facilitate the review of the property and mountain.