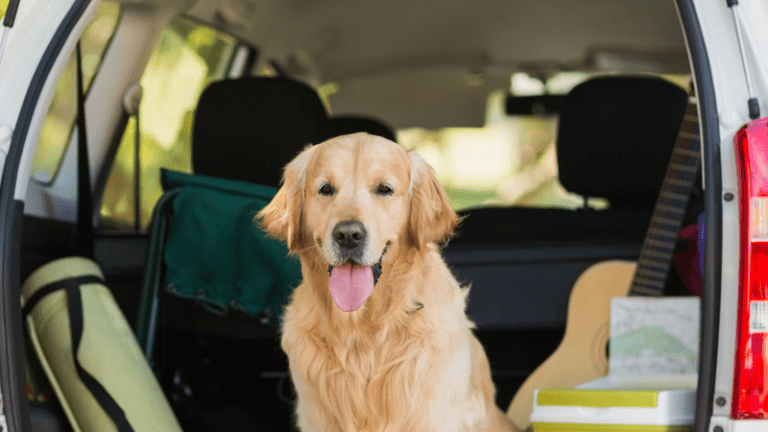 How to "Road Trip" With Your Furry Kids
We're sharing a few tips to make sure your dog's enjoys the family road trip.
The ASPCA estimates that 78 million dogs are owned in the United States and that about 44 percent of all households have a dog. We've got to imagine that many of those pet-owners will want to go on vacation this summer--maybe even a road trip! Instead of leaving your furry friend at home, consider taking Fido on your family vacay. We're sharing a few tips to make sure it's a successful journey for everyone. 
Related: Finding the perfect dog crate
Road Trip Tips for Dog Owners
Plan ahead. There are probably a few pet-friendly restaurant patios, hotels and even shops along your route, but they aren't always easy to find. Sometimes you must call a business to find out if pets are allowed, and if so, if there are any size restrictions or fees associated with including them.
Ask for special pet treats. Some restaurants cater to pets on-the-go with treats like "pupuccinos," plain hamburger patties and more. Just ask, you might be surprised by what's out there! (Pro tip: be cautious with sensitive tummies and skip the treats if your dog is prone to car sickness!)
Pack some familiar dog stuff. Make your dog feel at home away from home by packing his favorite dog bed, blanket, chew bone, food/water bowls and toys.
Plan pet breaks. Remember, your pets need breaks from the car, too. Find a dog park along your route where your pet can play or take a walk around a public park during your pit stop to make long car rides more bearable. (Pro tip: keep the clean-up bags handy!)
Keep their meal schedule consistent. Even on the road, you'll want to keep your pet's feeding schedule consistent. That means packing a bag that's easily accessible with food, water and bowls.
Pack paper towels & stain remover. Even the best-planned trips can have issues! Always travel with clean-up supplies in an easy-to-reach spot just in case.
Be respectful. Most hotels and restaurants have very specific rules about allowing pets, like not leaving them alone in the hotel room.

MORE PUPPY LOVE FROM MOMTRENDS
PIN IT!
Use Pinterest to save your favorite pet tips and be sure to follow our Puppy Love board here.
Know and follow these rules to ensure a smooth trip. Lucky the TurfMutt is a former rescue dog turned superhero who got a new "leash" on life when he was saved from a busy Indiana roadway by Kris Kiser, President and CEO of the Outdoor Power Equipment Institute (OPEI). This is not a sponsored post. Thank you to the OPEI for the tips.