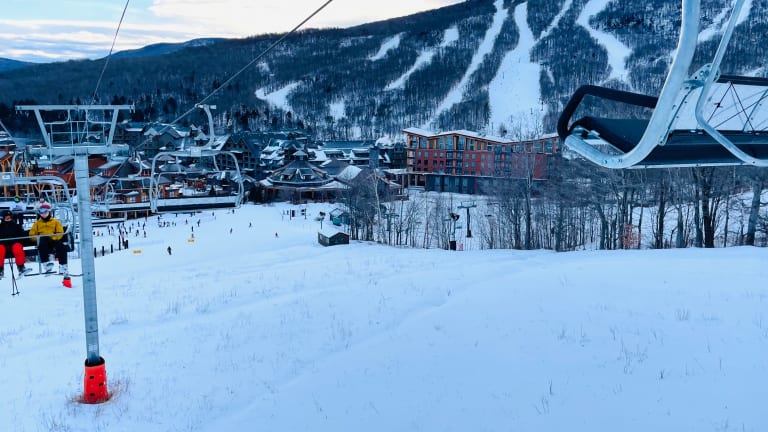 How to Make the Most of Your Stowe Ski Vacation
A trip to Vermont in the winter is a gift that will keep on giving.
Is this the year you give your family the gift of a ski holiday? I for one am always cheering for experiences over things. A trip to Vermont in the winter is a gift that will keep on giving. In addition to world-class skiing, Stowe offers families the chance to bond over cocoa, splash in a heated outdoor pool and so much more. Read on to find out how to make the most of your Stowe Ski vacation.
Spruce Peak Base Area
This year Stowe is celebrating 85 years of bringing joy to families. Over this time, the resort has mastered not only how to teach kids to ski, but how to help families reconnect. It starts with the environment. Stowe's setting is a quaint pedestrian village. Everything emanates from the base area at Spruce Peak--no car required! This is where all the lessons, lodging, shopping and dining happen. 
If you're planning a getaway with your family, I highly recommend the Spruce Peak Lodge. This is a full-service resort suited to kids of all ages, from tots to teens. You'll find spacious and comfortable accommodations here with all the services of a hotel at your disposal. I love that I can pull up to check in and have one of the Spruce Peak staff whisk away my skis and luggage. For parents with toddlers and babies, (and there are loads of them here), the helping hands are mighty appreciated.
We've stayed in the Spruce Peak units a few times. In each unit, you'll find a fully outfitted kitchen (and I always recommend stocking a few basics to make a few breakfasts and maybe a quick dinner upon your arrival) modern bathrooms, in-room laundry and gas fireplaces. Rooms either face the mountain or the charming village, you can't lose either way. And, all the units have access to the free ski valet--a huge time saver for families trying to get to lessons in the morning. 
In addition to a roomy interior, the Lodge offers guests a full gym (with fitness classes and yoga), an outdoor pool & hot tub area, a full service spa, an enormous lobby lounge area, a small arcade, and restaurants. 
If condos aren't your thing and you need more space, you can look into a number of homes, inns and other properties right from the stowe.gostowe.com/products/lodging website.  
Many families fall in love with this property and end up as condo owners. There are many, many Boston families who buy a partial unit in the Spruce Peak Lodge or opt for a larger, more luxurious home like the townhomes at One Spruce Peak (this new development is set to take ownership this winter). One Spruce Peak marries luxe touches like Vermont marble, humongous barn doors and private elevators with stunning views and unparalleled access to the slopes (truly a ski-in/ski-out experience).
On Snow Fun at Stowe
One of the big draws for Stowe is the skiing. As an Epic Pass resort, it's the biggest and best option for those of us on the East Coast. Stowe boasts two separate mountains: Mount Mansfield and Spruce Peak. Spruce Peak lifts are accessed by walking from the village right to the Meadows Quad or the Sunny Spruce Quad. It's also where all the lessons meet. Beginners are nicely nestled into the Adventure learning area with their own lift and a covered magic carpet. It's an ideal place to learn as there is terrain for every level and a very gentle progression. 
Spruce Peak is also home to the Mount Mansfield Ski Club. Racers use the Sensation Quad for training. Spruce Peak (3300') isn't just for beginners and racers, Sterling, a solid "blue" trail, is one of my favorites. I love this long and winding trail. And on a busy day, you won't find many crowds over here. 
For more action, head to the Over Easy Gondola. This ride connects the satellite parking lot/Mount Mansfield area (which is free for day-trippers and guests at properties in the valley) and Spruce Peak. The gondola takes just a few minutes to connect you to the Mount Mansfield base. Here the peak sits at 3365'. Fun fact: The vertical drop of Mount Mansfield is 2,360 feet, the fifth largest in New England and the fourth largest in Vermont.
Mount Mansfield has enough runs to keep your family busy for DAYS. To warm up, I suggest you do a little traverse over to the Mountain Triple lift. This lift services some kid-friendly glades and awesome blue groomers. Once your family has the feel, head on up the gondola to take in the views from the top. This is a great spot to take photos. All in, there are 485 skiable acres and 116 trails to ski. 
Percentages: Beginner 16%, Intermediate 55%, Expert 29%
Fun fact: Did you know Vermont is the snowiest state in the country? It's true, and that means your trip, while not guaranteed, will very likely have snow. The average annual snowfall is 314 inches. What the snow gods don't provide, the snowmakers DO. Stowe has excellent snowmaking abilities and they are able to open in early December most years, making it an excellent choice for families.
Never Stop Learning
The ski school is excellent and home to highly trained professionals. If you want to get the kiddos their first lessons, Stowe's a great pick. To start, there are helpful staff who will greet you right at your car and take you up to the Adventure Center for check in. Smoothing out the rough spots is what they do best.
Once checked in, rest assured that kids are in a secure setting that maximizes fun and time outdoors. 
They'll get your kiddos sorted with gear and lessons in no time, so you can head off and enjoy your own day. Most lessons start at 9am and are grouped by both age and ability. Lessons start for children at age 3, starting at $262 for a full day. Head here to get more prices and rates www.stowe.com/plan-your-trip/ski-and-ride-lessons/category/kids.aspx
If you are a regular to Stowe, I highly recommend the weekend programs. These programs are designed to build not only skills, but friendships. The kids work with the same group each week, making lifelong friends and getting great instruction. Check those program out here www.stowe.com/plan-your-trip/ski-and-ride-lessons/category/season-long-programs.aspx
And if group dynamics aren't your thing, try the Kids Super Start program. It's a 1:1 lesson for your child. 
Another option I highly recommend is hiring a private guide or instructor for your family. On our recent visit, we hired Brandon Rist for a half-day. He provided expert instruction (we are on the quest to keep the turns going smoothly even on steep terrain), as well as ideas on where to find the best now. Plus, and this is a huge plus, with a guide, you pop to the head of the lift lines, a real bonus on holiday weekends. 
Off-Snow Fun at Stowe
I'm sure I convinced you that the skiing and riding are awesome, but there's more to a vacation than the on-mountain fun. Stowe has an amazing village too. Everything centers around the beautiful skating rink. It's free to skate if you BYOS, or you can rent them. There's sheltered seating and fires to keep everyone warm and cozy, plus, the Whistle Pig is nearby for an adult beverage or snacks. 
The village has some great shopping, like the First Chair Boutique (they carry a great assortment of Bogner), the toy store and The Pantry for snacks. If you need a java fix, get your coffee, cocoa and baked goods at The Beanery. 
Don't forget about some TLC for mom. I always make a point to book a treatment at the Spruce Peak Spa. The signature 50-minute massage will work out any tight muscles from your ski day. Momtrends Tip: Be sure to add extra time to use the steam room and sauna there. 
Dining at Stowe
Spruce Peak is updating the restaurants at the resort. We were one of the first to dine at the Tipsy Trout. It's a fish-heavy menu that's locally sourced wherever possible. I thoroughly enjoyed my Swordfish Frites (the fries were perfect and the fish was not overcooked, yay!) and the cool mid century modern vibe. 
I encourage you to venture off property for a night or two. The surrounding town of Stowe has some charming options. We tried Edson Hill for the first time and had an absolute gem of a meal in the downstairs tavern. 
Using Your Epic Pass
One of the easiest parts of this trip is navigating the lift tickets. With Epic Pass, we were able to go right to the lifts, no problem. 
For us, Stowe is our closest Epic mountain, but for you, it might be one of the other 7 resorts in the East or maybe one of the other 34 destinations. Here are some final tips for trip planning to Stowe (or really any other Epic Resort):

Plan ahead: If your school has any weird days off, that's the magic time. Use those teacher planning days to your advantage.
Go midweek: Got little ones? Go midweek and take vacation days. It's a perfect time to learn!
Get a lesson: Book lessons when you make your lodging choices.
Prep the gear: Try your gear on at home BEFORE packing. Kids grow. Figure it out before you arrive and label all the gear.
Bring a friend! Coordinate with another family on your trip It makes lessons more fun for the kiddos.
Make a meal plan: Opt for lodging with a small kitchen. Plan on breakfast and your arrival dinner (something simple like pasta) at "home" — for the other nights make reservations early. For kiddos, book early times, ski days really zap the energy out of kids.
Download the app. We used the EpicMix app nonstop to plan and navigate.
I can't wait to hear about your adventures. Please let me know where you plan to ski.
This is a sponsored post.