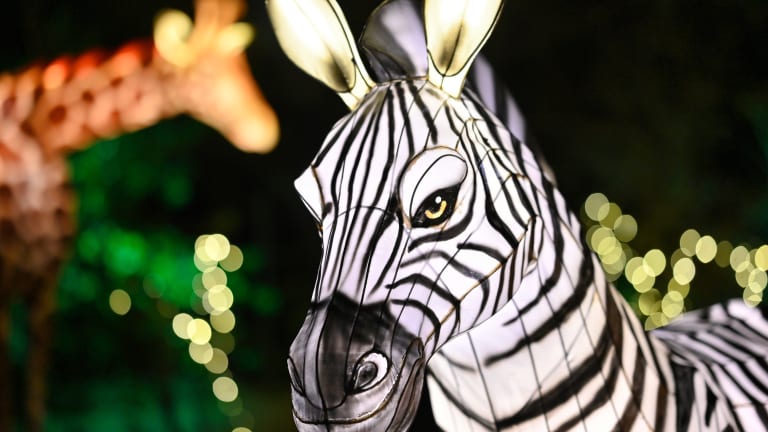 Publish date:
Holiday Lights at the Bronx Zoo in NYC
Plan your visit to the crown jewel of New York City's holiday light experience at the zoo.
Plan your visit to the crown jewel of New York City's holiday light experience at the zoo.
I've heard rumors that families are putting up Christmas trees already and I absolutely love it. While COVID may be effecting how we celebrate the holidays this year, we can still tap into the spirit of the season from a safe social distance. I'm happy to report that one of my favorite holiday traditions is still moving forward. The Bronx Zoo's Holiday Lights, a family-favorite holiday light experience, will be back starting November 20, bringing New Yorkers much-needed joy for the winter season.
Related: Visiting newly renovated Empire State Building NYC
The Bronx Zoo is located on 265 acres of hardwood forest in Bronx, NY and it's a national treasure. It opened on Nov. 8, 1899 and has been connecting families with nature ever since. The holiday programming has been delighting families for decades as folks travel to see the light display.
To keep families safe, this year's experience will encompass a larger area of the zoo and be organized to accommodate social distancing and eliminate bottleneck areas. The zoo will have almost 50 more animal lanterns than last year and will create five geographically representative lantern safaris that include species from different regions of the world.
Entertainment will include holiday-themed music, ice carving demonstrations, costumed characters, stilt walkers, souvenirs, and seasonal treats like hot chocolate and s'mores. 
Plan your Visit
The lights are on display from November 20 - January 10. Tickets for Holiday Lights must be purchased in advance and are now available online. Now through October 4, save 30% off your early bird tickets. 
While celebrating the holiday season, all events and activities have been modified to meet all safety guidelines as directed by the State of New York. All guests over 3 years old are required to socially distance and wear face coverings, and all tickets are date-specific and must be purchased in advance online. For a full list of COVID-19 protocols, visit the zoo's Know Before You Go page.

5 Pretty Ways To Organize Your Jewelry
I admit - I'm guilt. Despite my best efforts, my "jewelry drawer" has become a tangled mess of necklaces, bracelets and earrings. This cluttered collection not only makes it hard to see what I have, but difficult to untangle the pieces I do want to wear! This summer, I'm ...read more
This Year's Coolest Jumbo Pool Floats
Pool season is almost here! I can't wait to relax, read a book, and sip a cocktail while lazily drifting in an oversized float. (Just kidding, I have two toddlers--but a swim mama can dream, right?). If you've got a staycation planned, check out this year's coolest jumbo pool ...read more
Crystal Clear and Pristine: Pool-Cleaning Tips
Tropical Storm Isaiah gave us quite the midsummer surprise here in the suburbs of New York City. We just got our power back on after a whole week of darkness! With trees down, debris everywhere, and lots of uncertainty, one thing we forgot to check on: our above ground Intex ...read more
WCS members will receive a 40-percent discount and the opportunity to preview Holiday Lights on November 17-19 before the festivities open to the public on November 20. Members at the Conservation Supporter level will receive free admission to Holiday Lights.
For more information, visit www.BronxZoo.com. The Bronx Zoo is located at 2300 Southern Blvd, The Bronx, NY 10460
Momtreds Tips to Planning an NYC Visit
Check out our NYC page for things to see and do in NYC and don't miss these highlights.
PIN IT!
Use Pinterest to save your favorite NYC outings. Be sure to follow our New York City board here.
Momtrends was not paid for this post. Photos from Julie Larsen Maher.