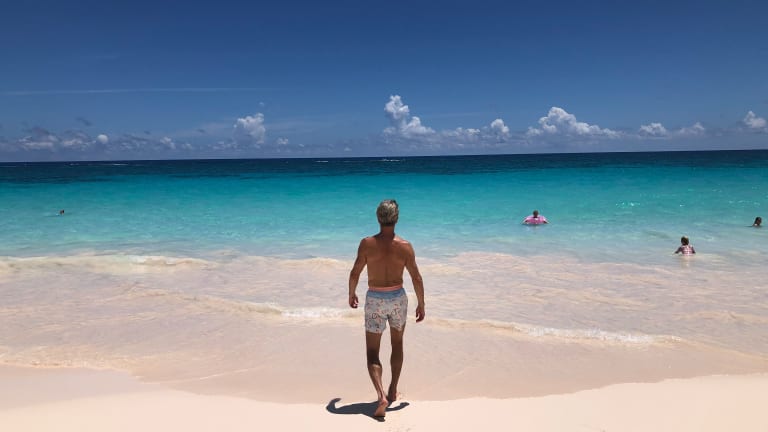 Publish date:
Great Swim and Gym Shorts for Slim Guys
Meet BirdDogs the Only Shorts He Will Need
Meet BirdDogs the Only Shorts He Will Need
Yikes! I'm almost out of days in the summer and somehow I neglected to share my love of BirdDogs.  These are great swim shorts for slim guys and I don't want you to miss out before swim season is over. 
Related: DIY Father's Day Terrarium Craft
Mr. Momtrends doesn't like to model much, but he's pretty cute, and he's in great shape. Weighing in at 150, he's definitely on the trim side and for YEARS we've struggle to find shorts that fit him well. On the rare occasion we do find shorts or swim trunks that work, we buy in multiples. 
Great Swim Shorts for Slim Guys
I few years ago I read a great article about the essential guy wardrobe for men that don't want to get pigeonholed as dorky dads. One of the recommendations was BirdDogs. 
We started slowly with a single pair of gym shorts and have been back to the site to order 3 more pairs including swim shorts. The gym shorts and swim shorts look great for travel or everyday life.
BirdDogs Style
Fabric comes first at BirdDogs. The fabric is soft to the touch and offers a lot of room to move. The brand is gym-centric, but I think the swim shorts are the most notable. The patterns are fun, without causing any fashion crimes and there are plenty of solids for dudes and dads who don't want to take fashion risks.
Mr. Momtrends tends to cringe at high-priced sportswear. He never says a word about my shopping habits, but he's frugal at heart. I'm happy because he looks great, he's happy that they fit and he didn't spend a bundle. 
They seem to drop new prints every month. We just picked up the Ruschbangers ($69). Note: the swim-specific shorts are a slightly different fabric and hence, more expensive. 

Lessons I've Learned Traveling to Sebasco Resort Maine
When you think of a summer getaway to Maine, it's likely you are envisioning something akin to the Sebasco Harbor resort. Tucked along Maine's rocky coastline, this family-style resort has been hosting families for nearly 100 years. If you're ready to travel, take a look at the ...read more
Five Tips To For a Girl's First Leg Shave
Do you remember your first time shaving? Mine wasn't pretty. I snuck my dad's razor and shaved my legs dry. It wasn't pretty. Get your daughter ready for this rite of passage with the right tools and a quick education. We've got five tips to help you navigate your daughter's ...read more
Why You Should Add Wild Blueberries to Your Diet
Do your New Year's goals involve healthier eating? Adding more fruits and vegetables to your diet? Or even adding tasty new recipes to your repertoire? We've got five reasons for you to add wild blueberries to your diet. Our friends from the Wild Blueberry Association have ...read more
BirdDogs on the Move
Like a traditional men's swimsuit, the gym shorts have built-in underwear. The stretch fabric of the shorts makes them ideal for gym workouts (but they are too long for running). The built-in underwear is breathable and cuts down on laundry!
In the photo you can see the Mr. on the move in Bermuda playing some pick-up cricket. This pair is a "gym short." But he does swim in these shorts too. Right after this he went snorkeling in his BirdDogs. For travel, they are essential since they look great out of the workout area. Don't you think they look better than 99.9% of the gym shorts out there?  
BirdDogs Service and Sizing
First, they are a very user-friendly brand. BirdDogs offer great service. They have free shipping and free 30-day returns. 
When it comes to sizing, Birddogs standard size is a classic 8" inseam. That means they drop 8" from the bottom of your crotch down your thigh. To measure the fit, they advise to "Take a piece of paper and turn it hamburger ways with one corner on your thunder dome and the other end will fall at about the length of a pair of Birddogs." Yes, I should mention the copy on the site is pretty insouciant.
If this length doesn't work, they also offer both a short 6" inseam and an extended 9 1/4" inseam option on most shorts. All the photos shown here on Mr. Momtrends are the classic 8" short.
Now about the waist: small fits waist sizes 28" to 30", a medium fits a 30" to 32 ", a large fits between a 32" to 34", and an XL fits between a 34" to 36" waist. We've also got the double-wide XXL for waist sizes 36 in. and above. I have zero information to give your about the larger sizes. Mr. Momtrends takes a small and is 150lbs and 5'10". He normally wears a 32 in shorts. 
What do you think? Are BirdDogs the only shorts your guy will ever need? 
Find out more https://www.birddogs.com/
More for Dad's on Momtrends
Pin it!
Use pinterest to save your favorite fashion finds from Momtrends.
This Great Swim Shorts for Slim Guys feature is not sponsored.