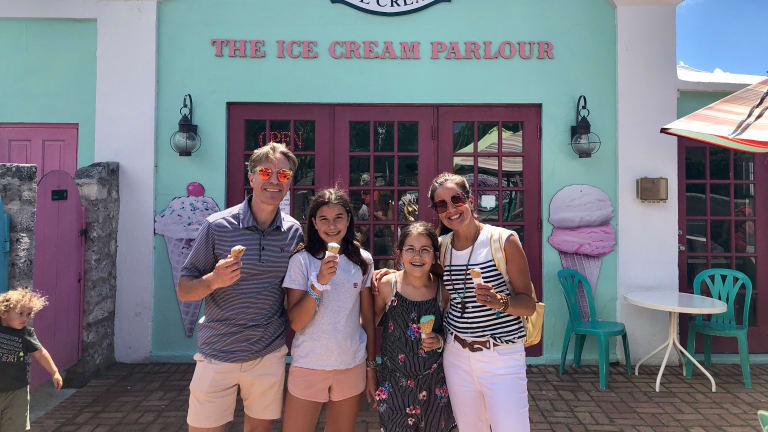 Fun Kid-Friendly Places to Eat in Bermuda
Favorite meals in Bermuda, vacation never tasted so good
There are so many things to love about family travel; one of them is getting a break from the routine of preparing meals at home (and cleaning up dishes!). I love tasting new things and travel always inspires our family to explore foods. On our recent trip we found some fun kid-friendly places to eat in Bermuda.
Use Expedia to plan your perfect trip to Bermuda
Vacation Never Tasted so Good
Bermuda is a place to be active and try new things. On our latest trip, we started off at the Crystal Caves. After our outing we walked over to a Bermuda staple called the Swizzle Inn. 
Swizzle Inn Bermuda
Bermuda's oldest pub, The Swizzle Inn, and its sister pub The Swizzle South Shore are home to the national drink of Bermuda, the Rum Swizzle. The fruity/sour drink was created in the early 1900's and remains a timeless beverage.
The menu is 100% kid-friendly with salads, sandwiches and burgers. I had a fantastic salad with tempura shrimp and the kids had Caesar salads and fries. Grab a table outside if it's not too hot; if you crave A/C head indoors, there's usually a game on (we saw a bit of the epic Wimbledon match between Federer and Nadal).
This place is loaded with character. Outside the door windows are plastered with stickers from around the globe -- notably with quite a few from Vermont! 
Inside, the Swizzle Inn is decorated with business cards and more stickers and graffiti. It's quirky and fun. I was sure to add a Momtrends card to the mix. It's a can't miss for your family.
Find out more about the Swizzle Inn
Details: 3 Blue Hole Hill, Hamilton, Bermuda. Hours 11am -12am
Bailey's Ice Cream Bermuda
Rules are out the window on holiday. That means there's ice cream on the menu. In Bermuda, that means Bailey's Ice Cream Parlor. When it comes to a sugar splurge, the homemade treats at Bailey's Bay Ice Cream Parlour are worth every gram.
It's colorful, just like the island. They change the flavors up seasonally, expect to pick from 30 flavors. The girls ordered the Shrek ice cream, minty and full of treats. I went for a Dark 'N Stormy and it was fantastic.
Details: 2, Parish, Blue Hole Hill, Hamilton, Bermuda. Closed Friday, Saturday through Thursday open 12-8pm. Cash Only
Dinner at Devil's Isle Bermuda
Part café, part coffee shop, this little gem is worth a bit of a walk.  The coffee is brewed by an award-winning roaster named Kike. He arrived in Bermuda in September 2014 ready to roast for Devil's Isle Coffee Company. 
In addition to the coffee, it's a wonderful restaurant that focuses on sourcing the best food starting with local veggies. They serve only grass-fed beef that's certified and hormone and antibiotic free. I recommend ordering the catch of the day. The preparation was fresh and lovely and loaded with veggies for the kids.
We loved sitting inside at the big communal table, the service is friendly, and I love the vibe of this place. Check out the menu here https://www.devilsislecoffee.bm/
Details: 19 Burnaby St, City of Hamilton, Bermuda. Hours, Monday-Thursday 8am-10pm, Friday 8am-11pm, Saturday & 9am-11pm, Sunday 9am-10pm. 
Need more dinner ideas in Bermuda?
Also notable for dinner, was our special meal at Marcus, Marcus Samuelsson's signature restaurant on the Hamilton Princess property. To get more flavor for the resort, check out our review of the Hamilton Princess here.
Yo Cherry Frozen Treats Bermuda
And one more sweat treat! When in Hamilton, swing by Yo Cherry Frozen Treat Shop located on 8 Bermudiana Road; it's a short and pretty walk from the Hamilton Princess. Kids can personalize the treat with toppings. 
MORE TRIP PLANNING TO BERMUDA
PIN IT!
Use pinterest to save your favorite family travel articles, and be sure to follow our Travel with Kids board.
This Fun Kid-Friendly Places to Eat in Bermuda feature is not sponsored.