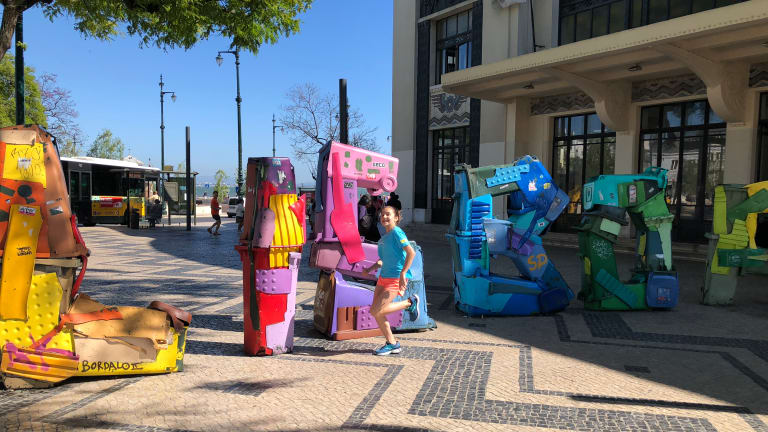 Five Ideas for Family Fun in Lisbon
Trip Planning Tips and Advice
When we booked our trip to Lisbon with our girls, we wanted a combo of culture and beach time. As I was planning, I decided to do the city portion of the trip first and then head south to the Algarve. With less than 48 hours to spend in Lisbon, we had to use our time wisely. I've rounded up five ideas for family fun in Lisbon and hope you'll add some of your own.
Lisbon Oceanário 
Working with our hotel staff at Martinhal, we decided that the Oceanário was a "can't miss" for our animal-loving girls. Lisbon locals are extremely proud of the Parque das Nações; the location of the aquarium. This area was home to the exhibition grounds for the Expo '98 and is currently the hot spot in Lisbon for development.
The Oceanário de Lisbon (the Lisbon Aquarium) is enormous and thoughtfully designed. I'm told it's the largest public aquarium in Europe with 8,000 organisms from 500 different species from all four oceans. 
The central aquarium is the masterpiece. The enormous tank represents one hundred species of ocean creatures from HUGE sharks to graceful rays to amazing fish. Surrounding the big aquarium are four marine habitats. We couldn't get enough of the sea otters and penguins in the coastal areas.
Don't miss the special exhibit at the Oceanário: The masterpiece aquarium created by Takashi Amano combines the sounds of the forest and the beauty of the ocean. It's the largest tank I've ever seen and the design is simply awe inspiring.
Momtrends tip: Get tickets in advance. We pre-purchased our tickets at the hotel (apparently lines can get quite long, though we didn't see them) and headed to the subway. Also, whenever you can take public transportation do it! You'll see how the locals really live and save a buck or two. The closest subway stop is the green or blue line at Baixa-Chiado we had to take that to the red line for a transfer to Oriente. In general, the Lisbon subway is clean, on time and efficient.
Directions: Esplanada Dom Carlos I s/nº, 1990-005 Lisboa, Portugal. Connect on the red line to Oriente stop on the Lisbon subway. Get more details here www.oceanario.pt 
Watch Futbol
The neighborhood we stayed in, Chiado, is extremely lively and walkable. On our first night, there was a fashion show at the local square. But the real action on our visit was futbol. The next night the city was decked out in green and red to support Portugal in the World Cup (they tied their first game vs. Spain) and watch Cristiano Ronaldo in action.
On our visit, just about every bar and restaurant had the games on and it's fun to cheer on the teams. Locally, there are three big clubs that play in Lisbon. For ideas on how to catch a match go here.
Ride the Trams
Tram tours are very popular, at the very least, go check out the Elevador da Bica. This tram is a cool bit of transport that looks like it could easily fit in San Francisco.
The Bica neighbourhood is wildly colorful and a can't miss on your walking tour of the city. Kids will love hopping on this tram, even though it's a really short ride! There are other tram routes in the city where your family can hop on and off, I highly recommend this way to get a feel for the surroundings.
Book a Flytographer
A few years ago, I wrote about hiring Flytographer while in London and Paris. Lisbon was our third city where we've used them, and we couldn't 't be more pleased. It's a photography service that is global. I love the concept. I can hire a pro to capture my WHOLE family on vacation (usually we have pictures with three out of the four of us - someone has to hold the phone). Slot in a 35 minute session (or longer) and I promise you'll get some priceless shots. Head here to read the full review.
Our Flytographer, Rita, turned out to be a pretty great tour guide too. She was fantastic with our girls and knew all the best spots to avoid crowds while also getting amazing photos. You can request to book Rita in Lisbon here. too.
Stroll on the Harbor
A stroll along the harbor can't be missed. It used to be pretty filthy, but a huge effort has been made to revitalize this space and now it is definitely family friendly. From our hotel in Chiado, it was an easy walk downhill to the bustling hub of the harbor. We took the girls for a easy jog in the late afternoon along the Tagus River. Along the run, we saw juice stands, bars and loads of city art. 
The busy main square had hundreds of rowdy futbol fans, this somewhat impeded our attempt to take a run with the girls. It's a great place to people watch though. Maybe the universe was reminding me to slow down.
Early morning into afternoon is the more family-friendly time  to stroll this area. It does fill up with young adults looking for a party as the day goes into night.
As you head away from the crowds, take a gander at the The 25th of April Bridge it was modeled after the Golden Gate bridge. On the other side of the river from the port, there is a statue of Cristo Rei (Christ the King). It's similar to, but smaller than the stature in Rio de Janeiro.
Dining in Lisbon with Kids
Lisbon is a food-lovers paradise. Since it's in Southern Europe, there are plenty of Middle Eastern influences, but don't miss out on the fresh seafood. I think travel is the time to try new things. While we had breakfast and a lunch at our wonderful Lisbon apartment hotel, we also had the chance to explore. 
Pinoquio Cervejaria
On our first night we wanted a causal Lisbon experience and loads of SEAFOOD. A friend steered us to the cervjeria Pinoquio. Just a short 15-minute walk from Martinhal Chiado, Pinoquio is a treasure. Come early and snag a table in the outdoor area. Start off with some garlicy olives and bread, then order the shrimp in olive oil and garlic (yes, you will stink the next day, don't worry so will everyone in the city.)
From there, you can't go wrong with the paella. A steaming hot plate full of seafood goodness on saffron rice. Our girls devoured pasta with clams and shrimp. Everyone was happy with this simply, hearty fare.
Directions: Praça dos Restauradores 79, 1250-188 Lisboa, Portugal
Flor da Naranja
A Brooklyn pal turned us on to this hideaway. owned and operated by a Moroccan chef who has called Lisbon home for 25 years, this spot is an insider treat. We loved finding this hidden gem on the twisty narrow streets of this Barrio Alto neighborhood. The decor is colorful and comfortable. 
The couple next to us had a toddler with them and the owner seemed happy to host children. Our hummus starters were devoured by the girls. Next was tandoori chicken with artichokes, lamb, eggplant and so much more. Our girls have never liked middle eastern food so much. The owner services all the tables and manages a very small kitchen. Don't come if you are rushed. Savor this experience. And definitely order the crepes for dessert.
Momtrends tip: you must book a reservation (call our have your hotel call +351 21 342 2996). The owner turned away no fewer than ten diners who wanted to eat but hadn't called ahead. Even though she had empty tables, she has ordered the food for her gusts with RSVPS. It felt like a very intimate invite indeed.
Directions: R. da Rosa 206, 1200-390 Lisboa, Portugal 
Drinks at Pharmacia
Our Flytographer led us all over Barrio Alto. She knew all the most picturesque alleys and overlooks. At the end of our shoot, she deposited us at the Museum of the Pharmacy. A swell little restaurant is attached to the museum and they make great use of the views. They are overlooking the Lisbon harbor a charming, pharmacy-themed space with plenty of outdoor seating and space for well-behaved kids to stretch out.
We snagged seats on the lawn and order the girls lemonades while the Mr. sipped Madeira and I enjoyed, and I sipped on Portuguese Rosé.
Directions: R. Mal. Saldanha 1, 1200-012 Lisboa, Portugal
For the perfect place to stay in Lisbon, check out our review of the Martinhal Chiado Family Apartments.
It's a lively colorful city and I can't wait it go back. Please add your top ideas in a comment below.
Pin it and Plan it!
Use Pinterest to plan the perfect vacation.
This Five Ideas for Family Fun in Lisbon feature is not sponsored.