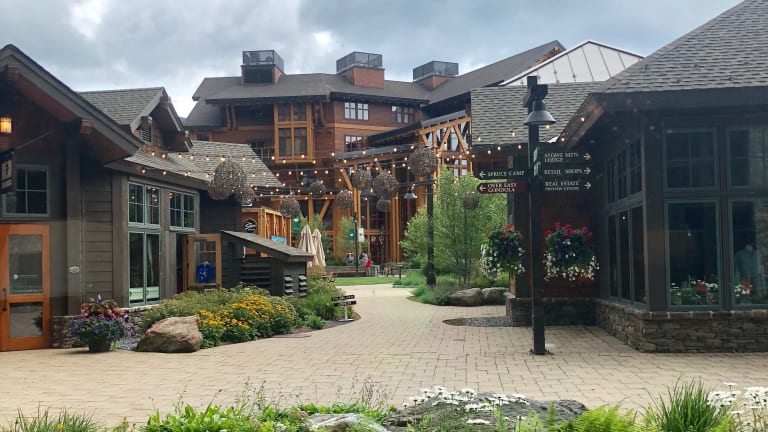 Find Your Luxury Mountain Home in Stowe
Spruce Peak Family Vacation Properties
I love looking at vacation homes. I'm a city girl, and I vibe off the energy here, but I find open spaces and fresh air requisite to healthy living. To keep our family ties strong, we get out of NYC. I'm not alone. Lots of families maintain "escape hatches;" a place outside of an urban area where a family can explore the outdoors and focus on family time. If you are in the market for a New England vacation property, I think you might find your luxury mountain home in Stowe, Vermont.
Related: What to do in Stowe, Vermont
I'm sure you've heard this expression about the mountains out West, well, it holds true for Vermont too. The crisp, green summers are a true delight for families stuck in muggy, crowded East Coast cities. This is our fourth year of escaping to Vermont in August. It's the perfect spot to beat the heat without having to hop on a plane.
A Summer Stay at Spruce Peak at Stowe 
This year we stayed at the Spruce Peak at Stowe. Spruce Peak offers a a variety of lodging offerings for visitors, but better still, they offer a wide range of ownership options for families that want to go deeper into Vermont life.
Our stay was in the hotel portion of Spruce Peak called the Stowe Mountain Lodge. Whether you are looking for kid-free romance in the outdoors, or a spot to connect with family, this mountain resort can help you undo the strain of city life.
Stowe Mountain LodgSpruce Peak encompasses all the properties at Stowe. Stowe Mountain Lodge is the hotel at Spruce Peak. Most of the hotel is under the ownership model. The rooms are partially owned and put into a rental pool when the owners aren't in the rooms.
We checked in and checked out of our worries. Take a tour of our room in the South Wing of Spruce Peak: 
Spruce Peak Living
Loads of families start where we did. They come for weekends and leave wanting more. We usually stay in Stowe for 3-4 days and never ever run out of things to do. We always run out of vacation time before we get bored.
If you are like us and want more than an occasional weekend, it's time to start looking into mountain life. Fractional ownership is a great place to start. It's the fun of having a weekend house, without having the obligations of maintaining a second property. Spruce Peak has options for different types of fractional ownership. In addition to your on-mountain time in your fully-furnished home, you get the benefits of living in a full-service hotel. There's room service, a spa, a full health center with classes and world-class restaurants. 
A big benefit of owning at Spruce Peak is the membership to the Front Four Club. It's a private club for owners where you have a concierge and room to spread out. There's also complimentary breakfasts and wine and cheese events. While the nibbles are nice, the main appeal is the community. Families meet here and the kids make fast friends. 
From fractional ownership, many families start looking into mountain homes they can truly make their own. This is for families that want to come up every weekend. Folks like our family that simply can't get enough time spent outdoors.
Mountain Luxuries at Spruce Peak
Staring out the window at the mountains is indeed splendid. But Spruce Peak offers a lot more. First, there's the aesthetic of the place. Spruce Peak gets mountain chic. The rooms are appointed with furniture that blends with the setting. The touches of copper and hardwoods work in this mountain retreat without looking cheesy. I love how they bring the outdoors in; wildflowers are worked in throughout the property as are green spaces. It gives the lungs and the eye a chance to relax.
When it comes to food, guests can indulge all they want or opt for healthy fare. Solstice restaurant is the largest restaurant at Spruce Peak and we had a number of memorable meals there. Solstice makes the most of the produce, cheese and meat from Vermont's farms. 
Looking to have a great bottle of wine? Tim is the sommelier. He's got a predilection for Santa Barbara wines that are biodynamic and a global list that will have oenephiles drooling. We were treated to some fabulous meals and really loved our chef's table dinner complete with vintage champagne and a great rioja. Get Tim to pick the perfect wine to pair with your dinner.
Pampering is important to a lot of city folk. I always like a spa break while I'm in the mountains. Mr. Momtrends and I had a glorious couples massage. Momtrends tip: make time for some pre-treatment relaxing in the locker room. I love hydrotherapy. Rotate between cool and hot water treatments to get your blood flowing. After your massage all you will want to do is chill. The therapists are awesome!
Outdoor Fun at Spruce Peak
Mountain life means getting outdoors. With Spruce Peak, you're steps away from world-class hiking at Stowe. Take the gondola up and hike down (or do the reverse if you are hard core). If you are looking for more adventure, head to the Adventure Center in the village and sign up for the zip line. Mr. Momtrends and I took on the challenge and loved the invigorating speed tour of the environment.
If you want to get your sweat on indoors, Spruce Peak has an enormous state of the art fitness facility. The heated outdoor pool has a lap-swimming lane as well as two hot tubs. Indoors, you'll find all the latest and greatest cardio machines and weights. Plus, there are 3-4 classes offered each day. I took the Tabata workout and was EXHAUSTED by the excellent workout.
Whole Ownership vs. Fractional Ownership
After a season or two of vacationing at Spruce Peak, you'll figure out if your family wants more. After we rented a vacation home for two years, we started looking to buy. We were sold on the lifestyle of having a country escape. 
Fractional ownership is ideal for many families. With fractional ownership you get more time with your family without the hassles of caring for a property.  The downside is fractional ownership won't give you Christmas in the country every year (more like every eight years) and it won't line up with your kids spring break. 
Opting in to whole ownership gives you all the time access to country life. Some families don't want to share a home, and they don't want to have to pick weekends. Whole ownership offers complete flexibility - you get all the weekends your family desires.
Whole ownership at Spruce Peak offers some unique benefits too. There's a private Alpine Clubhouse for owners with an enormous locker room to stash all your ski gear. It's the perfect spot to get ready each morning free of crowds. Home owners also get access to an exquisite on-mountain private club with a fabulous restaurant.
When it comes to luxury homes, Stowe knows how to deliver. From townhomes to free-standing chalets to chic village condos, a family that wants to put down roots in Stowe can certainly do so in style. If your family is comfortable investing more than a million dollars on a mountain escape, you need to start the conversation with the Spruce Peak team about which of the homesites best suit you. 
Spruce Peak Life
No matter how much time you decide to spend at Spruce Peak, you'll always be delighted by the environment. While Spruce Peak residents might not be full-time Stowe residents, that doesn't mean that they aren't connected to the community. There's a lively art's scene there at the Spruce Peak Arts Center. During our visit there was also an installation of modern art from James Peterson the Artist-in-Residence from the Helen Day Arts Center.
The center lawn of Spruce Peak is a gathering place for families. On our visit, there was a taco truck for midday snacks and a cool Vermont Beer shack. Parents sipped and nibbled as the kids played croquet. It was all quite idyllic. At night the village has charming lights strung through town. It's a pretty place for a stroll and some star watching. 
We had a very special dinner out on the lawn - a farm to table experience put together by guest chef Patrick Ryan from Port Fonda in Kansas City. It was a decadent feast only enhanced by the cool night air and fabulous crowd. 
Find your luxury mountain home in Stowe, Vermont
Are you sold on Vermont? Before you buy, you need to see the two key seasons: ski season and summer. Yes, there is a spring (it's called mud season and it's short) and there is a glorious (and alas also short) fall. The key times are summer and winter. To truly experience what Stowe has to offer, plan a visit in February and one in July.
On your visits, set up a time to meet with the Spruce Peak real estate team. Michael Langely heads up the team and he's a man with a vision. His vision is putting families back in touch with nature and each other.
Bottom line: If you are a bargain shopper, Stowe isn't for you. This is luxury mountain living. The owners have primary homes elsewhere. If you can afford a city escape and you live in Boston, NYC or another East Coast city, Stowe should be on the top of your list.
As Mr. Momtrends and I start to think about downsizing in the next ten years (our girls are 13 and 10), we think about the mountains Stowe will definitely be on our short list. 
Book your Spruce Peak Stay here www.sprucepeak.com
MORE OF MOMTRENDS IN VERMONT
Pin it and Plan it!
Use Pinterest to plan your next mountain retreat. Be sure to follow our Ski Moms Pinterest Board.
This Find Your Luxury Mountain Home in Stowe feature was hosted, but unpaid. A portion of our stay was accommodated by Spruce Peak to facilitate this review.