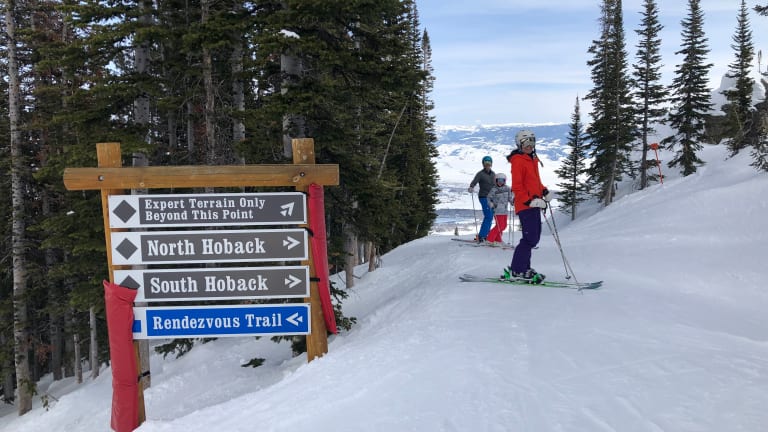 Publish date:
Favorite Ski Rental Delivery Service
Trying out Ski Butlers ski gear delivery
Trying out Ski Butlers ski gear delivery
We used the Ski Butler service for the first time on our trip to Jackson Hole, Wyoming while staying at the Four Seasons resort--our family now has a favorite ski rental delivery service. 
Over the decade plus that we've been skiing with kids, we've tried a wide array of arrangements. We've rented skis and we've brought our skis along with us. Most resorts have skis for rent, and the process is pretty good, the problem is the line can be long to get the gear. And if you've traveled across the country to a ski destination the kids can get weary and whiny. The process of waiting to try on boots can be tough. Also, some resorts have limited amounts of gear and can run out of kid-sized skis and boots.
The alternative was to haul our own gear out. We've invested in a Sportube carrying case to protect our skis -- the soft cases can result in damaged bindings. Carrying gear can be expensive if you don't have priority status and heavy to haul.  
Trying out Ski Butlers ski gear delivery 
This trip out West we planned to visit two different states, Idaho and Wyoming. Brining our skis along for the ride seemed like a hassle. So we decided to test out Ski Butler.
Here's how Ski Butler works:
Go online at https://www.skibutlers.com/ and fill out profiles for you and your family. Be sure to have height and weight of your family as well as shoe size if you will be renting boots.
Momtrends tip: be as specific as possible. It might be worth a call to let them know where you plan to ski and your experience. For instance, our 11 year old is a very aggressive skier. Though she is young, she can ski a 140 women's ski. Without a call, they would've put her on a light kid's ski -- not what she'd prefer.
Set a location and time for fitting at your ski resort. 
A Ski Butler will meet you at your resort with all your gear. They will fit you in the room. 
Swap out equipment if something isn't working for you. Just call up the local contact. For us, this meant getting longer poles. The first day the poles were just too short. The Jackson Hole Ski Butlers swapped them out for longer poles at night and the new poles were ready for us at the Jackson Hole Base Camp.
Leave your skis at ski valet or in the agreed upon spot. No need to meet up for the return. This can save you hours at the end of the trip. We received email reminders about drop off and pick up to make sure we were all on the same page.

5 Pretty Ways To Organize Your Jewelry
I admit - I'm guilt. Despite my best efforts, my "jewelry drawer" has become a tangled mess of necklaces, bracelets and earrings. This cluttered collection not only makes it hard to see what I have, but difficult to untangle the pieces I do want to wear! This summer, I'm ...read more
This Year's Coolest Jumbo Pool Floats
Pool season is almost here! I can't wait to relax, read a book, and sip a cocktail while lazily drifting in an oversized float. (Just kidding, I have two toddlers--but a swim mama can dream, right?). If you've got a staycation planned, check out this year's coolest jumbo pool ...read more
Crystal Clear and Pristine: Pool-Cleaning Tips
Tropical Storm Isaiah gave us quite the midsummer surprise here in the suburbs of New York City. We just got our power back on after a whole week of darkness! With trees down, debris everywhere, and lots of uncertainty, one thing we forgot to check on: our above ground Intex ...read more
What to Consider with Ski Butler
All the gear was from Rossignol, which worked great for us, since Mr. Momtrends and I ski on Rossi's out East. The skis are good workhorses and perfect for mixed conditions.
My biggest note to share is that Ski Butler is not a demo service. They do not have a wide variety of skis. On our recent trip to Squaw Valley, Mr. Momtrends and I did a "demo" package. This is a rental service where you can try top of the line skis from the best manufacturers -- like Stöckli, Volkl, Kastle and more. With this on-mountain service, you can swap out skis during your day as the conditions change and you'll get expert recommendations for the surface du jour.
Bottom Line on Ski Butler Rentals
If you have young children and don't need a high performance ski, this is a tremendous service. The in-room delivery is a HUGE upside. Filling out all the paperwork ahead of your visit is another big time saver. 
And the personal service rocks. Our "butler" Satchel was friendly and awesome. He was quick and efficient and right on time. 
Setting up Ski Butler
Other locations include Sun Valley in Idaho, Big Sky, Montana, in California they serve, Heavenly, Squaw and North Lake Tahoe. They have 11 resorts and hotels they serve in Colorado and three in Utah plus a slew of resorts in France.
For more information and to set up your rental visit https://www.skibutlers.com/
For more ski trip planning tips, be sure to check out our Family Ski and Snowboard Guide.
Pin it!
Use pinterest to save your favorite travel tips.
This Favorite Ski Rental Delivery Service feature is not sponsored.