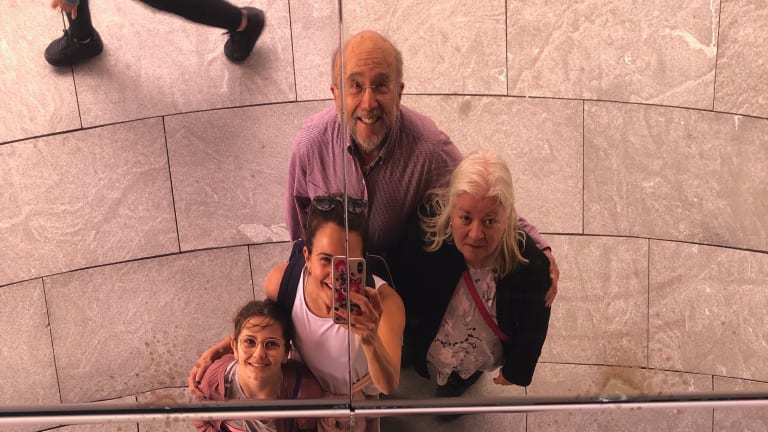 Family Visit to Hudson Yards New York City
Plan your trip to see The Vessel and NYC's newest shopping destination
It's fun playing tourist in NYC. When my Maryland family visits, I always take a day off to explore what's new in the Big Apple. This spring we took a family visit to Hudson Yards in New York City. Hudson Yards is a huge development by the Related Companies. They took an ugly swath of West Side real estate and turned it into a sparkling hub for commerce, housing and culture.
Visiting The Vessel at Hudson Yards
Plan to spend a day at the plaza, or at least a half day. There's plenty to do, and lots of it free. To get there, we took the A/C subway line from Brooklyn to 34th street and then walked west to towards the Hudson River. More on the public transit system later. 
We arrived at the mall and walked through the shopping center towards the plaza. While the mall is awesome, most people make a first visit for the buildings. 
Hudson Yards has some cool new architecture including "The Shed." It's a flexible structure with a retractible roof. It'll be used for concerts and other cultural programming. But the big draw for crowds to Hudson yards  is The Vessel.
Free tickets are made available for two week time periods. Each day at 8:00am EST, a new future day of on-line booking is made available. I tried this a few times with no luck, but eventually things will calm down an it'll get easier.
I tried to book tickets in advance but they were sold out, so I tapped into a press contact to make it happen during my parents visit. 
The structure is open from 10am to 9pm. To get "day of" tickets head to the ticket office and wait in line, a long line. Then you'll be issued tickets for later that day.
To try to get your vessel ticket, head to www.hudsonyardsnewyork.com/discover/vessel. 
The Vessel at Hudson Yards
Designed by Thomas Heatherwick The Vessel is the center of the Hudson Yards plaza and it's spectacular. The 16-story copper structure consists of a series staircases and landings. Be prepared to walk up and down to take in the 360 views of the city. Wear your favorite walking shoes and make sure your phone is charged to get pictures.
The space is pristinely clean and the crowd control is awesome. They only let in 1,000 guests a time, the number is perfect. The structure feels full, but there's room to move. On my visit, I never felt rushed or crowded, nor did my parents (they are both healthy and in their 70s.)  My dad is an engineer and loved explaining the construction to my daughter (11) my mom loved the views. 
Momtrends Tip: The copper-clad structure is quite reflective, have fun playing with camera angles. There are so many views to enjoy give yourself time to meander. Note: There is an elevator, making the structure accessible for the disabled. 
Also at Hudson Yards
After we finished touring the plaza we headed back inside. The mall is quite fabulous and is loaded with designer brands. We also checked out the Snark Park exhibit. 
Snark Park is located on the second floor of the Hudson Yards mall, which has entrances at both 33rd and 30th Streets and 10th Avenue. It's a self-described art installation that will change over time. On our visit, the space was called "Lost and Found." Inside you'll find a stark white space filled with games and a few mirrors. I found it rather uninspiring. 
Outside there's a Kith-sponsored ice cream area.  Momtrends Tip: Save your money on this one. I paid $28 each adult ticket and $22 for my daughter and was quite disappointed.
A note about growth in NYC
Something has to pay for the upkeep of the land, and that something is the tax generated by the new mall at Hudson Yards. This 7-story urban mall is all high end and shiny. There are 100 shops and 20 restaurants inside. On our visit, I peeked into the Micro Scooter store and had lunch at the Hudson Grill (it's ok, but no views).
I don't love the rampant development of NYC (I'm all for a mega tax on homes sold over $5 million to slow the pace), but I've resigned myself to the belief that there's no way to keep NYC the same, it's a living breathing organism. 
While there's lots to love about Hudson Yards, I will grumble about the city's complete lack of foresight when it comes to public transportation. Our current leaders love to kick the can down the road. Our subways are already stressed out to the max and this development is served by one of the weakest links on the Metro system -- the 7 train. Don't be surprised to arrive to the area on a very crowded train and to experience extremely congested traffic.
Plan your trip to see The Vessel and NYC's newest shopping destination
After your visit to Hudson Yards, stroll along the High Line to take in more views. The High Line city park is a glorious elevated green space on the west side of the city. 
HIGH LINE ELEVATED PARK
Hudson Yards is near the northern end point of the High Line. It's one of my top three things to do with kids in NYC. Find out more here. Situated on an old elevated subway line, the High Line is 1.5 miles of elevated park on the west side of Manhattan. It used to be a railroad line, and a clever crew of passionate volunteers turned it into a cool public space. It has enticing public art, pretty plantings, water features, grassy expanses and my-oh-my some spectacular views. Hop on at the start near 13th street. Or you can join at the northern end as we did with the entrance near Hudson Yards. It's 100% free, making it even more family friendly.
Extremely stroller friendly (but no dogs or bikes), the park has two elevators and bathrooms that make an afternoon outing a complete joy. Momtrends Tip: It's getting quite crowded up there during peak hours. Try to go early in the morning or later in the day. 
Plan your High Line visit here.
More NYC centric things to do
Favorite Museums:  www.momtrends.com/travel/favorite-museums-in-new-york-city-for-kids
Best Broadway Shows: www.momtrends.com/travel/broadway-for-kids-and-family-shows-in-nyc
Heading to NYC for the first time? I love this what-to-do list from Jessica Turner at MomCreative.
PIN IT!
Use Pinterest to save your favorite NYC outings. Be sure to follow our New York City board here.
This Family Visit to Hudson Yards New York City feature is not sponsored.