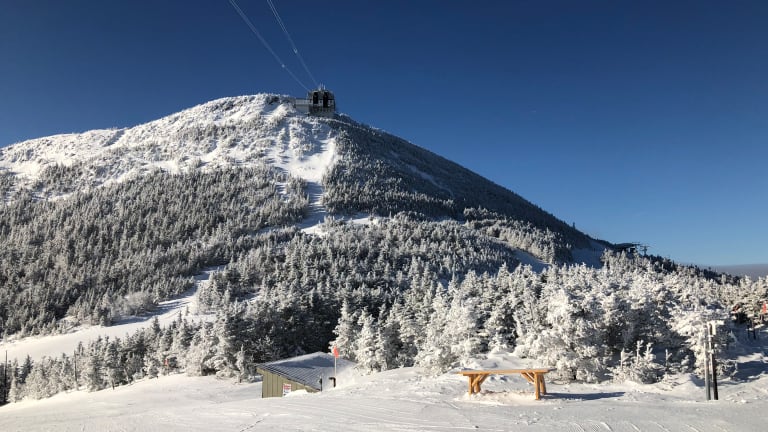 Family Trip to Jay Peak Vermont
Planning a first trip to Jay Peak ski resort
Over the President's Day holiday we took a Vermont road trip. As the editor of the largest family ski guide in the US, I look at it as my mission to visit as many resorts as possible. I'm sharing my insight on my recent trip to help you plan a family trip to Jay Peak, Vermont.
Getting to Jay Peak Resort takes a bit of dedication. From NYC, Jay is nearly 400 miles (plan on seven-plus hours in the car). Jay is located in the Green Mountains way up north...almost in Canada. In fact, the resort is just 4 miles south of the Quebec border. There's no town to speak of--this ski spot is quite isolated, which is wonderful if you want to get away from it all.
The resort opened for skiing in 1957, and has earned a reputation as being for rugged individuals. A quick look at the marketing and you'll see they thrive on being independent. 
Skiing Jay Peak
Seven hours is a long way to drive. The snow better be good! If you like powder, this is the spot for you. Jay receives the most snowfall of any ski area in the Northeastern U.S.--355 inches. It's not a huge mountain, but they make the most of the terrain. There are 78 trails covering nearly 385 acres of skiable terrain. Our family loved the glades. There were plenty of tree areas suitable for intermediate skiers.
I didn't try it but Jay Peak is home to the "Face Chutes." These steep chutes are considered the steepest slopes out east. The tram moves skiers and riders up the mountain quickly. On a traditionally busy ski weekend, I was surprised to see nary a lift line. One of the blessings of being remote is keeping the crowds at bay.
Jay has plenty of steep terrain to keep you challenged. With the fresh snow,  we were in heaven, but as the day went on the mountain got a tad icy. 
Pump House at Jay Peak
For a long holiday weekend like ours, it's nice to have options. We were lucky with the weather and had two lovely days of skiing with a bit of fresh snow. But skiing is a winter sport and weather can be variable; it's wonderful to have an option like the Jay Peak water park.
The Pump House is a huge indoor facility with enough water fun to keep the family busy for a day. There's a rambling lazy river for those who don't want too much excitement. If you want excitement, try the thrilling water slides. Momtrends tip: don't let all your kids have the fun, bring your suit! I chilled in the indoor hot tub (there's an outdoor tub too) after numerous rides on the water slides and tubing rides.  
There's also a surfing simulator (extra fee, of course) and a bunch of play pools. It's a fabulous clean place to play and a godsend for days when skiing just isn't a compelling option.
A bit of scandal
One reason crowds may be keeping away from Jay Peak is the recent scandal. The resort was owned and operated by a group of investors headed by Bill Stenger. He raised a good pile of money in a questionable way. In 2016, the government seized Jay Peak and the sister mountain Burke amid ethics complaints. According to wikipedia, the SEC issued a follow-up, stating the resort's liquidity issues were resolved. As of now, the resort remains open and under the management of the SEC designated receiver. Now that the complaint was settled, the resort is up for sale. I'm guessing either Alterra (those who bought Deer Valley last year) or Vail will buy this property to grow a ski portfolio.
Where to Stat at Jay Peak
Getting a room was a bit tricky. The Tram Haus Lodge in the main base area was sold out. These rooms include kitchens are more attractive to families. I was fortunate to nab a room at Stateside. The 85-room Stateside Hotel & Baselodge is right by the Bonaventure Quad and in a much quieter area of the mountain. It, too, offers skiers and riders ski-in, ski-out access and is the more affordable on-mountain lodging. 
The room was clean and fairly roomy with enough storage for our family of four. In addition to the hotels, there are condos and houses for rent.
Where to Eat at Jay Peak
You don't come to Jay for the food. There are 16 spots to eat at Jay Peak - and that's a good thing since there's really not a town to rely on for food (Momtrends tip: bring your groceries! There's no large grocery store near the resort). We had a passable breakfast buffet at Stateside's restaurant called Howie's. Dinner there was done with friendly service, without notable food.
Pizza is always a good idea after skiing. We brought pies back to our room from Mountain Dick's Pizza. They were warm and fresh but nothing to write home about.
Our favorite meal was a lunch at Alice's in the main base area. It's a table service restaurant with yummy cocoa and a perfect place to refuel after skiing.
Ready to ski the east? 
I've skied so many Vermont resorts, it's hard to stand out. Jay strives for an indy vibe, and it does have a wonderful slice of Vermont real estate. The trouble is: it's so remote, it's hard to argue the extra distance. If you are ready for a road trip, Jay Peak is a great place for a challenge and to get away from it all. Plan your Jay Peak trip here https://jaypeakresort.com/
Pin it
Use pinterest to plan your next ski trip.
This Family Trip to Jay Peak Vermont feature is not sponsored.