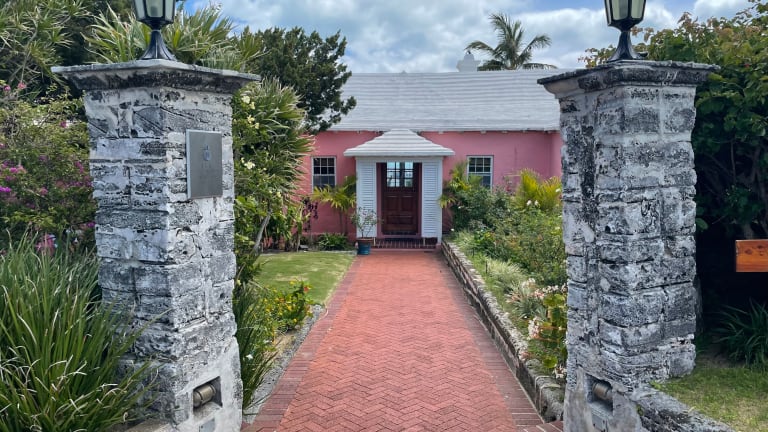 Family Trip to Cambridge Beaches Resort and Spa
Checking in to a Bermuda beach resort that combines family-friendly features with luxurious touches.
Are you looking for a beach destination that's safe, hassle-free and completely relaxing? Bermuda should be on the top of your list. Easy to reach from the East Coast and Midwest, Bermuda has been our go-to family destination for a decade. On our 8th trip to the island, we tried out the Cambridge Beaches Resort and Spa, it's a Bermuda beach resort that combines family-friendly features with luxurious touches.
Related: 7 Family Fun  Activities in Bermuda
Cambridge Beaches Resort and Spa
The resort is steeped in Bermuda history. The property is over 300 years old and is located on 23-acres of prime real estate on the western side of the island in Somerset Village. It's a winding hour-long drive from the airport in Hamilton. Note: When we explore Hamilton, we prefer to cab to the Royal Naval Dockyard and then take the ferry. The hotel can arrange airport taxi transfers as this is the best and fastest means of transportation from the airport to the hotel.
The property is on a peninsula and is dotted with pretty pink cottages. According to the resort, they dreamed up this style of lodging. The advantage is that each room feels private even though they are all nestled together. 
Guests can book rooms, suites or cottages, there are 80 units in all. Every accommodation at Cambridge Beaches boasts a private entrance, a private outdoor seating area, and waterfront views. The rooms feel modern and fresh (unlike the Coral Beach Club which is BADLY in need of a refresh), with pretty pink accents, classic dark wood and tasteful and colorful modern artwork. 
For families, you can request a multi-room cottage or adjoining rooms (that's what we did). This will have your family secure, but also give you enough space to truly relax. There is also a three-bedroom cottage that features a kitchen. All of our rooms have a mini-refrigerator, a toaster, and a Keurig coffee/tea maker.
Photo Gallery Inside Cottage Cambridge Beaches Resort and Spa
Follow along on our Video Tour of the Property
Dining at the Cambridge Beaches Resort and Spa
There are three on-site restaurants at the resort. You don't come to the resort for the food, but I don't want to imply that it's not competent. Everything was fresh and the service is quite good, you won't find anything terrible inventive on the menus. They stick to a lot of the resort basics and do them well.  
Let's start at the beginning of the day. Room service is the way to go for breakfast ($7.50 per person). Call your order in and they will shuttle it over and set it up on your terrace. We liked the avocado poached eggs and the French toast. Breakfast is also served at the Tamarisk Restaurant. There is a breakfast plan on offer. It's $31 per adult/night (breakfast plan must be booked for all nights of the stay.
For lunch, you can head to the Breezes deck at the beach and dine as you overlook the beach. I love alfresco dining at the beach, everything seems to taste better. Another outside option os the Shutters casual restaurant near the pool. It's the perfect place for classic club sandwiches and salads as you look out on Mangrove Bay.
Get a little dressed up for dinner at the Tamarisk. The room us spacious and the staff is gracious. The food leans heavy on traditional preparations. Everything is nice, but not special. Dress Code is longer Bermuda shorts and a collared shirt for men and beach chic for ladies. On our visit, guests were nicely attired in colorful island dresses and the men were in khakis and sport coats. Everyone looked very smart.
Activities at the Cambridge Beaches Resort and Spa
The Wifi is excellent (in just about all the corners of the property), but it's not enticing to stay indoors. There isn't an ugly corner on this property. The grounds are covered with flowing plants and trees that wave in the breeze. A croquet court and putting green are centrally located to make family play time easy.
There are three beach areas: a small grotto called Turtle Cove, the large Long Bay beach at Breezes and the Morning Beach area in front of the pool that stretches to the boat rentals. The two main beach are outfitted with chairs, umbrellas and towels. Families will have space to sprawl out--there's no fighting for chairs here. The Long Bay beach is wide and quite shallow, making it great for young guests. For families with young kids, please note that kids camps and babysitting services are not available through the resort.
In addition to the beaches, there's a large indoor pool and a hot tub in a pretty solarium. The same building holds the spa and gym. The gym is sparsely outfitted, but it does have room to stretch and exercise. There's also a cardio room nearby that houses treadmills and more machines.
If you need some pampering, be sure to make a spa appointment at the Ocean Spa, I had a lovely pedicure that was expertly administered. 
There are a few reasons to leave the property, one of them is golf. There are many nearby courses including the Port Royal Golf Course which has an agreement with the Cambridge.
As a runner, I loved that the resort is located about 5 minutes away from the Bermuda Rail Trail. The rail trail is a series of connected trails that span nearly 20 miles. It's a scenic way to explore on foot. 
Explore by Water and Sea
You can certainly snorkel right from the beach, but I'd advise getting out on the water a bit too. Book a kayak or stand-up paddle board at H2O Sports. The water is so clear and beautiful, it's perfect for watching sea creatures. It's a short walk from the main lobby and easy to organize. You can also hire motorized boats here too.
If the land is more of your thing, grab a scooter from Oleander Cycles. You can also book an eco-friendly electric car. Public transport is pretty good. The Bermuda buses are clean and reliable. We normally take cabs, they are expensive, but the drivers are full of local knowledge, we learn something on each ride.
The Cambridge Experience
No matter where you go, Bermuda is a pretty safe bet on a beach vacation. The country is very well run and the weather is reliable. The big question is: Where to stay? We've learned a thing or two by trial and error and think that the Cambridge is a terrific spot for families that need to recharge. If playing in the water is your thing, you'll love the relaxed pace and focus on nature. 
One of the things that stands out were the honorific plaques in the hotel. They mark the anniversaries of return guests. You'll make the wall at five years. And many guests have earned the coveted 50-stay demarkation. You know you've stumbled onto something special when guests keep coming back for more.
Trusting your Bermuda vacation to the Cambridge Resort is a safe investment in memories.
30 Kings Point RoadSandys MA02 Bermuda
+1 (441) 234 0331
+1 (844) 288 2121
reservations@cambridgebeaches.com
TRIP PLANNING TO BERMUDA
PIN IT!
Use Pinterest to save your favorite family travel articles, and be sure to follow our Travel with Kids board.
Momtrends was not paid for this post.