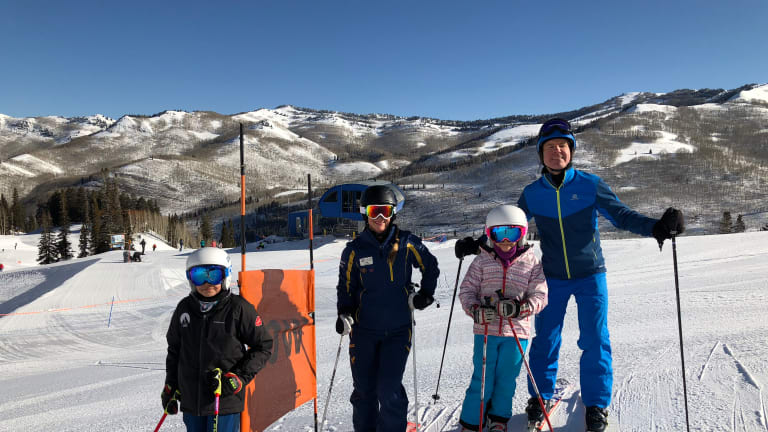 Family Time at Solitude Ski Resort
Carving out winter memories in Utah
Back when I was pregnant with my first daughter, my husband and I took a fateful ski trip to Salt Lake City, Utah. I stuck to greens and blues, but I was not going to let a winter go by without at least a few runs. (By the way, check with your doctor to make sure skiing is a good idea for you if you are pregnant!). Mr. Momtrends did some research and decided Solitude was the perfect place to get out on the slopes without worrying about crowds. This was back in 2004. Fast forward a decade plus, and I'll still recommend Solitude to any family who is looking to tap into the pure time in nature.
I think that trip had a big impact on us. My oldest daughter has fallen in love with ski racing... I think the in utero experience was imprinted on her. And then she had her first skiing adventures on pure, white fluffy Utah powder. It's no wonder that girl can't wait to get out of Brooklyn to ski! If I could give every beginning skier the gift of starting at Solitude I would. Where you start and who teaches you has such a big impact on learning to love skiing. I trust Solitude to keep winning over future generations of downhill skiers. This place knows the secret sauce: good snow, no crowds and folks who love what they do.
What's Going on at Solitude Now?
I started to worry about this little snow haven when the mass consolidation of resorts started a few years ago. Ownership of the resort has been shuffled around a bit over the past few years. Deer Valley bought the resort in 2015 and then Deer Valley sold to a company that was to become Alterra. Stay with me here...when Deer Valley was purchased Solitude was NOT purchased. This left fans, like my family wondering what was going to happen to this pristine piece of Utah wilderness. The good news? Not much.
The old Deer Valley owners are the current Solitude owners and as far as I can tell, the focus seems to be on retaining the original flavor of the mountain. I didn't see any big developments in the works, or huge shopping plazas. It's the same sweet place we "discovered" all those years ago.
Why Solitude?
I've told the story before; Solitude is the spot where both of our girls learned to ski. They have a wonderful childcare facility that gives even 2 year olds the chance to get out and slide around. Now our girls are official "rippers" capable of back country terrain. The love of skiing all started at Solitude.
For our family time at Solitude ski resort we like to revisit our favorite things. The walkable town is ideal for a 3-4 day retreat. It's the type of safe spot where kids can roam around without getting into any trouble. They can grab an ice cream at the Stone Haus, work on a snow man on the ice rink, grab a board game at the clubhouse or join the parents for some splash time at the outdoor pools. Nothing is more than a 2-minute walk away.
While it's a great place to learn, it's also got so much terrain that it will continue to captivate skiers of all abilities. While it may all be kind and gentle at the bottom, there are big bowls to dive into and hiking that will test your bravery. If you want to find me, look in the Headwall Forest. These glades are off the Summit Express Lift (elevation 10,035 at the top). I can stay busy for hours creating new patterns in the snow and dropping in and out of the trees. 
Lines? Yeah, you won't have to deal with those here. I wear myself out at Solitude because it's run after run. I really do earn my spa time!
Fast Facts about Solitude
77 runs (with three massive bowls)
Eight chairlifts
500 annual inches of snow
1200 acres for skiing 
Don't Stop Learning!
Even the most advanced skier can learn a thing or two from a mountain pro. Guides are not only a wealth of technical knowledge, they also provide insider tips for where the good powder stashes are. We worked with Kelly Boardman-Fowler. Kelly helped the girls navigate the powder (they are used to East Coast ice!) and worked with me to gain confidence linking my turns on steeper terrain. 
Call the snow sports office to find the perfect lesson or group for you or your kiddos. At Solitude, it's all about the personal touch. I remember one children's lesson at Snowmass a few years ago. When I dropped the girls off it was chaos. There were 800 children in lessons that day. What a nightmare. At Solitude the only thing big is the mountain. The rest of the experience is incredibly intimate.
The perfect day at Solitude Ski Resort Utah
8am Breakfast at St.Bernards. The hearty buffet is the perfect way to fuel up for a big day of powder. Try to grab a table near the fireplace.
9-11am Private lesson with a Solitude Guide
11-2 Keep skiing!
2pm Grab a late lunch at the Roundhouse (I love the Himalayan inspired bowls)
2:45 Ski back to the village and grab snow shoes from the rental house.
3-4pm Explore the snow shoe and cross country trails right out of the village. 
5pm Put your spouse in charge of the kiddos and send them off to the pool. Book a facial or massage at the Spa at Solitude.
6:30pm Order a glass of wine as you settle into dinner at the Honeycomb Grill. The American menu has a lot of local fare on it and the salads are excellent. Try the tuna poke.
8:30pm Treat everyone to an ice cream at the Stone Haus Pizzeria & Creamery. 
9:30 Lights out. Dream of fresh powder!
Beyond Downhill Skiing at Solitude
Don't miss the Solitude Nordic Center. It's the only time I've gotten cross-country lessons from an Olympian! 
A free shuttle connects the village to the Nordic Center. It's about a 10 minute drive. There are almost 20km of cross country trails - more than enough to keep this family busy.  
When we arrived we were greeted by Aram Hajiyan, an Olympian who competed for Armenia in the 2002 Winter Olympics in Salt Lake City, Utah. Aram was incredibly patient with our ineptitude. He kept things light and fun for the girls, while also increasing our knowledge by 1000%.
We were all over the place in the beginning, but after just 45 minutes, Aram had us navigating turns and gliding like, well, pros.  
Momtrends Tip: Solitude offers free beginner classic lessons the first Friday of each month at 3pm.
If you haven't tried nordic skiing, this is THE place to start. First, it's an absolute budget play for families. Our passes and gear totaled $134 for all of us for the day. That's IMPOSSIBLE to do on a ski hill. If your family is on a tight budget, cross country is a great way to get outdoors, have a blast and not spend a mint.
FAQ's about Solitude
I know I didn't cover everything. Please feel free to ask more questions as you are planning your trip.
Do they allow snowboarding? Yes, but there's no terrain park. If jumps are your thing, go to nearby Brighton.
Do I need a car? Absolutely not. Solitude is all walkable. Take Canyon Transportation from SLC airport to Solitude. Anything you need to get to around the resort is reachable by a free shuttle or on foot.
How many days should I plan? The perfect Solitude trip is 3-4 nights.
Where should I go to plan? Head to the Solitude website to start your bookings.
Pin it and Plan it!
Use pinterest to save ideas for your next family ski trip.
2017/18 Family Ski Guide
Get more ideas of where to ski with our annual ski guide.
This Family Time at Solitude Ski Resort feature is not sponsored. We were hosted at the resort and our lodging and lift tickets were covered.