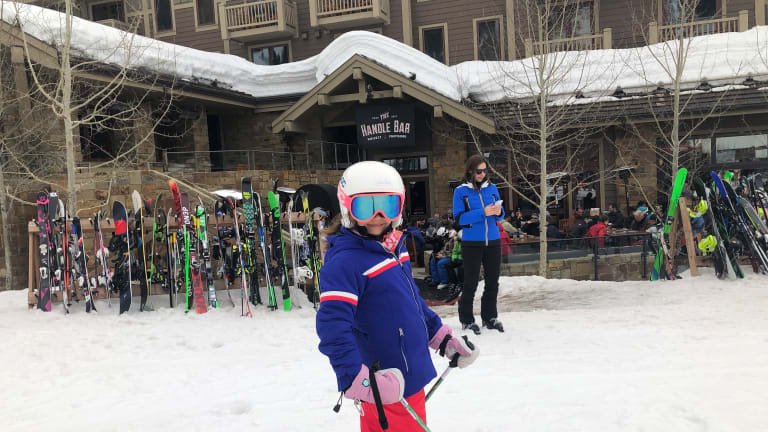 Family Ski trip Four Seasons Jackson Hole
Plan a perfect Wyoming Ski Break with loads of luxury at the Four Seasons Jackson Hole
Picking the right resort is essential when planning a family ski holiday. As a seasoned ski traveler, I am always on the hunt for the perfect spot for families to connect and enjoy the best of winter. This year for spring break we took a family ski trip to the Four Seasons Jackson Hole. 
GET JACKSON HOLE COVID UPDATES HERE
Related: 7 activities for family fun in Jackson Hole, WY
On our second trip to Jackson Hole, we opted to skip the condos and go for a more high-end, full-service experience. I'd had my share of ski condos this winter and wanted a break from cooking breakfast and shuttling skis.  The Four Seasons Jackson Hole gave this ski mom the luxury ski vacation she'd be craving.
Why stay at the Four Seasons Jackson Hole
I've stayed at a few other Four Season's properties, including the Four Seasons at Whistler, Canada (click for full review). I'm sold on the customer service and attention to detail of the brand. Even with our high expectations, we were delighted from start to finish with our stay.
The Four Seasons has the best access to the slopes in Teton Village. We were steps away from the Sweetwater Gondola and a few feet from the Tram. As they say, location is everything, but the inside matters too. In addition to ski access, the resort is 1 mile from the entrances to Grand Teton and Yellowstone National Parks, making it an ideal base for summer vacations too.
We booked a Valley View king room and added in a rollaway bed. Our room had views of the valley and was well-appointed and made great use of the space. Overall there are 158 available rooms and 57 residential units. Our room was 550 sf., one of the smaller rooms.
The closet was enormous -- a huge MUST for ski travel. There was ample room to stash all our gear and for the three of us to get ready for a ski day.
Four Seasons resorts have awesome bathrooms, and this one was no different. We availed of the roomy soaking tub a few times during our stay. 
In addition to the traditional rooms, Four Seasons offers private mountain residences for families. Our friends booked one of these last year and they are swank. Tons of rooms to spread out with fireplaces, full kitchens and plenty of bedrooms. 
To see the full variety of rooms head to https://www.fourseasons.com/jacksonhole/accommodations/
Attention to Detail at Four Seasons Jackson Hole
I appreciate the little touches. On our second night, the management team dropped off the treats pictured above and a sweet for our daughter. Each night when they made up her cot, the housekeeping staff carefully tucked in her stuffed animals into the bed. Upon our arrival, my daughter also received a small game -- a little bit like jenga. It was thoughtful and useful as we tried to maximize out time off our phones and to connect with one another.
There were fresh apples stocked in the lobby, fresh water was everywhere encouraging guests to hydrate and stay healthy. Then there's the quote that was left on the bedside in our room.
All these small things add up to make a family feel appreciated and understood. No one ever said parenting is easy -- especially when away from home. 
Getting Active at Jackson Hole
As I shared, the Four Seasons is the premiere destination for ski-in ski-out lodging. Of course skiing is the main workout, but for aging athletes a good gym is important on any trip. 
The hotel offered daily yoga classes at the gym. Some were complimentary and others had a small fee.
Spa at Four Seasons
All guests age 12 and up have access to the spa facilities including a cold plunge pool, steam room and sauna.
Do yourself a favor mama, and book a spa appointment.
Family Fun from Jackson Hole
The Four Seasons organizes outings to the amazing Elk Refuge. Get the details on the sleigh ride here, it's a "must" on your Wyoming trip.
Pay a visit to the kids room. We played a few rounds of foosball and some pool. There's also a gaming room and a spot to watch movies.
The pool is a huge draw for families. Each day there's a s'mores bar r for the kids (and adults) with cocoa and all the fixings.  The fully heated pool is 75 sq ft and if you go during non-peak times it's even possible to get in a few laps (though don't try this during the s'mores hours! 
We loved the large pool and three hot tubs -- there's never a crowded feeling and the views of the mountain are just stunning. 
I'd order a glass of wine or sip water as I read a book, chatted with my family or simply soaked in the beauty of the Wyoming sky. 
When we were done swimming, we were treated to heated towels fresh out of the poolside warmers. Each day pool time was part of our ski ritual.
Food and Entertainment
Skiing requires a lot of energy. I think fueling my body for black diamonds is half the fun. There are two restaurants and the Ascent Lounge to pick from and both are very good. The Westbank Grill is the spot for a hearty breakfast buffet (you can also order a la carte). This spot has mountain views and is 100% family-friendly. We powered up each day with the tasty buffet that had everything from smoked salmon to fresh pastries to gorgeous fruit. Even the pickiest eater will find options here. 
Plenty of small skiers came to breakfast in pajamas and enjoyed the little craft toys the staff provided. It's a bustling crowd and the staff keeps the room well-serviced.
The Handle Bar is a great spot for the Wyoming version of comfort food. We stopped in on our first night for a hearty meal. Definitely order the deviled eggs! And my daughter loved her pork chop. HOw about that portion! Again the room was full of families and bustling. There were March Madness games on the TVs and the option for custom cocktails too.
On our visit, the resort had lots of live music -- from acoustic to bluegrass to to country. The Four Seasons is also well located making it easy to pop into the other restaurants in Teton Village.
Though the resort can hold hundreds of families, it's not hard to find a quiet spot. Mr. Momtrends got up early each morning and enjoyed the Coffee Bar in the Ascent Lounge as he caught up on work emails. As for me, I loved the "quiet" hot tub at the pool area and the women's spa. We also loved the outdoor fire pits as a spot to cozy up outdoors with a book.
If you are looking for a moment of zen on your trip, rest assured that the Four Season has more than enough space for everyone.
Getting Ready at Base Camp
This where you'll pop on your ski boots and head out for the day -- and a huge benefit of staying at the Four Seasons. The Base Camp is the spot to grab a sip of water to pick up some gear to replace items you left behind. The staff is extremely helpful and there to help you get outside and enjoying your family time on the slopes.
At the end of the day, the valet team will store your gear and have it out and ready for your next day of skiing. Having close, convenient access to this camp was really helpful, especially if you have younger children. We popped in a few times during our ski day to warm up, use a restroom or grab a warm drink.
Trip Planning Tips for Jackson Hole
Flying into Jackson Hole is getting easier. There are more and more direct flights being added. I recommend renting a car on your visit. Getting to Teton Village will take about an 35-40 minutes.
While most of Teton Village is walkable, there are a lot of things to explore in Jackson (about 20 minutes from Teton Village). Valet parking will be about $40/day, but I found having a car very handy.
As far as rentals, we use Ski Butlers (read about it here), but the Four Seasons as an in-house rental service and full ski valet. In fact, the skis available through Four Seasons, were better than those we sourced through the Ski Butlers. There's really no need to lug your skis to Wyoming if you don't have to.
Head here for more ideas of things to do off mountain at Jackson Hole.
Book your trip https://www.fourseasons.com/jacksonhole/
Four Seasons Jackson Hole, 7680 Granite Loop Rd., Teton Village, Wyoming 83025.
Final Word on Four Seasons Jackson Hole
While I love the convenience of a full kitchen, this ski mama loved the full service I experienced at the Four Seasons. The access to the slopes can't be beat and the pool is one of the prettiest around. Treat your family to a few days here -- you all deserve a little spoiling.
MORE TRAVEL FROM MOMTRENDS
PIN IT!
Use Pinterest to save your favorite family travel features. Be sure to follow our Ski Moms Pinterest Board.
This Family Ski trip Four Seasons Jackson Hole featured is not sponsored. The trip was partially sponsored to facilitate coverage.