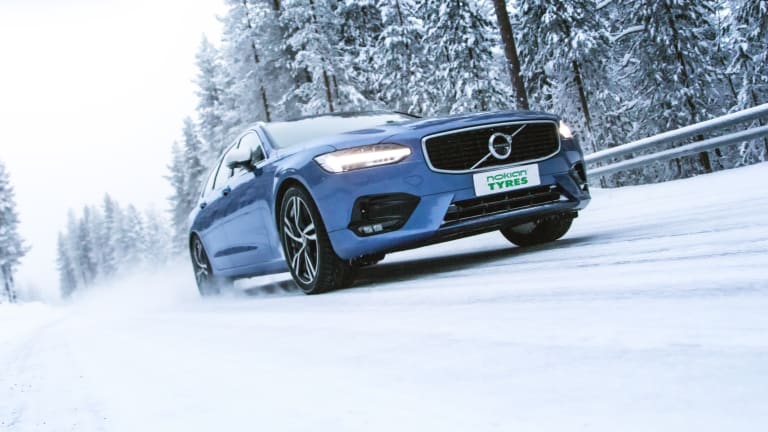 Family Safety Winter Driving Tips
Three tips to protect your family on snowy winter roads
There's nothing more beautiful than walking in a winter wonderland, but driving in it can be a different story. As moms and dads we need to be prepared for snow, ice and cold temperatures. There are three easy steps we can take to protect our families from treacherous road conditions. A few years ago, Mr. Momtrends was taking our daughter to a ski race and hit some black ice. He slid through a busy road and thankfully wasn't hurt. He hit a fence and dented the car but everyone was ok. That was when we invested in our first pair of winter tires. Nokian is a brand we trust, and we won't be caught without snow tires again. 
2019 Family Ski and Snowboard Guide
We're so happy that Nokian Tires shared some family safety winter driving tips with us for our 2019 Snow Guide.
It's up to us to get our loved ones home safety when the weather turns from crisp to chancy. I want you all to head to the ski slopes safely this winter. Whether it's Sundance in Utah or Sunday River in Maine, snow tires and safe driving are really important. 
Three tips to protect your family on snowy winter roads
There are three easy steps we can take to protect ourselves and our families from treacherous road conditions.
1. Find the right set of tires
Your tires are your most important driving safety tool. The right ones can give you peace of mind in the worst conditions, while the wrong choice can make every trip a white-knuckle experience. Ironically, most all-season tires are not designed for winter use. 
Depending on where you live, winter tires may be the right fit. They're tailored to tackle snow and ice, and they come in two versions: studded and non-studded. Here's how to choose the best winter tire for your locale. Nokian Tyres even offers all-weather tires that are rated for winter use but effective year-round. "All-weather" may sound similar to "all-season," but all-weather tires are designed to withstand winter roads, whereas all-season tires are typically not as capable of handling wintry conditions.
2. Make sure the pressure is on
As the temperature falls, so will your tire pressure. That's why you might see your dashboard's tire light come on this time of year even though you don't have a flat. Low tire pressure leaves you exposed to blowouts and puts your family in danger.
There's an easy remedy: Make sure your tires are inflated to your car's recommended level. Here's how you can check your tire pressure.
3. Experience is the best teacher
Still anxious about driving in ice and snow? Practice creates peace of mind. One of the best things you can do when conditions get bad is to take a low-stakes spin on a slippery parking lot. P.S. – it's also a great way to teach driving-aged children how to handle the wheel when things turn treacherous.
Even on a premium set of Nokian Tyres, it's always helpful to get a feel for how your car operates on wintry conditions. That way, when things get dicey, you'll be decisive.
When it comes to your family's safety, tires are one of the most important investments you can make. When the roads turn nasty, you'll be glad you invested in a premium set of tires designed to keep you secure. To make sure you choose a tire that's tailored to your family's winter safety needs, visit NokianTires.com. 
Pin it!
Use pinterest to save your favorite Family Safety Winter Driving Tips.
Nokian Tires are a sponsor of the 2019 Snow Guide.