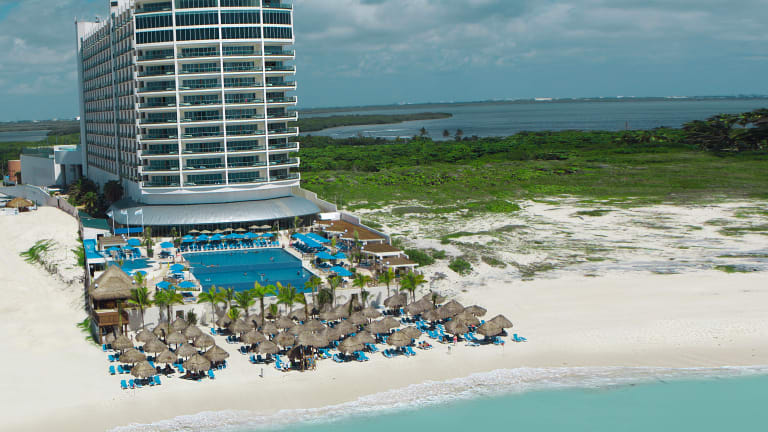 Family Review Seadust Resort Cancun
All-inclusive family luxuries in Mexico
I admit I used to be a real snob when it came to the all-inclusive concept. After a few cruises, I decided the "more is more" approach to vacation just wasn't for me. My eyes have been opened recently to the beauty of this vacation type. At the right property, an all-inclusive vacation can be every bit as relaxing and fun as an a la cart hotel. My family review of the Seadust Resort Cancun might just change the way you think about all-inclusive resorts too.
Fast Facts Seadust Resort Cancun:
Who visits: International crowd with kids. No kids? No worries, you will also love the dedicated adults-only spaces.
Vibe: Friendly and casual.
Foodie Factor: You'll find lots of options to keep even the pickiest eaters happy. While not particularly fancy, the food is fresh and flavorful.
Activities: Plenty to do on property to make the most of the Mexican Caribbean.
Kid Stuff: The full-service kids' club offers parents a bit of worry-free "me time"
Setting: A wide-open beach that's clean and well tended. The surf can get a bit rough, but there are five pools to cool down in.
Rooms Seadust Resort Cancun
Luxury starts with a great room. The Seadust suites all have large balconies and/or terraces. My ocean-view room was adults only--because of the tub on the deck. For the kiddos, they move the tubs indoors.
Seadust recently changed ownership, and with the change came a big renovation. The rooms were all upgraded and the restaurants also got face lifts.
Everything is open, spacious and beachy without being cloying. The rooms are well-maintained by a very cheerful staff. I found the room decor charming in its simplicity. I loved my enormous closet and adored my balcony and outdoor jacuzzi tub.
Dinning at Seadust Resort Cancun
Variety is the spice of life. The Seadust resort has 10 restaurants on property--there's plenty of spice! Guests enjoy an all-you-can-eat experience. This concept is a great way to get kids to try new things with little or no consequence. Tell them to take a small serving and be brave. For the grown-ups, good news: domestic and imported beverages are included. Yes, that means good beer and wine.
Breakfast: Get breakfast in your room (room service is complimentary) or head to the Food Gallery. 
Adults also have the option of the Atlantis restaurant on the 10th floor. This restaurant is exclusive to guests staying in the Club, Sunset and Ocean suites. The Seadust does an admirable job making sure those without kids will have a restful stay at the resort.
Lunch: Head to the Food Gallery for lunch. There are eleven interactive stations each featuring a bright open kitchen. Pick from Japanese, Mexican, Italian, seafood and so much more. This spot is casual, fast and definitely the way to keep everyone in the family happy. 
Dinner: Le Maison du Michelle is the French restaurant. Try the escargot or a tiered asparagus salad to start and then dive into beef, duck or fresh seafood prepared in traditional French style. Don't miss the flaming crepes.
For local dishes try the Mexican restaurant, El Maguey. This is where I got the fresh guacamole I was craving. I also had a delicious tamarind fish and shrimp tacos that were so tasty.
On my next visit, I'm eager to try the Mediterranean menu at the newly refurbished Lighthouse Restaurant.
Bonus: There's a Starbucks on property. It is NOT included in the price, but it is a spot to get a great unsweetened iced tea.
Water Sports Seadust Resort Cancun
It's all about the water here.  It's the worst when your family has to battle for a pool chair. That won't happen here. The hotel features five pools. The three ocean-facing infinity pools are a big hit. Since the crowd was quite European and South American, the mornings were very chill. Families dine later and enjoy leisurely mornings. When I did 7 am yoga on the beach, I was all alone. The pools don't start filling up until ten. 
The crowd stays late at the pools, they were still having fun at 7 pm. The rhythm is definitely different than American resorts. Tots love the kiddie pool, and for a little quiet time check out the one adults-only pool. During the day, the "cruise director" at the pool coordinates games and play for kids and adults.
Non-motorized watersports are available at the Marina Aquaworld. Check out a kayak and do some exploring, though do be careful of the tides. The beach is extremely clean and the sand is super soft. 
Yes, there is some seaweed on the beach, but that's everywhere in Mexico; the staff does a great job keeping things tidy. On my visit, the water was quite clear and warm, though the surf was a little rough.
If you want to explore beyond the Seadust beach, book an excursion at the water sports desk. We tried the catamaran tour run by Albatross. Our party boat was plenty lively with an open bar and music. We pretended like we were 10 years younger and tried to blend in. The tour took us to Isla Mujeres.
Spa Seadust Resort Cancun
The Seadust Elegance Spa is the perfect spot for mom to get some R & R. I did a combo massage and facial; my massage therapist, Wendy, was excellent. The treatment rooms were calming and the space is exquisitely designed.
Make sure to give yourself time to enjoy the relaxation room and the sauna and steam room; this is a truly zen space and the perfect way to get into vacation mode.
In addition to the spa, there's a spacious gym outfitted with cardio machines and weights.
Kid Stuff at Seadust Resort Cancun
Kids are going to love all the fun at Seadust. Treasure Island Water Park is pretty darn cool. There's a bunch of slides and water features that can certainly keep kids 3-10 entertained for a while.
There's also a mini rock-climbing wall and zip-line area near the compact mini-golf course. 
If you need time off, check out the Baby Club and Kids' Club--that's included in the price too (note in-room babysitting is extra and required if you want to leave the property). 
Older kids can check out the Teens' Club with old-school games like air hockey or the sports pub for some Xbox.
Why visit Seadust Resort Cancun?
It'll be hard to find an all-inclusive family resort with better service and more little luxuries. The setting is expansive and offers tons of options of things to do, see and eat. 
While not a bargain, this Mexican family vacation is a value. It offers tons of services and amenities in a setting that's beautiful. If your family needs fun in the sun, put this resort on the top of your list. 
Use code: Momtrends to book your vacation and save here: https://www.seadustcancun.com/
Pin it
Use pinterest to save your favorite family travel ideas.
This Family Review Seadust Resort Cancun is not sponsored. We were hosted on our visit.