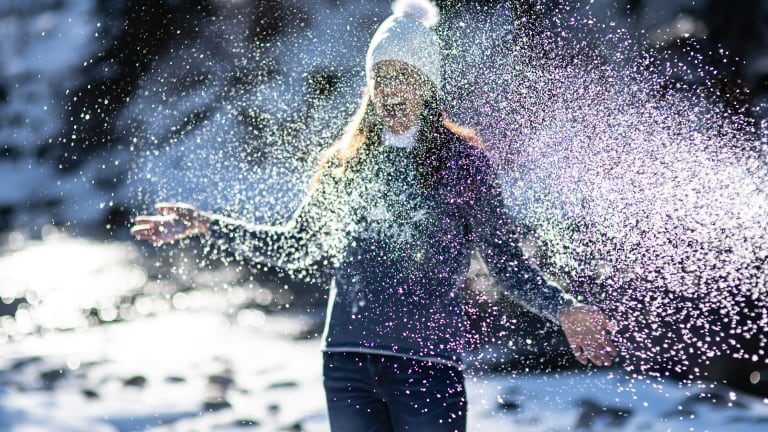 Family Fun in Vail and Beaver Creek
Winter Events for Families in Colorado
Have you ever spent the holidays at a ski resort? Maybe this is the year you skip the obligations of hosting and prepping and take off to the mountains. Vail and Beaver Creek have tons of things planned to make your holiday season extra bright. Here are some family fun ideas in Vail and Beaver Creek.
10 Days of Epic to celebrate 10 years of the Epic Pass
You know I love the way a season pass offers families savings and encourages them to spend more days on snow. Well, there are even more benefits. This year, Vail Mountain will offer 10 days of specials on Fridays and Saturdays from Nov. 16 through Dec. 16. Some specials include complimentary fries with the purchase of an Epic Burger; 50 percent off ski school group lessons; après at Express Lift Bar featuring $3 drink specials; and 20 percent off Epic Mountain Express rides to and from Vail. Additional details are available at www.vail.com/readysetsnow
Vail Holidays
Vail is the perfect place for family celebrations this holiday season, as the town and mountain come alive with lights, sounds, events and cheer during the month of December from the 15th-31st. On New Year's Eve torchlight ski down with fireworks, ring in the New Year Vail style with the Torchlight Parade, followed by fireworks at Golden Peak. Watch as ski instructors and Vail locals form a train as they ski down Golden Peak with glowing sticks followed by a fireworks display. Holidays is free and open to the public. Get the full calendar here.
Vail Snow Days
From Dec. 13 to 16, Vail Snow Days feature an expanded four-day lineup of events and activities from free concerts, a Pray for Snow Bonfire, pub crawls, and more. Visit www.vail.com/snowdays for a list of all activities.
Ready to take on the Vail slopes? Plan your family ski day in Vail with our tips.
Wondering wear to stay when booking your Vail vacation, our favorite hotel is the Sonnenalp. Find our full resort review here.
Kick off Winter at Beaver Creek
This year Haymeadow Park opens at Beaver Creek. Last year we explored the new Red Buffalo Park at Beaver Creek, it's a family-friendly zone full of snow sculptures and glades to explore. This December is the Grand Opening of the new zone called Haymeadow Park and it's just for kids. The ribbon cutting is on Dec. 15. 
This new area will be the most dedicated learning terrain in the state of Colorado. Haymeadow Park amenities also include culinary delights such as the new Ice Cream Parlour located at The Ranch offering nostalgic ice cream novelties or a quick soup and sandwich lunch. Saturday, December 15th will mark The Parlour's ribbon cutting; there will be ski school demonstrations, prizes and more!
Find out more at www.beavercreek.com/explore/winters-extraordinary-start
Thursday Night Lights Beaver Creek
Every Thursday, beginning Dec. 20, intermediate and above skiers and snowboarders are invited to participate in a glow stick parade. Following the glow stick parade, the night's sky is illuminated with fireworks over the Centennial Express Lift.
Beaver Creek Extraordinaire Presents Cheer
From Dec 21 until January 5, there will be a combination of events to celebrate the holidays. There will be Holiday Movie Nights - during the evening at the Beaver Creek Ice Rink, in the heart of the Beaver Creek Village, festive movies will be played on a big screen. Snacks and engagements inspired by each classic film will add to the ambiance. Guests can relax under cozy blankets near fire pits and heat lamps.
Kids will delight in the Fireside Stories - a fireside reading of a classic holiday/wintertime story will come to life, as characters from the story will appear in the village to engage with guests.
For music lovers there's Sounds of the Season - from carolers to string quartets, the Beaver Creek Village will echo with live performances of classic holiday music.
Feeling hungry? Try Flavors of the Season - an opportunity to taste the delicious spices that make up the holiday with individual stands that showcase the best of the holiday spices. Illuminate the Night - The village will be filled with lights, as guests join an illumination parade through the village
Plan your Beaver Creek ski day with our tips.
Win Vail Swag
To celebrate all the fun going on at Vail this year, we have a ski/riding swag giveaway from Vail! You'll get a Vail neckie, a cool Map Tote from Vail and a Helly Hansen // Vail knit cap. Enter to win here. Please note, you must be 18 and a US resident.
2019 Snow Guide
Want more snow? We do too. Check out the 2019 Guide
Pin it and plan it
Use pinterest to plan your holiday vacations.
This Family Fun in Vail and Beaver Creek feature is not sponsored.