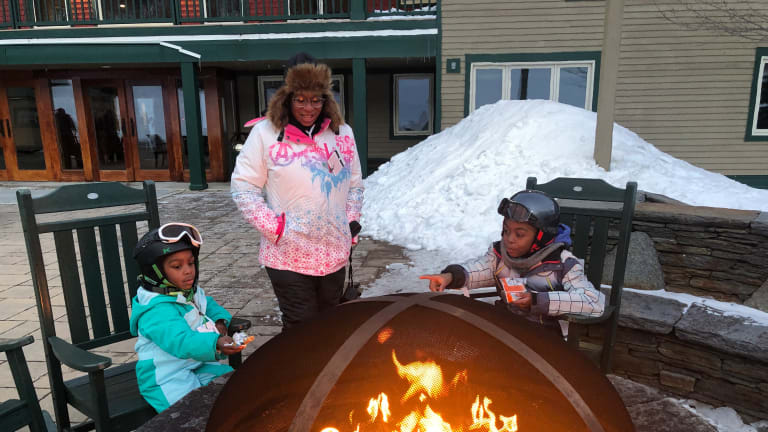 Family Fun at Mount Snow #MTSki
#MTSki Gathers Top Influencers for a weekend in the snow
Creating winter memories with your family is as easy as a trip to Vermont. We gathered some of our favorite NYC influencer moms for a weekend on the slopes at Mount Snow. It was part adventure, part bonding on the mountain and a whole lot of fun.
We've been fans of skiing in Vermont for years. It's a great place to learn to ski and ride and have unplugged time for your family. We wanted to share our excitement about playing in the snow and Mount Snow was the perfect setting.
About the Slopes at Mount Snow
We love getting families out of the cities and in to the mountains. Mount Snow is Vermont's closest big mountain to the Northeast's metropolitan areas. Nestled into the Green Mountains of Southern Vermont, Mount Snow is a member of the Peak Resorts family (find out about Hunter Mountain, another Peak Property here). 
There's a ton to do on the mountain. Mount Snow boasts four mountain faces of downhill skiing and snowboarding--86 Skiable Acres: 600 Total Miles of Trails, and 20 lifts. With convenient on-mountain activities, lodging and dining options, it's an ideal destination for avid skiers and amateurs alike. There's also a huge area dedicated to terrain parks. If you or your kids want to jump, this is your spot.
Check out our recap video
Where to Stay at Mount Snow
The Grand Summit Hotel was home for the weekend. Each room boasts an efficiency kitchen and plenty of space to spread out. In addition to the Grand Summit, Mount Snow has condos with 1-4 bedrooms. Head to https://www.mountsnow.com/your-stay/ to book your trip.
The Grand Summit has everything I need in a ski hotel. There's a gym with a decent stretching area, a large outdoor pool and two steaming hot tubs for soaking sore muscles. 
Skiing and Riding at Mount Snow
For kids and grown-ups who want to catch some air, head over to Carinthia Parks. New to Carinthia Park is a gorgeous now base area. The $22 million dollar development includes the Iron Loft restaurant (with table service) and cafeteria. There's also a big outdoor space for soaking in the sun on blue sky days.
To get started, book your lesson, tickets and rentals BEFORE you head to Mount Snow. Momtrends Tip: If you are an experienced skier or rider, upgrade your rentals at the DEMO shop located in the village. Spend the extra cash and you might get to ski on a great pair of Head Joy skis like I did. The team there gave me the pefect skis for the conditions.
I love the layout of the mountain. If you want jumps do laps on the Nitro Express lift. Beginners can start at the Launch pad and then move up to Cooper's Junction. Next step? Up to the top on the Bluebird Express - a six person bubble chair that shields you from the wind and gets the family up to the summit (3600') in a flash.
Want more to love about Mount Snow? The most important thing they have going is thier ability to make snow. They specialize in "gun powder" glorious manmade snow that keeps the mountain ice-free and a joy to ski. Last season Mount Snow spent $30 million to upgrade their snowmaking.
My favorite runs were Upper Exhibition and Canyon. Wide trails with great coverage. Teens love the nine different terrain parks with more than 200 features.
Family time on the slopes
While it's great to take a few runs with the kiddos, I believe in letting the pros teach the kiddos. Mount Snow has a wonderful ski and snowboard school. Children as young as three can get up and sliding in no time with the small groups and friendly instructors. There's plenty of green (easy or beginner) terrain to start on and Mount Snow has a great series of intermediate runs as a next step.
As for grownups, well, we can learn too. Mount Snow also offers adult group ski and snowboard lessons and private lessons. 
Where to Eat at Mount Snow
With over a dozen spots to eat on and off the mountain, Mount Snow gives families a ton of variety. I had a lovely dinner at Harriman's Farm to table. Located in the Grand Summit Hotel, the focus is on local brews and farm fresh food. Momtrends tip: always say yes to cheese when you are in Vermont.
On your next trip to Mount Snow head over to Carinthia Base to explore the foodie options. I had an awesome salad at the Iron Loft. Service was a little slow on my visit, but the steak salad was worth the wait. For speedier food, downstairs there's the High Timber counter-service area downstairs. If you are ready for aprés, try out the High Timber Lounge with tons of tasty brews on tap.
#MTSki Gathers Top Influencers for a weekend in the snow
The best part of this weekend? Well, it's hard to pick because the snow was so good, but I'd have to say hanging out with my ski mama friends was a ton of fun. Many of our guests were relatively new to snow sports and I loved the way they all embraced the new sport.
We loved sharing a glass of wine and listening to music at Harriman's. A ski mama has to have time for aprés ski with her friends.
What to Do other than Skiing at Mount Snow
In addition to skiing, Mount Snow has an awesome tubing park. The tubing park is steps away from the Grand Summit and is open weekends and Friday. 
There are eight lanes of thrills and everyone in our family loved it, this is no skills fun for the whole family. This tubing hill is one of the biggest in Vermont and features its own covered surface lift called "the Magic Carpet." 
If you are looking for a bit of rest and relaxation, book an appointment at the NatureSpa. I had a fabulous deep tissue massage that was heavenly. Every ski mom deserves time off the mountain for self care.
NatureSpa has a love of health and fitness classes too. Head to the gym to get a list of the week's yoga classes. There are several offered each day. The spa is also the spot to book book a guided snowshoe tour. Guided snowshoe tours are $45 for a 90 minute tour. Snowshoeing was one of the favorite non-ski activities from our weekend.
Bottom Line about Mount Snow
With the most powerful snowmaking in the Northeast, Mount Snow is a reliable escape for families who want to experience the magic of winter. This is the spot that is home to the largest fleet of fan snow guns in North America, and they are upgrading to more energy efficient guns over the years.
Pin it!
Use Pinterest to save your favorite family travel ideas.
2019 Snow Guide
Want more snow fun? Check out our 2019 Family Ski and Snowboard Guide. It's packed with tips on how to plan the perfect family holiday on the slopes.
This Family Fun at Mount Snow feature is not paid, we were hosted for this trip.