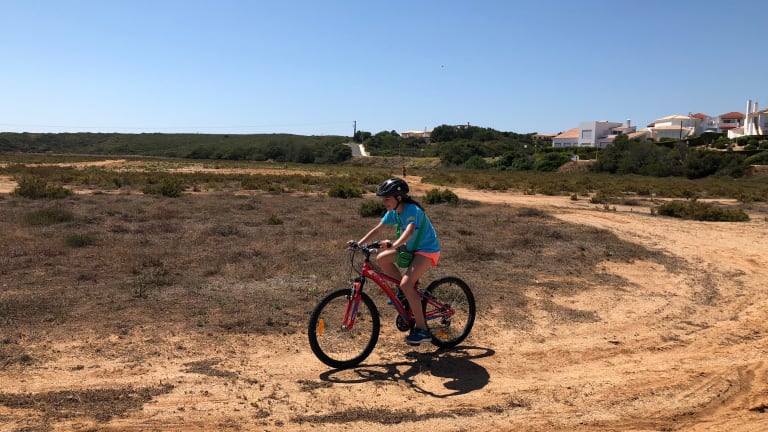 Family Fun at the Beach Martinhal Sagres
Family Friendly Fun in Portugal's Algarve
Picking the right luxury family resort isn't easy. Just because an expensive hotel brand slaps the label "family friendly" on their property doesn't mean they are ready for kids. Before Momtrends recommends a destination, we pay a visit to the resort. I know your vacation time is precious and I don't want to waste a moment or dollar. When I recommend the family fun at the beach Martinhal Sagres, trust me, I tried just about everything.
There's a ton to do at this full-service resort. We were there for four days and barely scratched the surface. I will share some of our highlights.
Planning the Perfect Family Trip to Portugal
To get you up to speed, visiting Sagres was part of our family trip to Portugal. We started in Lisbon and then made our way to Martinhal Sagres Beach Family Resort. Here are the recaps:
Martinhal Chiado Lisbon Family Apartments Resort 
Martinhal Sagres Family Resort 
Let's Go Swimming Martinhal Sagres Beach Family Resort
I already filled you in on the spacious rooms and the Kids Club, now let's talk about the activities. Water is a BIG part of why families pick Portugal. At Martinhal Sagres Beach Family Resort, your family can pick from four different swimming pools. 
If you want a little quiet time to read or get in some exercise, Club 98 and the garden pool areas are the least busy (the Club 98 is especially good for daytime lap swimming). The action is at the "Beach Pool" that overlooks the ocean. The Beach Pool is a HUGE area. There's a large main pool and a shallow kiddie pool. There are plenty of chairs and a grassy space for play. The nearby pool café offers lunch, snacks and drinks. Shade is plentiful, as are towels. Nothing is skimpy about this resort. Don't fret about getting up early to "save" a pool chair.
If rain rolls through, the swimming doesn't have to end. The gym is home to an indoor pool. Momtrends Tip: This is a wonderful place to teach your child to swim. The heated water in the pools makes jumping in a lot less jarring. Martinhal offers a FREE "baby water experience class" in addition to Learn to Swim lessons for bigger kids (not free, but I highly recommend them).
Momtrends Note: No one, and I mean no one had a sunburn at this hotel. In the prime summer days of the Algarve, this is a feat. I chalk this up to a certain type of thoughtful parent that gravitates to Martinhal.
Water Sports at Martinhal Beach Resort Sagres
In addition to the pools, there's a huge swath of beach. Martinhal is set on the Atlantic Ocean just before it meets the Mediterranean Sea. We enjoyed shell hunting and sand-castle building. The water WAS brisk (think in the mid 60s), I would jump in but wouldn't stay long. A better bet was to rent a kayak to explore the coastline.
The protected ocean inlet is great for standup paddle and kayaks. Head to the Martinhal water sports hut to check out the SUPs, boats and wind surfers to rent. You can also hire a sail boat for fishing, scuba or snorkeling. Mostly we just wanted to chill on the warm beach and take occasional dips in the sea to cool off. But if you want more adventure, it's there for you.
Martinhal has a private beach area off the main beach with chairs and shade available. If you want to explore the area more, Martinhal offers a free shuttle to Baleeira Harbor. It's a small fishing town that doesn't seem to get overrun with tourists. The protected park that surrounds the beach means development will be kept in check. 
The Outdoor activities Martinhal Beach Resort Sagres
Biking: The bikes are new and in great condition. The girls and Mr. Momtrends biked the perimeter of the resort and also took on the pump track – an off-road experience. Nearby the resort, the nature park has off-road tracks.
Fitness: We tried yoga and a CORE fit class. The yoga is hatha in nature and held outdoors; the instructors were knowledgeable and patient. The setting can get a bit noisy as the open-air studio is adjacent to the fitness club pool. It's completely accessible for beginners. Check with the front desk of on the mobile Martinhal site to get the daily class list. Mobile website www.mymartinhal.com.
The fitness center is functional and somewhat small, but the equipment is new, and the area is spotless. We took all of our exercise outdoors, choosing to run, swim and try classes. Our favorite fitness class was the 30-minute CORE class by Nuno. He was a great leader and got our family whipped into shape.
Dining at Martinhal Beach Resort Sagres
There are four restaurants in all. I would recommend making a reservation, though they are not strictly necessary.
Breakfast: The traditional restaurant, O Terraço is the spot for a hearty breakfast. With a large open-air terrace, this was the place to start the day. The girls loved the old-school orange juice. We had made-to-order omelets, fresh breads and so much fruit. And don't even get me started on European yogurt.
Lunch: We grabbed lunch outdoors at the pool restaurant each day. We opted for light salads during the day.
Dinner: Our favorite dinner spot was Os Gambozinos. This Italian spot overlooks the ENORMOUS children's' play area in the middle of the resort. The food was delicious and divinely fresh. You can tell much of the menu is locally sourced.
We also loved As Dunas, the seafood restaurant with glorious views of the dunes and beach. My girls tried their first squid here and we adored the fresh fish we hand-picked out.
O Terraço is elegant at night and has lots of traditional Portuguese dishes that have been updated to suit modern tastes. 
Take a look at some of our meals:
Each restaurant has an area for the kids to go when they get bored. It's staffed by a Martinhal team member. They will color with your kids, play games and otherwise entertain them while you finish your meal. GENIOUS!
Here's the rhythm to the meal that's unique to Martihanl: Everyone sits down, the waiter comes, and we order drinks, the kids disappear to play, we wave them back to order, once the order is in, they go back to the trampolines or swings. When dinner arrives, they happily sit for thirty minutes and chat with the adults. Once they are done, back to the playground. And the grown ups can observe it all while having a proper luxuriously long meal. 
Momtrends Tip: Os Gambozinos and As Dunas restaurants are open-air overlooking a play area. I've never seen a more thoughtful set up.
Finisterra Spa at Martinhal Beach Resort Sagres
A girl needs her spa day, we booked two of the special sessions dreamed up for teens and tweens. The special tween/teen services offered are a 25-minute facial and a 25-minute massage (all the treatments are done with a mom in the room). While the girls took turns getting pampered, I had a full massage and a full facial. Everyone was happy! 
The Finisterra Spa is a piece of nirvana. The ambiance is all zen. After check in, we changed into right-sized robes (they had sizes perfect for the girls) and chilled in the relaxation area.
The treatments where completely relaxing and age-appropriate. My seaweed anti-aging facial was notably awesome. After the treatments, the girls and I enjoyed some jasmine tea in the relaxation area. What a treat to use this resort to show my girls a bit of the finer things in life.
Find the Fairy Doors at Martinhal Beach Resort Sagres
A few years ago, one of my editors became enchanted with the Fairy Doors. They are doors you put up on trees to invite the fairies to your home. Well, Martinhal has invited 11 of them on the property. At check in, our family got a map of 11 fairies. Our job was to find them (mind you the property is EXPANSIVE) and write down the names of each fairy for a prize. My girls, who are quite grown, couldn't have been more excited. Before sunset on night one we scoured the property for five of them (Gaspar might have been my favorite). After the breakfast the next day, they were off again. Within 36 hours all fairies were found, and our certificate was earned.
We weren't alone. We were bumping into all sorts of "fairy hunters" on property. It is another example of the genius of this place. 
Martinhal knows how to create those magic moments your family won't forget. Chasing fairies is just one example of the magic that's in store for you.
Family Fun at the Beach Martinhal Sagres
This is the spot to unplug, unwind and reconnect with family. It's amazing, when you slow down you'll find out how really interesting your kids are. Take a pause and listen to them. At Martinhal, you'll remember how silly and endearing those little people are. Sometimes it takes a new setting and a new pace to remember the gifts you've been given. Martinhal is the perfect spot to count your blessings.
Head here to start your trip planning
MORE TRAVEL TRENDS TO CONSIDER
PIN IT!
Use Pinterest to start your bucket list travel ideas. Be sure to follow our Travel with Kids board here.
This Family Fun at the Beach Martinhal Sagres is not sponsored. Some lodging accommodations were made to facilitate this trip, and some of the trip was paid for by Momtrends.