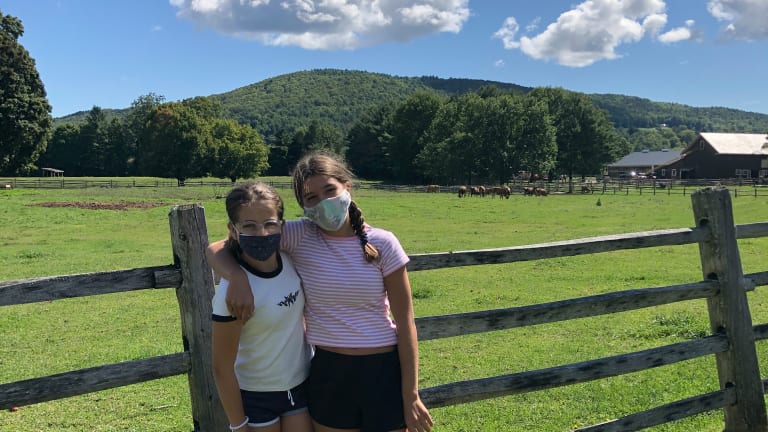 Publish date:
Family Fun at Billings Farm in Vermont
The Billings Farm & Museum brings the character and heritage of rural Vermont alive to families.
The Billings Farm & Museum brings the character and heritage of rural Vermont alive to families.
History comes alive in Vermont at the Billings Farm. Our family loved our tour of this 19th century farm--meeting the animals and seeing the glorious sunflowers. Though, ideal for younger kids, my teen girls thought the combination of culture and pasture was perfect. Let me help plan your family fun at Billings Farm in Vermont.
Related: Plan a stay at the Woodstock Inn Vermont
Billings Farm was established in 1871 by Frederick Billings, a native Vermonter who wanted to share his land and practices with the community. Billings set out to make his 270-acre farm a model dairy operation for farmers in the region. Today the farm is a resource of education and entertainment and one of the big attractions in Woodstock, VT. , The museum and farm are founded on the principles of efficiency, sustainability, and responsible land use. 
Meet the Residents
Animals are the big attraction at Billings Farm. It's home to a herd of Jersey dairy cows, draft horses, sheep, chickens and pigs. And your kids can get up close and personal with all of them. The award-winning dairy products are used at the nearby Woodstock Inn and also shared with visitors. 
Visitors can typically watch the daily milking demonstration and see the dairy in operation, however the cow barn is currently closed to guests due to COVID-19 safety precautions. You will find milking demonstrations online at Billings Farm at Home.
Quilting Exhibit
After the animals, we loved the special art exhibit in the main building. We were so impressed with the 34th Annual Quilt Exhibition. The exhibition features colorful quilts made by Vermont artists and we were floored by the talent in the Green Mountain State.
If you can't make it to the museum, check out the Virtual Quilt Exhibition to go behind the scenes with videos and get information about the quilts.
Take A Wagon Ride
Load up on the tractor wagon right outside the sunflower exhibit. The 10-minute ride is a leisurely spin around the property. We were safely spaced out on hay bales as we toured the farm. The wagon ride is a hit with young visitors and is included with your ticket.
For kids 10 and under, be sure to check out the craft barn. On our visit, kiddos were making felted butterflies. The crafts change with the season, so be sure to check in with the website to see what's happening during your visit.

Five Tips To For a Girl's First Leg Shave
Do you remember your first time shaving? Mine wasn't pretty. I snuck my dad's razor and shaved my legs dry. It wasn't pretty. Get your daughter ready for this rite of passage with the right tools and a quick education. We've got five tips to help you navigate your daughter's ...read more
Why You Should Add Wild Blueberries to Your Diet
Do your New Year's goals involve healthier eating? Adding more fruits and vegetables to your diet? Or even adding tasty new recipes to your repertoire? We've got five reasons for you to add wild blueberries to your diet. Our friends from the Wild Blueberry Association have ...read more
Why Moms are Loving This Blueberry Couscous Salad
It's blueberry picking time. And while most blueberry recipes revolve around baked goods, we've got something different to share. First, a few sentences singing the praises of this lovely fruit. Blueberries are high in antioxidants, improve memory function and reduce the effects ...read more
Pollination Celebration
I was lucky to visit on the last day of the Billings Farm & Museum's second annual Sunflower Celebration. We loved the sunflower maze and felt immersed in the thousands of sunflowers on display. Thera were over 50 different varieties ranging from 18 inches to 14 feet. If you plan to visit next year, note that The Sunflower House is expected to be in full bloom mid-August until mid-September.
Farm Life Exhibits
Farm Life Exhibits are housed in four original historic barns and staffed by knowledgeable guides. We took a spin through the museum to check out the tools and stories of Vermont's hardy farmers. Our favorite spot was the authentic country store full of the supplies that made rural life possible. 
Grab a Snack at Billings
All that walking around might make your family hungry. The Dairy Bar offers Vermont-made ice cream, beverages, snacks and cheese and cracker lunches. Billings Farm yogurt and cheeses are also available in the Gift Shop. There are also picnic areas near the visitor center and parking.
Plan your trip to the Billings Museum?
The farm is closed most Wednesdays. Adult tickets are $16 and tickets are discounted for students, seniors and children. Check the website for hours and special events.
Certain exhibits are closed due to COVID19: 1890 Farm Manager's House, Dairy Barn & Calf Nursery and Horse Barn.
The Billngs Farm is located at 69 Old River Road, Woodstock, Vermont. Located off Route 12, North of the village of Woodstock. 802.457.2355. Find out more at billingsfarm.org 
We stayed at The Woodstock Inn & Resort is located at 14 The Green, Woodstock, Vermont 05091. (888) 338-2745. Book your trip at www.woodstockinn.com and read our review here Family Fun at the Woodstock Inn Vermont.
MORE TRAVEL IDEAS FROM MOMTRENDS
PIN IT!
Use Pinterest to save your favorite family travel destinations to help inspire your next trip. Be sure to follow our Travel with Kids board here.
 Momtrends was not paid for this post.