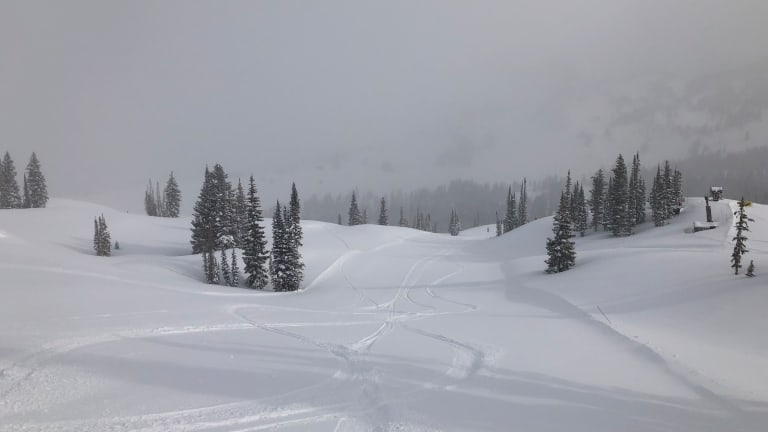 Family Fun at Alta Lodge Utah
Snow much fun at this iconic Alta Ski Area Lodge
Since 1938, Alta has embraced a fiercely independent spirit. It remains one of the sole holdouts in the ski industry. As Alterra and Vail resorts gobble up independent resorts, I wonder how long Alta can keep it going. As an independent ski "journalist" I feel like it's my duty to tell the stories of the mountains that aren't part of a huge conglomerate. And Alta definitely falls in the "indie" camp when it comes to skiing.  
Related: Snowpine Lodge a New Luxury Addition to Alta
Since I've written about the mountain before, this time I'm going to focus on families and how you can create a great vacation at Alta with your kids.
Family Fun at Alta Lodge Utah
There are a VERY limited number of lodges to pick from in the Alta ski area. Recently, I covered the updated Snowpine lodge and now I'm sharing what's going on at the Alta Lodge.
Nestled into the Wasatch National Forest, Alta Lodge has 57 rooms and a whole lot of charm. There are a number of family-friendly room layouts to suit your needs. The furniture is unfussy and solid and everything about the place is timeless. Nothing feels precious here. It's the type of place where you can wear slippers to dinner and you'll never have to dress to impress.
The Alta Lodge rooms are blessedly low tech. The only TV is in the common area and it's only on for a big game or new announcement. Otherwise the entertainment is skiing and socializing. In addition the common areas, the lodge has a ping pong table in the locker room and two huge indoor hot tubs with mountain views.
Snow Report From Alta
One of the best reasons to plan an Alta ski holiday is the reliable snow. The monthly average snowfall is 89" (and March is the snowiest month) with the record season total as 748" (1981-1982). From the Alta Lodge, it's easy to ski down to access the Collins high speed lift. After a hearty breakfast (included in lodge packages), you're minutes away from getting in the powder.
Alta Ski Area has a reputation for being tough, and it is; but there's also plenty for those who don't want chutes and double blacks. In fact, 15% of the terrain is beginner and there are some nice trails for beginners higher up on the mountain. 
A note about interlodge
On my recent trip, I experienced an "interlodge" situation. Interlodge occurs after large snow events. The mountain and the lodges work together to keep the guests safe. Sixty inches of snow fell in a few days creating avalanche conditions. The operations crews would set off controlled slides with ammunition to create safe areas for skiing. During interlodge you'll be held captive a bit. On the two days we had interlodge, the crews worked and got us out by 11am. 
Momtrends tip: Always make sure everyone in the family has reading material before heading out on a trip.
For families who have kids with a bit of experience, 30% of the terrain is intermediate and 55% advanced. Overall there are 2614 skiable acres -- more than enough for 3-4 days of skiing. And Snowbird is right over the pass if you want to extend your trip.
Kids will love the runs off the Sugarloaf lift. But, I do want to be honest, there are plenty of flats and traverses at Alta (snowboarders wouldn't like it even if they could ride here). Sadly, you'll have to shuffle and pole through the flats on Home Run and a variety of other connectors, and the tow rope that connects the two base areas, Collins and Albion, can be really rough on little kids. If you have more advanced skiers, I adored all the powder I found off of the High Traverse run.
Momtrends Travel Tip: The base is at 8,530, so be sure you are hydrated. Before we head out on ski trips we start super-hydrating a week before we leave. Everyone in our family is assigned a water bottle and tasked to fill it and drink it 3x a day. Hydration goes a long way to battle the altitude. 
Trip planning to Alta Lodge
I'm a big fan of skiing with my girls. But for years, we relied on ski schools to help them develop skills and make new friends. The Alf Engen Ski School at Alta is highly regarded in the industry and by families. The resort keeps the groups small and focuses on fun and teaching solid skills. 
Lessons start at age 4 and can be booked as half-day or all-day. Rates stat at $160 for a children's all-day lesson with lunch. To get your kids to school at the Albion base, just hop on the Alta Lodge shuttle. I always advise booking ski school in advance. While Alta will never be as crowded at Snowmass (once I went there when they had 800 kids in ski school!), it's still a good plan to make a reservation. The shuttle to Albion base leaves at 8:45 and returns at 3pm.
I'm a huge proponent of season passes. Each year I map out the deals on a pre-season post. Alta is on both the Ikon Pass and the Mountain Collective. Let's do the math, an Ikon Pass is $999 for an adult and $549 for kids; this gets you 5 shared days between Alta and Snowbird. Online day passes are $116 for adults and $60 for kids. You break even at seven days of skiing on the Ikon pass.
Families can also opt into the Mountain Collective. It's $449 for adults and $99 for kids and gives you 2 days at 17 top mountains.
Alta Lodge Kids Club
Alta Lodge is definitely more geared towards grown ups, but there are thoughtful touches at the lodge that make family life a heck of a lot easier. Kids ages 4-12 are welcome at the Alta Lodge Kids Club. It opens every day at 4:30 pm. It's a spot to play, watch movies, and meet other kids. You can grab a puzzle, work with LEGOs get your craft on and more. Just outside the lodge is an awesome sledding hill. On my visit they were bringing in some local nature experts to present a reptile show to the young guests.
Every night at 5:30 there's a special dinner at the Kids Club. Just sign your kiddos up before 4 pm and they will be all set. Dinner is served with a fruit and veggie tray and dessert (of course). Evening activities run from 6-8:30 pm giving the kids some parent-free time and vice versa.  
Take a Tour of the Alta Lodge Kids Club
Grown-ups can enjoy a leisurely meal and then pop up to the iconic Sitzmark Club for an after-dinner cocktail or coffee knowing the kids are in safe hands and entertained.
To be clear this isn't all-day babysitting, but an amenity meant to give families who love to ski more unplugged options to create memories.
Find out more about the Kids Club here.
Dining at Alta Lodge
Meals are included with Alta Lodge packages. Everything is served in the bright dining room off the lobby. Breakfast is a HUGE and hearty buffet complete with crisp bacon and hot oatmeal. There's always a special, and I liked my huevos rancheros.
Highlights of the food from my recent stay included the French onion soup and the delightful scallops as a main course. There's always a communal table set aside for single diners who want to mix. 
Lunch is mostly soups, salads and sandwiches. I did pop in one day for a terrific green salad, but most folks eat on the mountain. A complimentary afternoon tea is served from 3:30-5:00 pm in the Deck Room.
The dining room is casual (leave your ski boots by the fire and slip on a pair of Alta Lodge slippers) and kids are welcome. 
Alta Lodge Deals
Built in 1940, the lodge has been owned by the Levitt family since 1959. The owners have done a great job keeping the lodge current without losing the vibe of the 1950's. Nothing is tattered or worn here; it's simply timeless. 
While it's not cheap or low-budget by any means, the Alta Lodge is also a great value. Alta Lodge is one of the few ski properties I've visited with an all-inclusive plan. And it can make a ski trip affordable. And get this, Alta Lodge has a no tipping policy. Isn't that great!
Budget Tips: Book the Kids Stay Free deal at Alta Lodge. For kids 12 and under, families can save a bundle during early and spring seasons. This deal runs from November until mid-December and then starts up again April 7-20th. Combine this with your Ski Utah Passport for 6th and 5th graders and you can make skiing affordable!
Rates for 2018-19 seasons start at $125 for a dorm room to $750 for two people. Rates include breakfast and dinner plus a complimentary tea. and a reminder the Alta Lodge Kids Club is FREE!
Don't Miss: There are amazing adult ski camps run out of Alta. Because lessons aren't just for kids. The popular Performance Camp offers 8 nights of lodging and 6 rights of coaching.
Getting in and Out of Alta
Little Cottonwood Canyon gets more than 500 inches of snow a season. And the snow piles up on the highway in and out of Alta Ski area. If you time you flights right, you can travel and ski the same day. The Salt Lake City airport is efficiently operated (sorry DIA but you are a nightmare) and only 45 minutes from the slopes.
Take my advice and book the Alta Shuttle from the airport. It's safer and you simply don't need a car once you are settled into your lodge. Alta Lodge can get your kids to lessons and everything else is accessible by foot, skis or rope tow. Shuttle rates are $40 per person one way or $78 round trip. 866-274-0225 or click over to altashuttle.com
MORE SKI FEATURES FROM MOMTRENDS
PIN IT!
Use pinterest to save your favorite family travel features. Be sure to follow our Ski Moms Pinterest Board.
This Family Fun at Alta Lodge Utah feature is not sponsored.