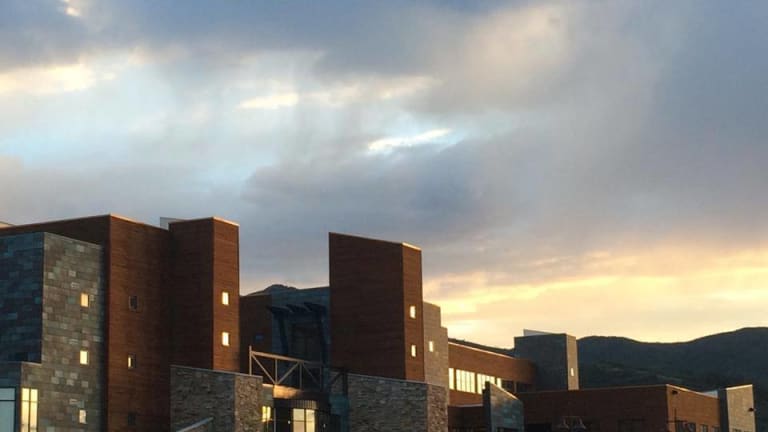 Family-Friendly Hotel Options in Park City, Utah
For family-friendly hotel options in Park City, check out the well-priced Newpark Resort.
Whether you are coming to Utah in the summer or winter, it's a fabulous place to play outdoors with your family. The Park City area is blessed with the best weather and natural resources, making it a go-to family destination. I'm always on the hunt for family-friendly hotel options in Park City and wanted to share my thoughts on the latest offering in the area the Newpark Resort.
Related: Woodward offers families a cool new way to play in Park City.
Newpark Offers a Modern Take on Mountain Life
Park City is a town on the move. It's seen steady growth in the pat decade and new lodging helps to draw even more visitors. The Newpark Resort is located in a booming commercial area in Park City. It's the centerpiece of the state's first LEED-certified resort community. Like many new resorts, they are going with a low-staffing model. 
When you arrive, you self park (there's plenty of parking) and haul your gear inside. To keep the rooms at a reasonable rate, there are few supporting staff members. The check in area is sunny and open and I was helped fairly quickly. 
The main floor has a locker room for skis and there's an independently owned sport shop if you need last-minute ski gear. Many guests opt to keep skis and gear in the rooms, and that's cool too.
The rooms are clean and modern. In-room amenities including gas fireplaces and heated bathroom floors. Some of the larger units have private decks with hot tubs. My small room had an interior window and was a little dark, but I was barely going to be in the room, I was more impressed by the layout of the room and the large bathroom
Amenities at the Newpark
Newpark Resort, features 127 rooms and suites and 10 two-bedroom town homes. The town homes would be amazing for a family. They feature a full kitchen plus a washer/dryer and a hot tub. There's plenty of room to spread out in the well-appointed houses. Town homes feature two bedrooms plus a den and could easily fit a family of 5.
The hotel has a small gym (I would love to see them add some bosu balls and foam rollers for stretching) and an indoor/outdoor pool. There's also an outdoor hot tub area.
Daily housekeeping is offered in the hotel units. The larger Townhomes are serviced every 3rd day of stay.
Also note, the Newpark seems to have plenty of meeting spaces for conferences.
What I loved about the Newpark
The location is awesome. It's minutes away from Woodward Park City and the Olympic Center and has tons of shopping within walking distance. Deer Valley is 15 minutes away and Park City ski area is about 10 minutes. 
The hotel is also on the edge of the 1,200-acre Swaner Nature Preserve. In the afternoons, I'd walk or job along the trails. There's also a kid-friendly museum.
What I would change about the Newpark
Since there are tons of restaurants around, thy don't have an in-house restaurant, since I like room service this was a miss. But you can order delivery to the hotel. I ended up buying sushi at the local Whole Foods and bringing it back to my room. The other meals I ate out.
For dining ideas in Park City, check out this article.
A bigger issue: the paper-thin walls. I could hear word-for-word the conversation of the guys staying next door. Thankfully, they were there to ski and didn't stay up late. I'd bring ear plugs if you are a light sleeper. 
Plan Your Stay at the Newpark
Park City has several buses that get folks to and from the mountains, and we love taking the airport shuttle, but the Newpark does necessitate having wheels to get around. Parking is free! The good news is, the hotel is within walking distance of a grocery store, Starbucks and more than a dozen casual restaurants. So while you will have to drive to the mountains, you won't have to drive everywhere.
Get more details and book your stay here www.newparkresort.com
MORE SKI FEATURES FROM MOMTRENDS
PIN IT!
Use pinterest to save your favorite family travel features. Be sure to follow our Ski Moms Pinterest Board.