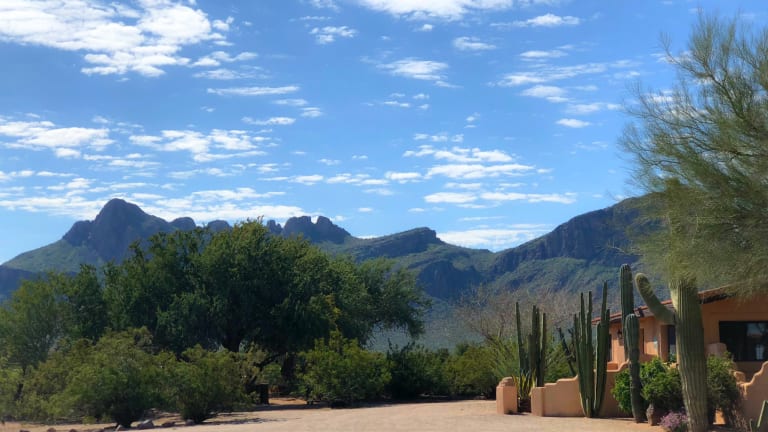 How a Family Dude Ranch Vacation Became Self-Care for this Mom
If you're looking for a family vacay that delivers in the rest, relaxation AND adventure travel department, look no further than a family dude ranch vacation.
Whether I'm traveling with my family, my best girlfriend or even solo, travel sustains me. And it was on my latest trip, a family dude ranch vacation at White Stallion Ranch in Tucson, Arizona, when I realized that treating myself to travel was my own form of self-care.
Related: Creative ways to preserve your family travel memories
When you think of self-care, what comes to mind? All the usual suspects I'm sure. Meditation, therapy, rest and even yoga are all wonderful examples of self-care, but I think it's time we broaden the term a bit. In fact, self-care has become such a buzz word the pressure has been put on us to accept self-care in our lives whether we want it or not. The thing is, maybe our version of self-care isn't what someone else's is. I, for instance, thrive on travel. 
The Best Family Dude Ranch Vacation
Before I get into all of the incredible activities and experiences that served as self-care for me at White Stallion Ranch, let me talk a bit about the ranch itself. Located in Tucson, Arizona this family run dude ranch has the personal touch of a small business with all the service and amenities that you would expect to find at a first class resort. You truly feel like you belong there from your first interaction with their second to none staff to the moment you oh so reluctantly leave. This was actually my second trip to White Stallion Ranch, and it certainly won't be the last, if that tells you anything.
There is something to be said for the pride with which a family owned business is run. Everything is top notch at the White Stallion Ranch from the delectable meals to the impeccably kept rooms. While they don't bill themselves as a luxury resort, you definitely won't be disappointed with the amenities. From a beautiful heated pool to traditional spa services, pampering is available if that's what you're after. My kids certainly took advantage of the hot tub. They're all about that pampered life. Haha! As was evident by how liberally they helped themselves to the honor I mean it's hard to resist orange soda and a saddle bar stool, bwah!
The Horses at White Stallion Ranch
This spring I got my life back on track all while on the back of a horse. This I truly believe. I've been floundering the past couple of years as an over stressed, over worked parent of a special needs child. The days are long, let's just leave it at that. So, when I arrived at the White Stallion Ranch I was depleted and fully in need of some self-care. One ride in and I felt rejuvenated. They carefully select your horse based on your height, weight and riding ability and in most cases you ride the same horse all week. Being that I'm basically a beginner, having the same horse to learn on was incredible. With each ride I felt more at ease thanks to my horse and our guides, who not only offered private lessons, but doled out helpful tips on group rides as well! Riding will forever be a part of my life now thanks to them. I've never felt so at peace.
And that "horse therapy" worked like a charm for my kids too. They had little horse experience beyond pony rides, so they were understandably hesitant at first. I wasn't sure how the week was going to go after that first ride when my shrieking six year old had to be taken back to the stable. Cut to our last day and both my children were sobbing, arms around their horses refusing to leave. The bond they built over that week with those animals was such a treat to watch. My kids couldn't be any different, yet horseback riding spoke to them both in such a profound way. Little ones can benefit from self-care too and after seeing how the horses improved their psyche, I can say like mother, like kiddo.

My outgoing Tazmanian devil of a daughter, for example, learned to take her time and listen, while her somewhat more introverted brother was brought out of his shell. While group situations can sometimes lead to anxiety for him, he leaped at any chance to jump on his horse Scooter and join the pack. The patience the staff showed to both of them while they were learning the ropes was, in a word, amazing. My kids still talk about Carol who made better riders out of all of us including my hubs who's been riding since he was small. This is truly a place that any type of family would feel welcome at!
The Activities at White Stallion Ranch
Now the horseback riding alone is enough to visit this property for, but White Stallion Ranch has SO much more to offer. Not only are there group riding options like team cattle sorting, but there are non horse related activities too. My top picks are the hiking and rock climbing experiences, but the shooting and Fat Tire E-bikes follow closely behind...I channeled my inner Western with a cowboy style rifle and target range, but I digress. Did I mention that you can do this all on property? That's right. You never have to leave the ranch! And their guides are so knowledgeable.
Our hiking guide, Kyle, was clearly not only an adventure sports enthusiast, but an absolute expert. The same goes for our rock climbing guide, Wade. Their calm demeanors and professional knowledge put our whole family at ease. In fact, my son, who can be somewhat tentative, tackled both experiences like a total pro. He was first in line right next to Kyle as we hiked up the mountain and he was the first one to scramble up to the top of the rock. He virtually bloomed before our eyes on this trip and it was thanks in part to the uber understanding staff at the White Stallion Ranch. Seeing my kids as at peace as I felt was, in a sense, self-care for me as well.
Of course, I'm not above a little traditional self-care either. We were outside from sun-up, to sun-down, so after dinner, which was one of my favorite parts of the day, by the way, not only because the family style served food was absolutely delicious, but it was when we all got to sit around together and recount the best parts of our day. Because this ranch literally has something for everyone, we sometimes separated so everybody got to experience what they wanted to. Coming back together under twinkling lights and a balmy breeze was sheer bliss. But by the end of each day, I was ready for a little R&R. And that's where my Chillax bath salt and Magnesium oil from Keller Works came in handy. Not like I needed any calming, but they just amplified my zen.
As you can see, self-care can be whatever you want it to be. And it can most definitely be travel focused! For more on self-care, check out our tips for how to focus on it this summer, minus the guilt. You shouldn't feel like you have to try something. Self-care should come from within. What makes YOU feel good? For me, it's travel and adventure at a place like White Stallion Ranch, but for you it could be booking your next massage. Of course, you can do that at White Stallion too. Just sayin'. They even have horseshoe decorating if feel most centered participating in artistic endeavors. Trust me. No matter where your ideal self-care experience lies, you'll never regret investing time in taking care of yourself!
MORE TRAVEL FROM MOMTRENDS
PIN IT!
Use Pinterest to save your favorite family travel articles, and be sure to follow our Travel with Kids board.
This is not a sponsored post. Accommodations were provided.