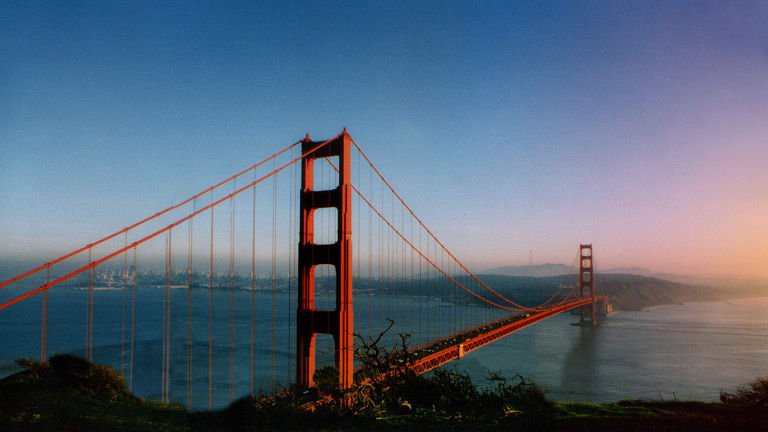 Exploring San Francisco With Kids
Tips for creating a great San Francisco travel itinerary with Kids
San Francisco is great city to visit with your family. From cable cars and Chinatown to the Golden Gate Bridge and Ghirardelli Square, there are sights and activities to keep the whole family entertained. We've rounded up our favorite tips for exploring San Francisco with kids.
I was born and raised in the Bay Area, so we often return to the area to visit family and friends. Last month my family and I had the chance to go for a quick visit to San Francisco and sampled just a few family-friendly must-dos in the city.
Family-Friendly Accommodations in San Francisco:
The Hotel Del Sol is a 1950s-motor-lodge-turned-boutique-hotel in San Francisco's Marina District and a perfect home-base for families looking to explore the city. Like most big cities, accommodations can get pricey in San Francisco, but the Hotel Del Sol offers a perfect blend of features and affordability for families.
Kids are the star at Hotel Del Sol with each child receiving a welcome bag upon arrival and a tour of their selection of family-friendly DVDs and board games you can check out. Plus, there is a heated pool. Plus, cookies and milk every afternoon.
The colorfully painted hotel offers a variety of guest rooms with kings, queens, doubles and roll-out sofa beds so you can find the perfect type of room whether you are traveling with tots or teens. For our family of five, we opted to have adjoining rooms with a king bed in one and pair of doubles in the other. The rooms are spacious and comfy which makes up for the bathrooms which are, shall we say, quaint.
The hotel is not located in an area you'll necessarily want to explore on foot, but from there you are a 5 minute drive to the Golden Gate Bridge, Fisherman's Wharf, Ghirardelli Square, Union Square and more.
Family-Friendly Activities in San Francisco
The Exploratorium is a "museum of science, art, and human perception" that has been a part of San Francisco since 1969, but recently re-located to Pier 15 in a space three times its old location. The best way to describe the Exploratorium is this: it's a gigantic, okay-to-play-with-everything science fair.
Exhibits are grouped by general theme - Electricity & Magnetism, Seeing & Listening, Time & Motion, Living Systems, Wind, Water & Waves and more. There isn't one clear path through the museum which is beneficial to help disperse the crowds, but also means you can find yourself doubling back through areas to see others you missed.
Everything is interactive so be prepared to build, play, look, create and discover. There are great explanations of the experiment directions as well as the science. One of my favorite features of the Exploratorium is how it engages everyone from toddlers to grandparents with the wonders of science. Definitely plan on a few hours to browse through the Exploratorium or consider taking a midway break for lunch or a snack at the SeaGlass Restaurant.
Whether you are traveling with kids who are six years old or sixteen, the Exploratorium is designed to encourage learning and fun for the whole family. It's one of my must-dos if you're in San Francisco.
Exploratorium: Pier 15 (Embarcadero at Green Street). (415) 528-4444. https://www.exploratorium.edu/
Family-Friendly Restaurants in San Francisco:
When I was a kid, a special family treat was to go out to dinner at Benihana in San Francisco. If you've never been, Benihana combines teppanyaki-style cuisine with the flair of a knife-wielding, joke-telling, food-flipping chef at each table which is part tabletop, part stovetop.
Shrimp, scallops, steak, chicken, veggies and more are diced, sliced and grilled to perfection a foot away from you - with lots of flipping, tricks, and flair thrown in. (Be sure to order the fried rice for an extra show!) My kids spent most of the meal with their mouths open watching the show - just like when I was as a kid - and the rest with their mouths full of the delicious food.
Tables hold up to eight people and every single table in the restaurant the night we were there had at least one child under the age of 12. They have affordable kid entrees, spill-proof cups, menus that turn into hats and kid-friendly, spring-loaded chopsticks. They also have appetizing adult entrees and a wide selection of local sake and cocktails for the parents. It's dinner and a show wrapped up into one, and they even snap a commemorative Polaroid to send you home with at the end of your evening.
More family Dining ideas for San Francisco
Lunch at the Ferry Building. Take the Cable Car Down California to the Ferry Building. Indoors there's a ton of spots for lunch--from Thai to Italian to Sushi. We picked up lunch at the Slanted Door's takeout (the outdoor) and made a picnic on a bench overlooking the Bay Bridge. Don't miss the spring rolls!
More ideas for San Francisco with Kids
Cable Car Rides: $11 for an all-day pass ($5 for a ride). Try to leave the stroller at the hotel as there is no space on board.
Koret Children's Quarter in the Golden Gate Park: Opened in summer 2007, the playground is packed with clean sand and lots of things to climb. We were there for two hours and never got bored. Toilets are nearby (and reasonably clean), but the carousel is only open on Fri., Sat., and Sun. after Labor Day--plan accordingly. Martin Luther King Jr Dr & Bowling Green Dr.
More Momtrends Travel in California
PIN IT AND PLAN IT!
Use pinterest to plan your perfect family vacation.
Momtrends was not paid for this post. Parts of the trip were provided to facilitate the review. Opinions are my own.