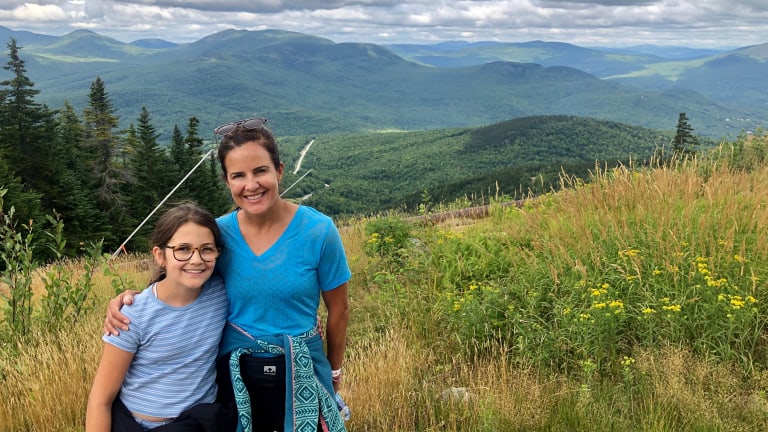 Explore the summer family fun at Sunday River
We've discovered that some of our favorite places to ski are also home to world-class hiking and outdoor adventures.
Most people know Sunday River as Maine's premiere ski resort. But this wonderful mountain in Newry, Maine, is also a terrific spot to take the family when the weather is warm. We got to explore the summer family fun at Sunday River last month, and I'm excited to share the highlights.
Summer family fun at Sunday River
We love the mountains. As a ski family, we make spending unplugged time outdoors a HUGE priority. We've discovered that some of our favorite places to ski are also home to world-class hiking and outdoor adventures. 
The hiking at Sunday River ranges from quite easy to difficult. There are 13 hikes in all. The easy trails can be considered trail runs and are suitable for young kids. 
The difficult trails will require sturdy shoes -- that means no flip flops. Teva's or trail running shoes with thick soles should be sufficient if you don't have hiking shoes.
Get a hiking map from the hotel lobby or at the base of Sunday River. There are three hikes that start from the Grand Summit Hotel, our home base on this trip. An easier trail is Roadrunner, it's 1.4 miles and my daughter and I were able to turn this into a trail run for much of the way. 
If you start from the South Ridge Lodge, there are lots of challenging options. You can hike up, or opt to take the scenic chair lift to the North Peak lodge. 
From the top of the lift, pick either the Western Traverse (2.2 miles and moderately hard) up to Jordan Bowl (3033') or swing over on the Spruce Cliffs to get a spectacular view of Spruce Peak and Barker Mountain. 
Hiking Sunday River
We picked the Spruce Cliffs and were in for a challenge. This mossy trail had some shade and was offered a variety of terrain. Rocks, dirt, moss--we had it all. On the way down, we connected with the Summit Traverse, this moderate trail will eventually reach three of the seven peaks at Sunday River. In all, our hike took three hours.  At the end of the hike, we loaded back onto the gondola to head down to the base. 
Momtrends tip: plan accordingly. We had proper shoes and water and gave ourselves plenty of time to finish the hike before the lift closed. 
In addition to hiking, Sunday River has a partnership with the L.L.Bean to offer classes in archery, kayaking or SUP. 
Sunday River Mountain Park
South Ridge Lodge is a great home base for hikes, and it's also a great place to spend an afternoon with the kids. 
The big attraction is the 750 ft zip-line. We got outfitted in our safety gear in the village and then did a walk uphill to the launch area. After a safety briefing we were clipped in for our zip. It's a fun side-by-side ride that my 11-year-old daughter loved. ($15 for 2x on the zip-line). Be sure to wear closed-toe shoes!
There's also a bungee trampoline that's $10 per session and a climbing wall for $10 per session. It makes the most sense to purchase an all-day pass for $25 and $22 for kids 6-12.
Free offerings include a bouncy house and corn-hole toss. I advise getting an all day pass. If hiking and rides are too much for you, enjoy a scenic lift up to the North Peak Lodge. Rides are $15 for adults.
Momtrends Tip: Pack a cooler with food and drinks and spend the day hiking and enjoying the outdoor fun. There is a place to buy food and drinks over by the chair/gondola, but plenty of families set up picnics on site.
The Sunday River Adventure Park is open every day from 10-4pm until September 1, and then Friday through Sunday until October 13. 
Head here for more summer activities https://www.sundayriver.com/summer-activities
Grand Summit Hotel
Our home base for this trip was the Grand Summit Hotel. The hotel is lodge-like in appearance and offers a variety of room sizes. It's open all four seasons of the year and has a lot to offer families including plenty of outdoor grassy spaces and an indoor/outdoor pool. It is ski in/ski out in the winter. Get more details here https://www.sundayriver.com/resort-lodging/grand-summit-hotel
Summer Dining at Sunday River
CAMP: Dining options on the property are pretty limited. We had dinner and breakfast at CAMP. They call it "elevated comfort food." There are hearty portions and a menu that offers a lot of variety. My lobster pasta was quite good. Camp is open year round and is located in the Grand Summit Hotel.
Brian's: I recommend getting into your car and exploring Bethel. Brian's is located about 15 minutes from the resort. It's an American menu heavy on local resources. There's a nice deck outside with pretty purple plantings and the staff was extremely friendly. I had a zesty Thai calamari starter and then a salmon niçoise. My husband's awesome charcuterie plate was served on a log. Brian & Jessica, the owners, have been in the restaurant industry for over 25 years and this cozy spot is a winner. 43 Main St, Bethel, ME 04217. www.briansbethel.com/
Golf course Grill: This was where I found the best lobster roll! Read the full review here of the Sunday River Golf Course. www.momtrends.com/travel-2/checking-out-sunday-river-golf-club
Smokin' Good BBQ: Probably our favorite meal of the trip was this food truck experience. We ordered our BBQ and sat at a picnic table along the road as we enjoyed the freshly smoked meats. I had the ½ chicken with sweet mild sauce; my daughter loved her ribs and Mr. Motmrends got the pulled pork. It's a ton of tasty food at a great price. Don't skip the corn bread. 212 Mayville Rd, Bethel, ME 04217 www.smokingoodbarbecue.com/
MORE MAINE TRAVEL FROM MOMTRENDS
PIN IT!
Use pinterest to save your favorite family travel features from Momtrends. Be sure to follow our Travel with Kids board.
This Explore the Summer Family Fun at Sunday River feature is not sponsored.