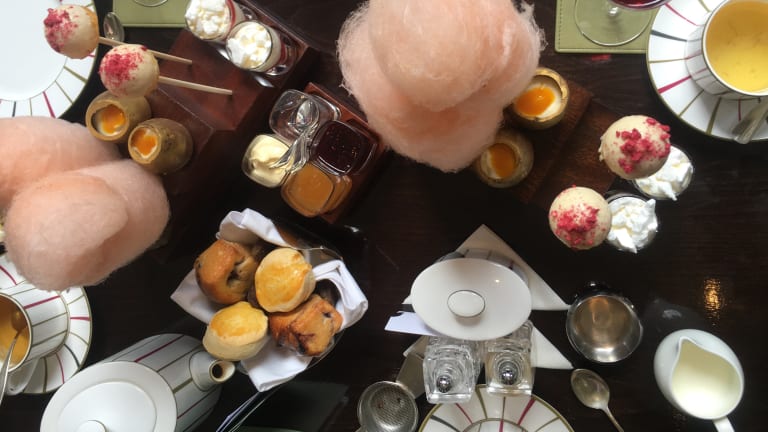 Enjoy Tea Time with Kids in London
Plan the perfect tea for your kids at One Aldrych in London. Enjoy sweets and tea in the Charlie and the Chocolate Factory-themed tea at this elegant hotel.
Every child needs to enjoy tea time in London. Arriving at the Charlie and the Chocolate Factory Tea at One Aldwych was the perfect way to kick off our London visit. "Mr. Willy Wonka can make marshmallows that taste of violets, and rich caramels that change color."--Charlie & the Chocolate Factory. This is the inspiration for a fancy British experience and the perfect way to enjoy tea time with kids in London.
Related: Throw a teddy bear tea party
London holds a lot of charm for kids. It's the home of Paddington, Angelina Ballerina and Matilda. It's the land of princesses, castles, proper manners, and the land of tea time. From about the age of two my girls started having tea parties. At first, it was celebrated with a wooden play tea set from Melissa & Doug with teddy bears and pretend sandwiches, not the real thing. It was always charming and gave us a chance to slow down and enjoy each other's company.
Tea Time in London
Years ago, I'd crouch into a too-small play table and pretend to eat cucumber sandwiches and scones. Now a decade later into my parenting journey, I was able to sit down at an elegant table at One Aldwych for a British Tea for a sophisticated service that was still loads of fun.
The girls are now old enough (8 & 10) to have strong preferences. They don't want to be babied. They sit on the delightful precipice of teendom. They are fascinating, silly and consummate observers of customs and behaviors. One behavior I'm happy to have them observe is taking tea.
One Aldwych is a modern hotel situated in the heart of London's theater district. In fact, the new J.K.Rowling play [Harry Potter the play] series is right around the corner, as is Charlie and the Chocolate Factory.
The hotel is a great spot to stay in for a theater binge and it should be on your "must-do" list for tea with the kids. Held in the gorgeous lobby of the hotel, tea is most days in the afternoon. We got a warm welcome and were led to some plush seats in the well-lit lounge.
What Tea Includes
After taking in the glorious hanging floral displays we were ready to be indulged. We started with drinks: champagne for the grown-ups and a bubbling cocktail for the kids. Dry ice in a glass kettle looks like a mad science experiment that Roald Dahl and Willy Wonka would approve of. Sweet and mysterious the berry-flavored brew sets the tone.
Proper Tea
Next we were treated to a variety of savory sandwiches. Our crew loved the egg salad with watercress and the smoked salmon with herbed crème fresh. Everything is cut into kid-sized bites and served with polish.
As for tea, the girls tried the English Summer Garden floral-scented tea. It's inviting aroma and mild flavor was perfect for them and might help them want to try more flavors when we get back home. I had the Green Dragon tea (swoon).
As we sipped and savored, we were sure to save room for dessert. Oh, yes, really it's about the dessert. For the classicist, there's moist scones with clotted cream and jam. For those who want to try seeming more unexpected there are cake pops, rhubarb-custard flavored candy floss (cotton candy), chocolate eggs "brimming with vanilla cheesecake filling", and miniature bottles filled with caramel chocolate milk. The girls were in sugar heaven.
Sweet Endings
Since we heavily monitor sweets at home, this was even more exciting. When sweets are made to be special, they truly are enjoyed even more. We plotted out our day and enjoyed each other's company. Tea is a ritual that is perfect for family time. It's a moment to slow down and sip all of life's joys. One Aldwych does an especially nice job of making tea time something for the scrapbook. It a Momtrends Must for families in London—especially for those of you with boys. This tea is just as fun for boys as girls. No tiaras or tutus required.
Book tea or stay at One Alrdrych
£39 per person
£49 per person with a glass of champagne or "Charlie Cocktail"
London Eye
After our visit, we walking across the Thames to the London Eye. It's a 10-minute walk and there are plenty of parks well-situated to the attractions. We bought the London Eye Fast Pass Anytime Pass. Use it any time during the designated day. Skip the lines and enjoy the views. The Fast Pass saved us about an hour in line.
What else in London? 
Cheers! Let me know if you go and be sure to give me your favorite spots in London.
PIN IT AND PLAN IT!
Are you ready to head to the theater in London? Pin this post to your Pinterest travel page for inspiration. Be sure to follow our Travel with Kids board here.
This is not a sponsored post.